Is Barb Back For 'Stranger Things' Season 2?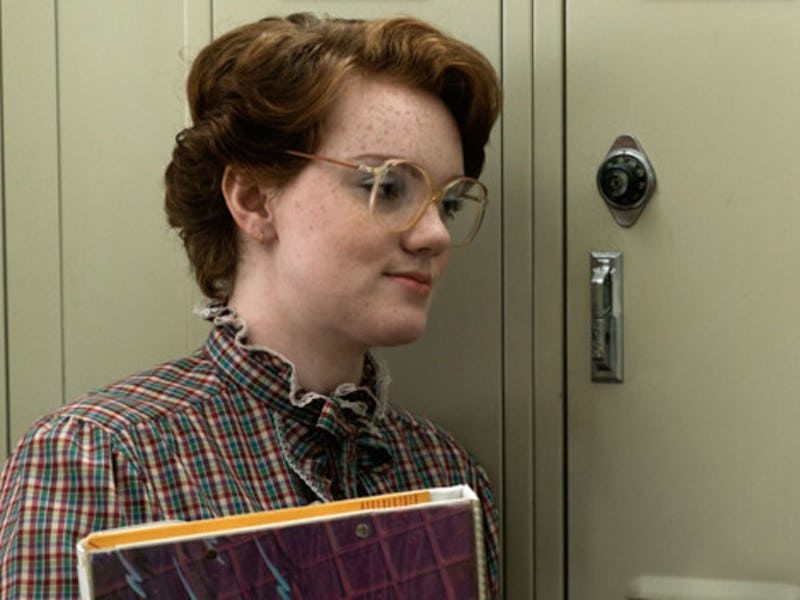 I think I speak for everyone when I say that the breakout star of the summer was none other than Barb from Stranger Things . She may have been the perfunctory best friend of Nancy, but Barb spawned a massive fandom from her short time on the hit Netflix show. Despite her (*spoiler alert!*) apparently and untimely demise during Season 1, the Duffer Brothers have recently commented that Barb's involvement in Stranger Things is not done. That's right, folks. There is definitely going to be some form of justice and perhaps even (fingers crossed) more of an explanation of what exactly happened to Barb in the Upside Down during Steve's ill-fated group hangout. And with that prospect, that there would be #JusticeForBarb, my heart is now growing two extra sizes.
What was it about Barb that made us all sit up, take note, and really cheer for her until the bitter end? Was it her adorably oversized glasses? Was it the way she subtly shaded Steve and the Hawkins High gang because she didn't fully trust them? Was it because she had no time for drinking and carousing on a school night in her mom jeans? I like to think it was all of the above. That's why the Stranger Things fandom loves her and demands deeper answers into her death. We could be getting some big answers by way of Barb's death in Season 2.
The Duffer Brothers revealed to IGN that while Barb is legitimately dead and gone, it doesn't mean she is out of the picture nor that those closest to her will suddenly stop looking for her:
But Barb will not be forgotten. We'll make sure there's some justice for Barb. People get very frustrated, understandably, that the town doesn't seem to be really dealing with Barb. That stuff is all happening. We're just not spending any screen time on it.
It's not like her parents are like 'Oh Barb left. She died!' Season 1 actually takes place over the course of six or seven days – it's a really short period of time. So part of what we want to do with hypothetical Season 2 is to explore the repercussions of everything that happened.
While it's disappointing to know that we won't see Barb in the flesh, seeing the other Stranger Things characters look deeper into her disappearance will be key. With the show's intention to begin one year after the events of Season 1, the story will be able to resurrect those cliffhangers from the season finale, Barb's disappearance included. If Barb is going to figure into Season 2 in any way, then the most likely scenarios would be that we will see her parents dealing with the same kind of emotional trauma that Joyce Byers went through in her search for Will. If that's the case, considering both Barb and Will were the only Hawkins residents who spent the most time in the Upside Down (Eleven excluded), then we might see Joyce join forces with Barb's parents to figure out what really happened to their kids. This pairing could have added weight if Will's condition worsens by the time Season 2 premieres.
I still think The Duffer Brothers should work the Barb into some flashbacks so we can have a reunion with her in Season 2. It could work, right? For now, we'll have to hold onto the hope that Season 2 will continue to keep Barb's memory alive while the Hawkins crew continues to figure out the mysteries of the Upside Down.
Images: Netflix; Giphy