10 Of September 2016's Best Fiction Books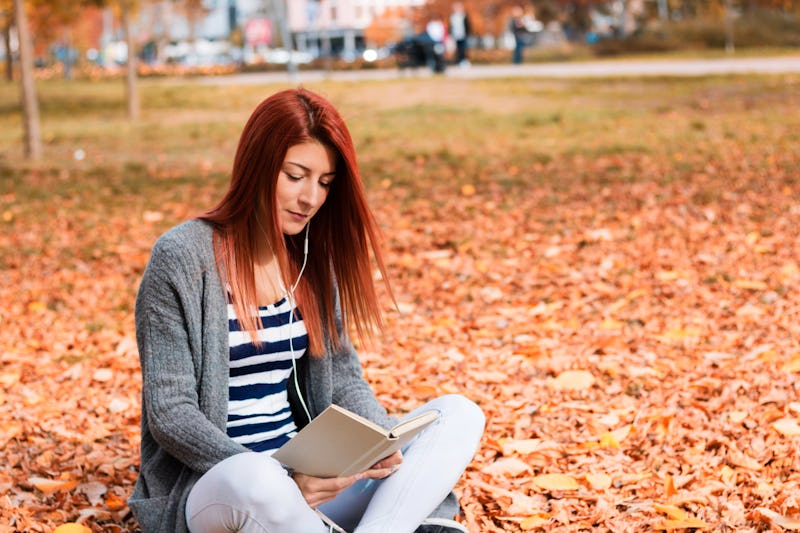 Vera Kevresan / EyeEm/EyeEm/Getty Images
Ah, yes, September is here, and it's time for some crisp, fresh, fall reads! The beginning of fall brings the smell of new school supplies, the changing of the leaves, and the blooming of pumpkin spice in every coffee shop you pass. In fall, the world seems to have a whole new speed, and it's the best opportunity to dig into a new book. After all, whether you're going back to school or not, it's time to fire up your brain and let your imagination roam.
And this September, the book world is back in action with some fantastic new releases. Many of our favorite authors are representing this month, so we've got tons of new stories from familiar voices. You'll delight as some of these authors try something completely new, to amazing results.
This list is filled with page-turners and meditations alike. Books that will really make you think, books that will leave you aching for more, and books that will give you a major reading hangover (in the best of ways, of course.)
From dark fairytales to elaborate speculative fiction to riveting dramas, this list has something for everyone. So, embrace the magic of autumn, order your favorite seasonal beverage, and let these fantastic books take you in.
1. Leave Me by Gayle Forman (September 6; Algonquin Books)
You may already know Gayle Forman from her incredible YA novels, such as the classic If I Stay. This is her first adult novel, and it's (unsurprisingly) fantastic. The story of a working mother who, after a heart attack, packs her bags and leaves it all behind, going to PIttsburgh on a quest for her birth mother.
2. Everfair by Nisi Shawl (September 6; Tor)
This steam punk, alternate history / historical fantasy is utterly irresistible. Set in the Belgian Congo, exploring what would happen if the native populations had learned about steam technology earlier. A utopia called Everfair is set aside for native populations of the Congo as well as escaped slaves returning from afar. Speculative fiction at its finest, this is one not to miss.
3. Lady Cop Makes Trouble by Amy Stewart (September 6; Houghton Mifflin Harcourt)
The sequel to the much-loved novel Girl Waits With Gun, don't miss the next installment of deputy sheriff Constance Knopp's adventures. As she patrols the streets of New York and New Jersey, hot on the trail of a mysterious con man, you won't want to put this one down.
4. Commonwealth by Ann Patchett (September 13; Harper)
This is the book of the season, and with Patchett's exquisite writing, it's no wonder everyone's fallen in love with it. When Berts Cousins show up at Franny Keating's christening party uninvited, the events that unfold set in motion a journey that stretches across five decades. With characters that pop off the page, Patchett will write circles around you in the best of ways.
5. Intimations by Alexandra Kleeman (September 13; Harper)
From the author of the amazing novel, You Too Can Have a Body Like Mine, this collection of short stories is filled with strange, surreal situations that will ignite your curiosity. Kleeman has a potent pen, and every story will surprise you in the best of ways.
6. Little Nothing by Marisa Silver (September 13; Blue Rider Press)
Within the pages of this eye-catching cover is a dark, twisting fairytale-esque story that will captivate you. Set in the beginning of an unnamed country, the story follows Pavla, a dwarf born to peasant parents in a village that shuns her for her physical appearance. As Pavla is set on a mystical, haunting path, her story is intertwined with that of Danilo, who is obsessively in love with her.
7. Here I Am by Jonathan Safran Foer (September 13; Farrar, Straus, and Giroux)
From the author of modern classics Everything Is Illuminated and Extremely Loud and Incredibly Close, this is Foer's first novel in 11 years. This rich book centers around a family in Washington D.C. who, when a devastating earthquake spirals the Middle East into conflict, are forced to confront what they want out of their lives.
8. The Lesser Bohemians by Eimear McBride (September 20; Hogarth)
Eimear McBride's writing is like no other. In this, her second novel, the author of Pulitzer Prize-winning novel A Girl is a Half-Formed Thing will draw you into the story of an 18-year-old drama student in London, who falls in love with an established actor 20 years older than her. Seriously, you will eat this one up.
9. The Wonder by Emma Donoghue (September 20; Little, Brown and Company)
The author of Room, Emma Donoghue has delivered another tension-filled, page-turner of a novel. When a young girl claims to be living off of the "manna from heaven," not eating anything for weeks. a journalist is sent to watch over her and ends up fighting for the child's life.
10. Reputations by Juan Gabriel Vásquez (September 20; Riverhead)
Set in the buzzing city of Bogotá, Colombia, this fascinating book follows Mallarino, a renowned political cartoonist as he assess his life's work and his place in the world. Written in absolutely gorgeous, flowing prose, this is a book that will encapture you in the best of ways.
Images: Vera Kevresan / EyeEm/EyeEm/Getty Images