Frank Ocean's New Video 'Nikes' Is Everything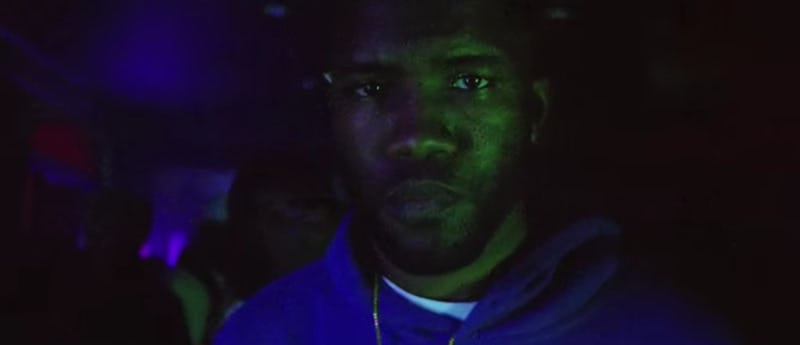 If the last four years have been a Frank Ocean drought, it's raining — nay, pouring — Ocean now. After his visual album Endless dropped on Friday Aug. 19, there's already an all new Frank Ocean single "Nikes" for fans to freak out once more over. It should be stressed that this single was not on Endless, and as such, it is presumably the first single from his upcoming new album that was formerly going to be titled Boys Don't Cry. While "Nikes" finds Ocean in the catchiest mood he's been since 2012's "Thinking Bout You," it's not just an earworm that'll be stuck in your head for basically forever — the video for the single (which you can watch in full on Apple Music or Ocean's website) is eye candy overload. In the memorable video, we see glittery butts, chihuahuas, a devil, a pair of eerie twins, logo decked cars, out of control parties, tons of nudity, and both A$AP Rocky and Ocean paying tribute to the fallen A$AP Yams, Pimp C, and Trayvon Martin.
Attentive Ocean fans will notice the opening lyric "I got two versions," which quotes Frank Ocean's Tumblr post about the long-awaited Boys Don't Cry album — and, as such, supports the theory that this track is part of the long-awaited album. But what else do you need to know about the new single?
The video stars A$AP Rocky holding a photo of the 26-year-old rapper A$AP Yams, who passed away after a accidental drug overdose in 2015. And while the video's intense levels of Nike mentions might suggest it's a light-hearted, fashion n' fun-focused track, think again: as aforementioned, in addition to A$AP Yams, the lyrics contain shoutouts to Pimp C and Martin, the latter of whom Ocean says in the song resembled him, powerfully condemning the broken system that leaves too many young African-American men the victims of gun violence.
But inkeeping with the "two versions" aesthetic of the song, it manages to be both political and unabashedly hedonistic all at once. Many of the lyrics concern drug use, glitter, sex with other people in the room, and the post-party come down ("Speaking of the, don't know what got into people/Devil be possessin' homies"). So whether you're interested in finding out exactly how hard Ocean parties or whether he can sing about such a difficult, emotive subject with the requisite lyrical dexterity (spoiler alert, he can), the video answers all your questions. It's a glitter party for your eyes and we're all invited.
Images: Apple Music (2)