Here's What To Expect On 'The Voice' Season 11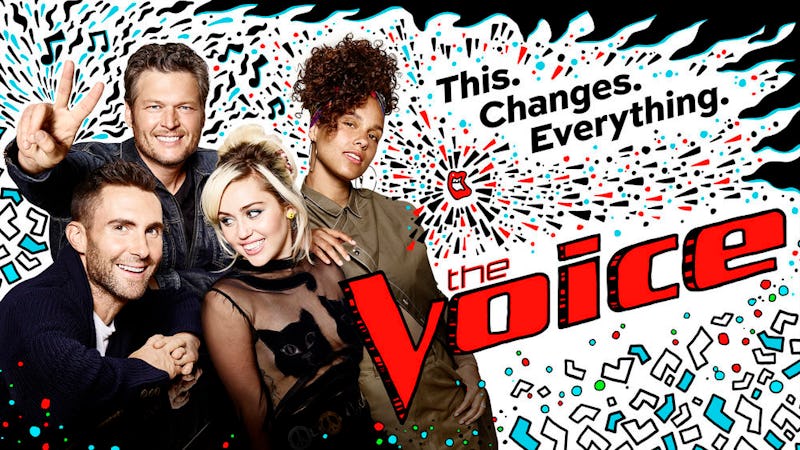 It's baaaackkkkk. Well, almost. 'The Voice' returns for it's eleventh season on September 19 but, thanks to a special preview after the Olympics Closing Ceremony, it's already proving to be the most entertaining season yet. With two new coaches taking up residence in the big red chairs there's no telling what could happen, but Miley Cyrus and Alicia Keys are already promising to "change everything." Well, consider everything changed—the two newcomers are already breaking all the rules. By the second Blind Audition, both new coaches had taken the stage to sing with a contestant. Blake and Adam, you're going to have to up your game because Miley and Alicia are already proving that they're in it to win it.
With not one but two impromptu coach duets, Darby Walker just earned the title of luckiest The Voice contestant ever. After performing "Stand By Me" in the Blind Auditions and earning a three-chair-turn, the coaches were ready to bring it to win Walker's pick. Well, consider it brought. Miley started the smackdown by jumping up on the stage to sing "Jolene" with the The Voice hopeful. If that wasn't enough, Keys got in on the action and struck up a duet to "No One" with Walker. Both put on a good show but Miley came out victorious—Walker chose Cyrus to be her coach.
Clearly, the gloves are off—and the season hasn't even started yet! This season got a major refresh of coaches and will premiere the first panel to include two females in the show's history. If you haven't guessed already, things are about to change big time—and all for the better. Miley and Alicia will bring a fresh new voice to the show that we haven't heard before. Though I was skeptical at first, the two ladies have already proven to be the perfect balance to veterans Blake and Adam. The ladies are already feeding into the guys' banter (do I sense a Blake/Miley rivalry?) and are taking it to a whole new level. The Voice Season 11 is about to get interesting and I, for one, can't wait to be along for the ride.
Image: NBC Universal