Shake Shack's New Roker Burger Debuts Today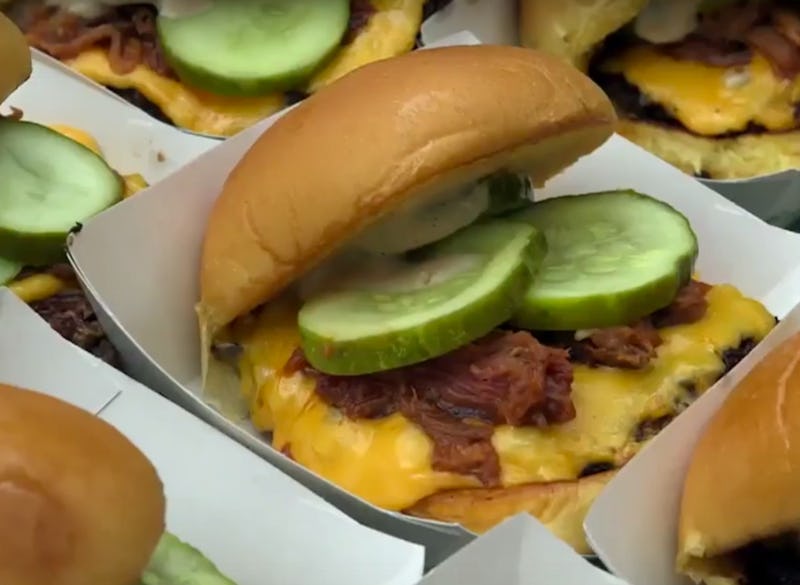 What can make a great burger taste even better? Helping kids in need! (Though if you said "Sriracha," you're not wrong.) Recently, NBC anchor Al Roker created a burger with Shake Shack, fittingly dubbed the "Roker Burger." The burger debuted today at Shake Shacks nationwide and will be available through the end of the week. The custom burger will help raise money for No Kid Hungry, a campaign dedicated to putting a stop to child hunger in America — and the cherry on top (or the ketchup on the bun?) is that the burger actually looks darn yummy.
The Roker Burger starts with all-natural Angus beef, topped with two slices of American cheese, pickles, and BBQ pulled pork. (The BBQ element is no surprise, given that Roker published a book on the subject in 2002.) The final kicker is a topping of red-eye mayo, a mayonnaise blend created by Momofuku that includes coffee and Sriracha. A video about the burger shows that Roker chose the special mayo in tribute to TODAY. "We're a morning show. Everybody drinks coffee," he says.
The Roker Burger will be available this week for $7.49 at Shake Shacks all over the U.S., with the exception of JFK airport and stadium locations.
The best thing about this burger is that Shake Shack will donate a dollar for every burger served to No Kid Hungry, a campaign from Share Our Strength to end child hunger in the United States. According to Share Our Strength, 16.2 million U.S. children struggle with food insecurity — that means nearly 1 in five kids aren't reliably getting the food they need. No Kid Hungry is working to end this problem through a variety of programs that provide breakfasts to children at school, feed children in the summers, and educate families about how to create nutritious, low-cost meals.
"Creating a burger with the folks at Shake Shack is exciting," Roker told TODAY. "Creating a burger that helps childhood hunger is inspiring." To get your very own Roker Burger, head over to Shake Shack this week — it's only available through Friday, August 26.
Image: YouTube