5 Ways To Build Endurance In Bed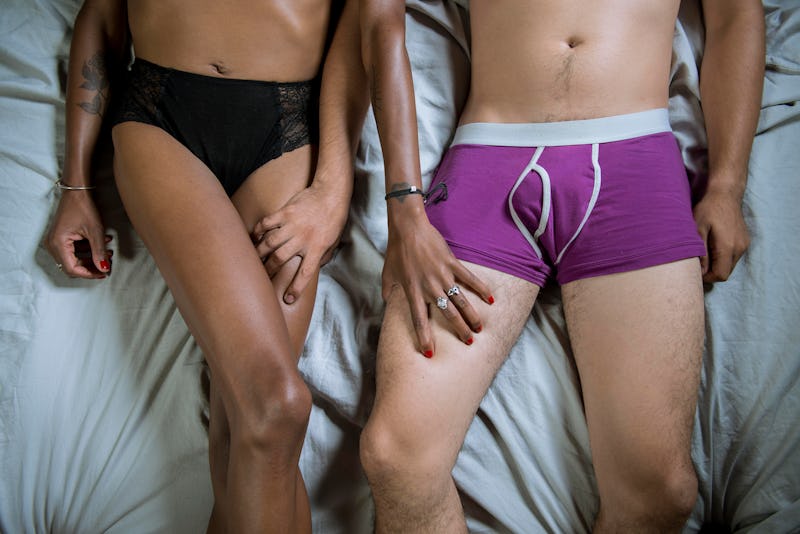 So, you love having sex. You like the ins-and-outs of the whole process and of course, the grand finale. But when you're going at it, you find yourself getting exhausted, tired, and ready to throw in the towel (long before you actually get to a point of ecstasy). Your ability to maintain energy during sex is a lot like your strength to push through a tough boot camp class: it's all about endurance.
"Endurance is important in bed because it gives us a sense of control and feeling of empowerment. We are able to meet our partner's sexual needs, and feel sexually and erotically fulfilled ourselves," Dr. Holly Richmond, psychologist and sex therapist tells Bustle. "It lets us know for certain that we are a good lover. If two people's sexual endurance is equally matched, there will be no reason to ask, 'Was that good for you?' Having sexual endurance gives each person a sense of sexual self-efficacy and know-how."
If you're struggling with getting up your stamina, don't worry. There are easy ways — both mentally and physically — to get your head and your body into the bedroom:
1. First, Define What Endurance Is
When experts speak about endurance, it's not just about how long you can stay on top of your partner or hold a position. As Richmond notes, it's actually about all aspects of love making that require a strong will. As Dr. Richmond explains, physical endurance might be what you first think of: "The physical aspect, giving and receiving pleasure, is one of the most important pieces of sexual health that I help my clients explore. In a nutshell, it's asking, 'What feels good to you? How do you enjoy being sexual with others? How well do you know yourself and your sexual needs? How willing are you to ask your partner about their needs, and meet them if possible?'" she explains.
But then there's emotional strength while having sex which she explains: "The act of staying present and attuned to your partner, is also an essential element of great sex. I might ask, 'Do you want sex to be just about your genitals, or are you open to mind/body eroticism, an embodied experience that can make good sex great sex?'"
2. Make Sure You Invest In Foreplay
Part of what will get everything flowing in the right direction is ensuring your body turned on. A big way to do this is with foreplay — from using your hands to your mouth on one another. This helps build your endurance because you spend less time in actual intercourse trying to turn one another one and more time warming up everything. As Richmond advises — foreplay can actually start long before you get naked, too: "Explore what gets you in the mood. Is it sexting with your partner, putting an explicit sticky note on their car seat, whispering in their ear that morning about what you want to do to them or want them to do to you? Build endurance that lasts all day," she says.
3. Get Out Of Your Head
It's easier said than done, but the more you can stay present during sex, the better your endurance will be. You waste mental energy that could be focused on intimacy when you start rattling off to-do lists in your head while trying to also have sex. When you let go of everyday stresses for just an hour, you won't wear yourself out as quickly.
One way to do that is to prioritize your daily choices, Richmond says. "Stress is not sexy. If you are constantly running from one engagement to the next, always in work mode or mom mode, your sexual endurance will be nil. It sounds cliché, but taking time for yourself (not necessarily by yourself) — time where your needs come first — is essential. Exercise, quiet time alone, and social time with friends and family are all necessary qualities that enhance your overall health and sexual health, of which endurance is feel-good byproduct."
4. Masturbate
It's no secret that masturbation can seriously make your sex life better. From when you do it all by yourself to using it as a sexy addition for your partner to watch, knowing your own pleasure zones and what gets you off helps you have a fun experience. It can also help build your endurance because you don't spend time doing things that don't work and instead, focus on the ones that do.
"If you don't know your body and mind, and what keeps your aroused, how do you expect your partner to? Be willing to explore your fantasies when you masturbate, and then if it feels safe, share them with your partner," Richmond tells Bustle. "Also, practice with your hand or a vibrator by bringing yourself close to orgasm, and then bringing yourself back down…and then bringing yourself back up again. Being able to control your orgasm with your technique can extend a quickie to hours of pleasure."
5. Lastly, Breathe
If you've ever ran a race or tried to make it through a grueling workout, you likely heard your instructor (or your internal coach) reminding you to inhale and exhale. Breath is so important in anything physical, sex included. It helps you structure your pace, slow down and then dive right back in.
"The pacing of your breath is as important as the pacing of your body. Things may go too quickly if your breathing is shallow and rapid. Think long, slow deep breaths, and let your body follow," Richmond says. "You can learn to easily regulate your excitement with your breath for an extra erotic mind/body charge."
Images: Andrew Zaeh for Bustle; Giphy