Mike Smith From 'One Shot' Is Calling The Shots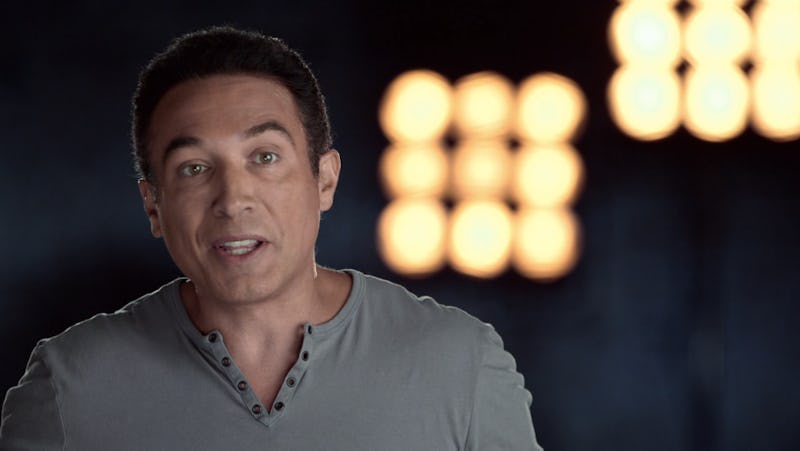 "You only get one shot/Do not miss your chance to blow," Eminem famously raps in his 2002 hit "Lose Yourself." That line seems to come to life in BET's new reality competition One Shot, where aspiring rappers will compete for $100,000 and a record deal with SMH Entertainment. To do so, contestants will have to impress a panel of judges that includes guest appearances by big-time rappers like T.I., RZA, and DJ Khaled, as well as the permanent judging stints of Mike Smith, Kxng Crooked, and King Tech. So before One Shot premieres on BET on Tuesday, Aug. 23, let's get to know a little bit about one of those judges, Mike Smith, and what makes him so qualified to find the next big thing in hip hop, shall we?
Well, read a little bit about Smith, and that should quickly become pretty apparent. He's quite the mover and shaker in the music industry, and his influence isn't just relegated to the hip hop genre, either.
So get to know a little bit more about one of the people responsible for finding the individual that could possibly change the rap game forever, below. He's even got a pretty intriguing life outside of his work, so you definitely won't be sorry you did.
Contestants Will To Want To Impress Him
That's because he owns the record label that the winner of One Shot will score a contract with, SMH Entertainment, according to his official website. Since Smith has his business on the line, he's probably going to be extra-critical of these aspiring hip hop stars, which might be difficult for them to take, but it should create good TV for us.
He's Worked With Some Major Music Stars
Smith isn't just an executive; he knows how to craft an amazing single as a songwriter, too. Smith has worked with the likes of Darryl McDaniels of Run DMC and Twista, as well as members of Guns N' Roses and Dave Matthews Band, his website says. Clearly, there isn't a genre that Smith can't tackle.
He Knows What It Takes To Be An Artist
Smith might actually have a whole lot of empathy for the One Shot contestants because he's now trying to make a name for himself as a singer. He dropped his debut album, the country rock-filled Always You and Me , earlier this month. He also released the hip hop LP When Music Worlds Collide (Deluxe) in July, on which he collaborated with his fellow One Shot judges King Tech and Kxng Crooked. I have a feeling Smith has even more music in him.
He Wasn't Always In The Music Biz
Smith first made his fortune in the 1990s when he was only 23 years old with an IT business, according to his website. He then built, bought, and sold three regional chains of medical practices. But I feel like he's found his calling with this whole music thing.
He's A Family Man
Smith is married to Erika Smith, a choreographer and dancer, who is also one of the executive producers of One Shot, according to a BET press release announcing the series premiere. She also danced in one of Inspectah Deck of the Wu-Tang Clan's music videos, so yeah, she's basically the coolest. The couple has six children together, according to Smith's website, and this big, happy family is too-cute.
He May Be Related To A Huge Historical Figure
No, Smith's supposed relative is not known for hip hop and hasn't even been an influencer in the music industry. Smith says on his website that he's related to Fidel Castro. Yes, that Fidel Castro. Smith is Cuban American, and his mother was born in Havana. It's unclear exactly how he's related to the former Cuban leader, but it's a conversation starter.
But if Smith finds the next hottest hip hop superstar through One Shot, I suspect he'll have a totally different claim to fame.
Image: BET