The Taraji P. Henson x MAC Collab Is Coming Soon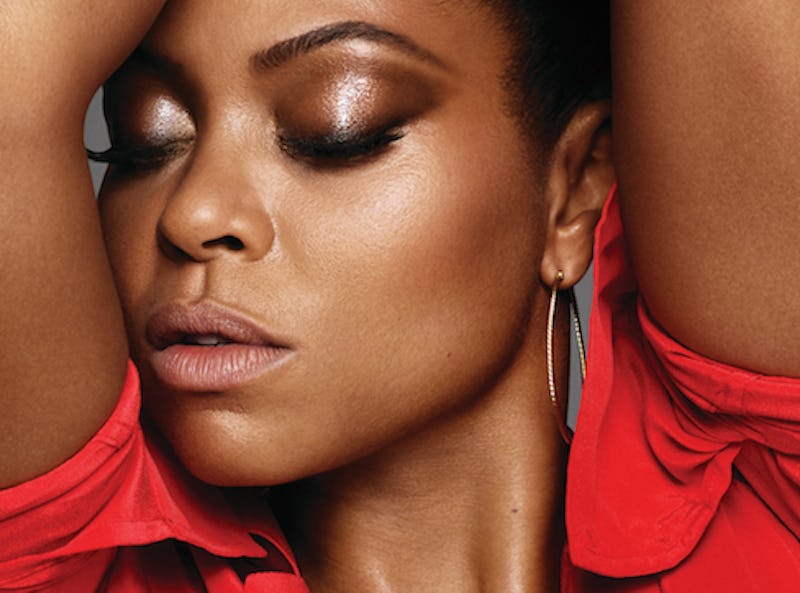 Stop what you're doing because MAC is back at it again. The makeup brand has collaborated with singers, fashion labels, and even movies before, and now Taraji P. Henson is getting in on the fun. So, when does the Taraji P. Henson x MAC collaboration come out? You don't have much longer to wait.
When this makeup company teams up with a someone for a collection, they don't hold back. Just this year alone they've worked with Ariana Grande, Star Trek, and the Good Luck Trolls, not to mention the lipstick and face set they came up with in honor of Selena Quintanilla. Now it's Henson's turn to help produce her own mini beauty collection. The Empire actress has come up with six different products for her line, and each one of them deserves a spot in your makeup bag.
Henson has something classic and bold in her MAC collab. Honestly, there is something for just about everyone. Because who doesn't need a black liner, highlight brush, and mascara in their beauty collection? In addition to the three makeup staples, she also created two different skin finishes and a gorgeous nude lipstick as well.
If you're super excited from just the description, you'll be happy to know that you don't have to wait much longer to get your hands on the products. Henson's collab launches on Sept. 6 on the MAC site. That's right around the corner!
Here's what's in the line, so you can plan what to buy.
1. 187 Brush
It's the year of the glow, so it only makes sense that you gear up with a great highlight brush.
2. Haute & Naughty Too Black Mascara
Double the lash options? Yes, please!
3. Strip Me Down Lipstick
If this isn't the most gorgeous nude you've ever seen, then I don't know what is.
4. Highlight The Truth Mineralized Skin Finish
No look is truly complete without a little cheek shine.
5. Taraji Glow Mineralized Skin Finish
There's even a second option.
6. Rapid Black Ultimate Pen Eyeliner
Round out the look with a classic black liner.
These are all the staples you could possibly need, if you ask me!
Images: Courtesy MAC