These Bras Are Made For Radiation Patients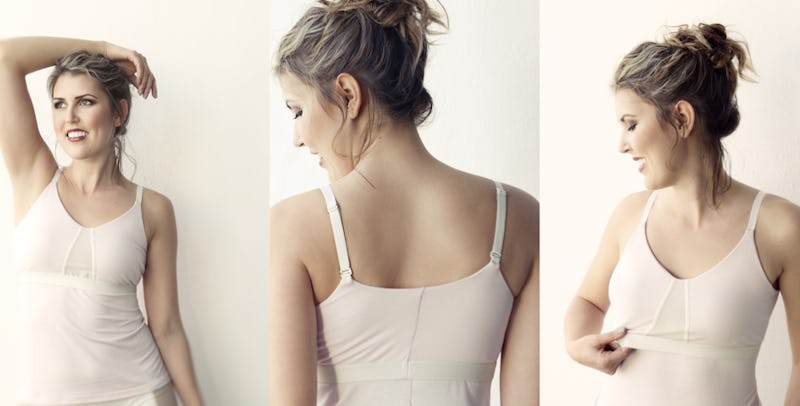 Among the many things I watched my mother juggle while battling cancer was discomfort and painful burns from her radiation treatment. This wasn't too long ago, and I couldn't believe there wasn't a better bra option for her to wear during radiation treatment yet. Months later would I met the owner of an intimates brand for breast cancer patients called Ana Ono. Dana Donofree and her counterpart Dr. Katie Deming recently launched the Makemerry collection, which consists of intimates specifically for wearing during radiation treatment.
In case you are lucky enough to be unfamiliar, radiation is used to kill cancer cells in the affected area. It's used to wipe out any remaining mutated cells that remain in the breast and/or lymph nodes after surgery. While doing this, the radiation waves can cause fatigue, mild to severe burns, and even hair loss for the patient. Try to imagine giving up all control over the way you look and feel in exchange to potentially save your life and you can easily see why a collection that is elegant and stylish while still giving comfort during radiation can feel essential.
To raise my own awareness of just how effective the Makemerry collection is, I spoke with Dr. Katie Deming, Board Certified Radiation Oncologist, to discuss the fabrics, design, and style that make it work.
1. Makemerry Is Made To Sustain Multiple Washings
I know most of my bras will never see the inside of my faithful wash and fold service because they will inevitably fall apart. According to Dr. Deming, the durability of bras and camisoles is extremely important, particularly during radiation: Patients undergoing radiation will have multiple treatments and need a fabric that will keep the same level of comfort.
2. The Seams Of Makemerry Are More Than What They Seem
Speaking of comfort, the Makemerry bras have intentionally hidden seams. Dr. Deming explains further that under the arms and armhole can be highly sensitive post-op and during treatment, "We've folded the seams "We've folded the seams in between the layers of the bra so there is no stitching or elastic that touches the skin." This is so it feels smooth against the skin and on the camisoles, the elastics are on the outsides, creating a smooth barrier between the elastic and shelf bra while still having the support of a built-in bra.
3. The Design Is Made For Support
When I gifted a cami to a friend going through radiation, we not only noticed the seams were thoughtfully hidden, the support from the cami (and bra) are against the rib cage instead of the breast line. According to Dr. Deming, "The shelf bra is a little bit longer so they elastic isn't riding under the bust where irritation can occur underneath the breast. Areas most irritated are under the arm, under the breast, and over the clavicle: in all these areas we've tried to design the fit in a way where it doesn't ride up." The arm cut out is also lower than a traditional bra to avoid hitting the skin where incisions have been made.
4. The Fabric Is Breathable
According to Dr. Deming "During radiation, women have nothing on. Metals, deodorants, and creams with metal, like zinc, are what we worry about burning into the skin. Therapists also want to see the anatomy [without]clothing [getting] in the way."
You can imagine that leaving a radiation treatment can leave the skin feeling raw and irritated and while Dr. Deming explains that many doctors still advise wearing cotton, the Makemerry team has found that Modal is more breathable and sustainable. According to Dr. Deming, "Modal is a technical fabric that breathes and dries quickly, keeping the moisture from sitting against the skin." Unlike the natural fiber, modal, cotton goes through harsh processing and is not a performance fabric. Since many women experience hot flashes from chemo and menopause, a fabric that isn't going to soak up moisture and sit against the skin is ideal.
5. Makemerry Is Listening
That the Makemerry team genuinely wants to empower women going through radiation treatment and continue to develop products that can make women going through treatment comfortable. Both the bras and camisoles comes with pockets for lightweight breast forms and modesty pads. While it's intended for those with lumpectomy, mastectomy, breast reconstruction, augmentation, lift, and reduction, it can also be an ideal intimate for someone with no reconstruction or surgery at all. For those that prefer a camisole without a built-in bra? Don't worry, Makemerry is listening and is already developing a sleep cami without a built-in bra that will support those experiencing raw skin from radiation.