Aly & Laurie Win Gold At Hungry Hungry Humans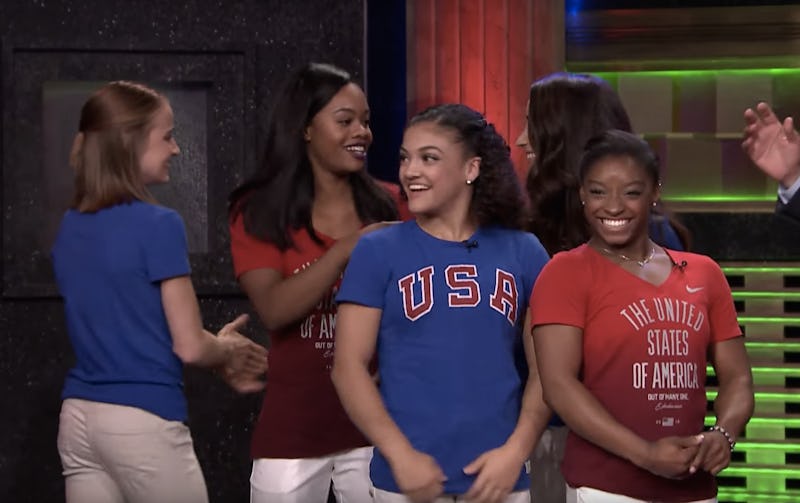 I've never won an Olympic gold medal, or any medal for that matter, so I can't say for sure whether or not every other competition pales in comparison to the one you've aced. However, I'm going to go ahead and assume that there are still some special ones that come close. For the Final Five gymnasts, that second-in-line competition to the Rio games might just be one drummed up by the evil geniuses at work at late night TV. You see, on The Tonight Show Starring Jimmy Fallon , the Final Five played Hungry, Hungry Humans, and it was almost as entertaining to bear witness to as the Olympics itself.
If you're asking yourself, "what the hell is Hungry Hungry Humans?," then you already know the answer. It's modeled, as Fallon explains, after the board game, Hungry Hungry Hippos except with... human beings. Listen, I don't make the rules. It's Fallon's world, and I'm just living in it. Besides, the idea, while zany, makes for great TV. The best part about this game is that not only were the already very in shape and flexible Olympians used as the "hungry humans," but so were Fallon and Donald Glover, who were admittedly probably not as prepared as the girls were for the intense game, despite Fallon having an advantage with Simone Biles as his teammate. Which, you know, made things that much funnier at their expense.
The other four members of the Final Five were divvied up into teams of two, with Gabby Douglas and Madison Kocian on one squad, and Aly Raisman and Laurie Hernandez on the other. Another hilarious aspect of this ridiculous yet ingenious game? Despite the gold medalists showing great sportsmanship and a real bond with one another during the Olympics, they were totally fine going head to head in this instance. The girls had no mercy on Glover, Fallon, or each other — especially Aly Raisman and Laurie Hernandez, who won over Douglas and Kocian's team by one deciding ball.
More than anything, though, it was truly fun to see the Final Five all considerably more relaxed and at ease than they were in Rio. Without their entire life's work on the line, the girls were able to have some real fun, and, in turn, we got to enjoy it with them. In a way, this healthy, yet superficially high stakes, competition almost made up for the lack of Olympics excitement now that the games are over. Almost.
Images: TheTonightShowStarringJimmyFallon/YouTube