Where Are The Real 'War Dogs' Guys Now?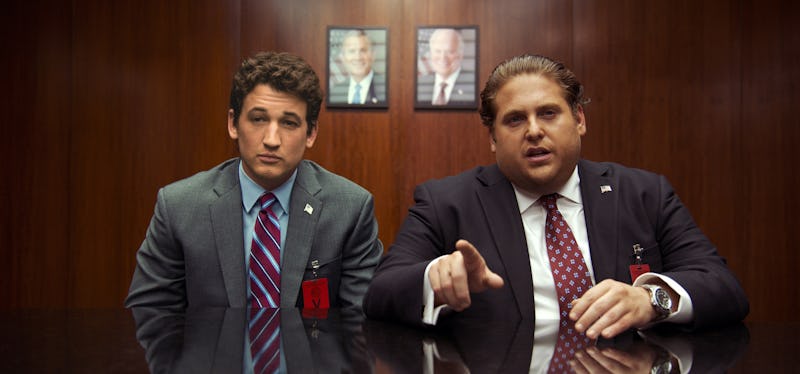 It's easy to sit in the audience of War Dogs and think that David Packouz (Miles Teller) and Efraim Diveroli (Jonah Hill) are larger than life. And, in many ways, they are. For the film, writer-director Todd Phillips (The Hangover) adapted the true story of Packouz and Diveroli, two 20somethings who ended up with a $300 million contract with the U.S. Government to get ammunition to Afghanistan in 2007. The insane financial success and extravagant, bro lifestyles that followed are all featured in the film. Unfortunately, as seen in War Dogs , Packouz and Diveroli's time as successful arms dealers ended in court dates and arrests for fraud — Packouz was put on house arrest, Diveroli was sentenced to four years in jail. But, where are the real War Dogs guys now?
In 2011, after an official government investigation by the House Committee on Oversight and Government Reform, Packouz and Diveroli were sentenced for their shady dealings under contract — which included trafficking in unregulated ammunition — and Packouz spent seven months under house arrest while Diveroli went to jail. Diveroli was just 24 years old. Now, five years later, with a huge Hollywood movie made about their lives, both Packouz and Diveroli have moved on from their arms dealer days, at least in theory.
After his experience as an arms dealer, Packouz, who was recruited to the business by Diveroli, changed direction. According to his official Twitter account, Packouz now works as a musician and owns his own company, BeatBuddy, which sells an electronic drum machine. Packouz still lives in Florida, where he and Diveroli set up shop all those years ago. And, according to his Instagram, he loves to travel. He is also the busy father of a little girl — he frequently posts sweet photos of their adventures on Instagram. But that doesn't mean he's left his War Dogs days behind him completely. Packouz acted as a bit of a consultant on the film, meeting with Teller, Hill, and Phillips to discuss the story and the characters. He visited the set of the film, and even attended the premiere.
Diveroli, on the other hand, had no involvement in the film, and, based on his social media posts, he isn't very enthused about War Dogs . In fact, Diveroli has been urging followers not to see the movie and to read his memoir, Once a Gun Runner, instead. "Before you read, watch, or listen to anything else about Efraim Diveroli, learn the REAL STORY," he wrote on Facebook. (In the same post, Diveroli called his book a "newly released, soon-to-be bestseller.") Aside from his book, which was released in May, Diveroli also started a media company named Incarcerated Entertainment.
But that's not all Diveroli has been up to. According to a report by The Washington Post , Diveroli recently filed a lawsuit against War Dogs producers, claiming they based the screenplay off parts of his memoir without the rights. He is seeking damages, as well as a cut from the profits of the film. However, it's unclear whether or not his case will ever go to trial, as Warner Bros. has filed to dismiss the suit because it is "baseless."
The Warner Bros. suit isn't the only court battle that Diveroli is facing. He is also currently fighting accusations from Packouz and their former associate, Ralph Merrill, who claim that Diveroli still owes them profits from their 2007 government contract. "He cheated me out of millions of dollars," Packouz alleged in an interview with Miami New Times . He continued to claim, "He cheated Ralph out of his life savings. I just believe he should pay me the money he owes me and pay Ralph what he owes him." However, Diveroli claims that he told Packouz, "You were a part-time employee... who only closed one very small deal, with my help, and dropped the ball on a dozen others," and has yet to file a response to Merrill's complaint.
It looks like the drama of War Dogs is still going on. Who knows? At this rate, we might get a War Dogs 2.
Images: Warner Bros. Pictures