Airbnb Is Live Streaming From 3 National Parks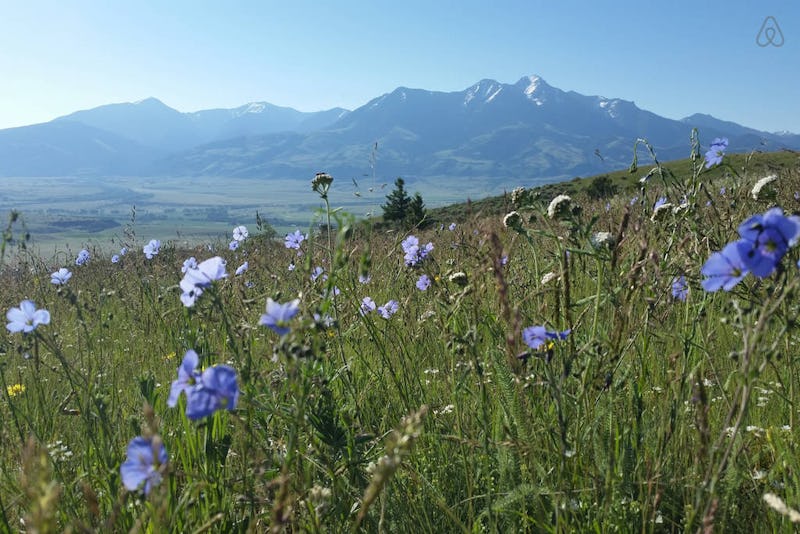 You don't have to be an orienteering enthusiast or spelunking aficionado to appreciate the 58 unique U.S. National Parks under the care of the National Park Service — today you can enjoy them from the comfort of your very own desk. To commemorate the 100th birthday of the National Park Service, Airbnb is streaming from three national parks. Tune into Facebook Live at any point to watch the 24-hour marathon of natural beauty, no hiking boots required.
The national parks have been called "The greatest idea we ever had," and August 25 marks the centennial of their caretakers. We have relied on the National Parks' rangers to protect and preserve these sites of breathtaking beauty and cultural import from sea to shining sea. And they have done so, all while pulling off those broad-brimmed campaign hats with panache — for that, we salute them. The service is kicking off a second century of stewardship with a plethora of festivals and educational events throughout the month of August, and it's not too late to get in on the fun. They are also offering free admission to all 413 national gems under their care from August 25-28. Find the park nearest to you by checking out their site. You can also watch their birthday video here, which (no lie) made me tear up a little:
Oh man. Where did I put those tissues?
If you would rather be camping in Joshua Tree right now, than shivering in an air conditioned office I highly suggest checking out Airbnb's livestream. From 6 a.m. to 10:30 a.m. Airbnb invites viewers to enjoy a sunrise over the sun-baked desert of Joshua Tree (if we're lucky, we may even see a tumbleweed). Throughout the afternoon, you can watch a peaceful view of a hazy mountain range in Yellowstone, listening to the relaxing sounds of birds chirping and insects buzzing. Wrap up the day in Acadia at 7 p.m., with a view overlooking gnarled pines and a shimmering lake. All of the sites are viewed from vacation properties for rent through the site and fair warning, you may get some serious home envy watching the stream.
Since you're a human being with a heart, you may want to get yourself over to one of these places, stat. So if you missed the live stream, here is a taste of what Joshua Tree has to offer:
Yellowstone has a verdant beauty:
A sunset from the Acadia river isn't too bad either:
Airbnb has thousands of listings in and around America's national parks, and a ton of interesting homes. Looking to rent an igloo, a treehouse, or a yurt for your next vacay? They probably have one available. Tune into the livestream and see which park is right for your next adventure. You can find me relaxing in one of the natural hot springs in Yellowstone.
Images: Airbnb (1, 2, 3, 4), FindYourPark/Youtube