Huda Beauty's Rose Gold Palette Is Gorgeous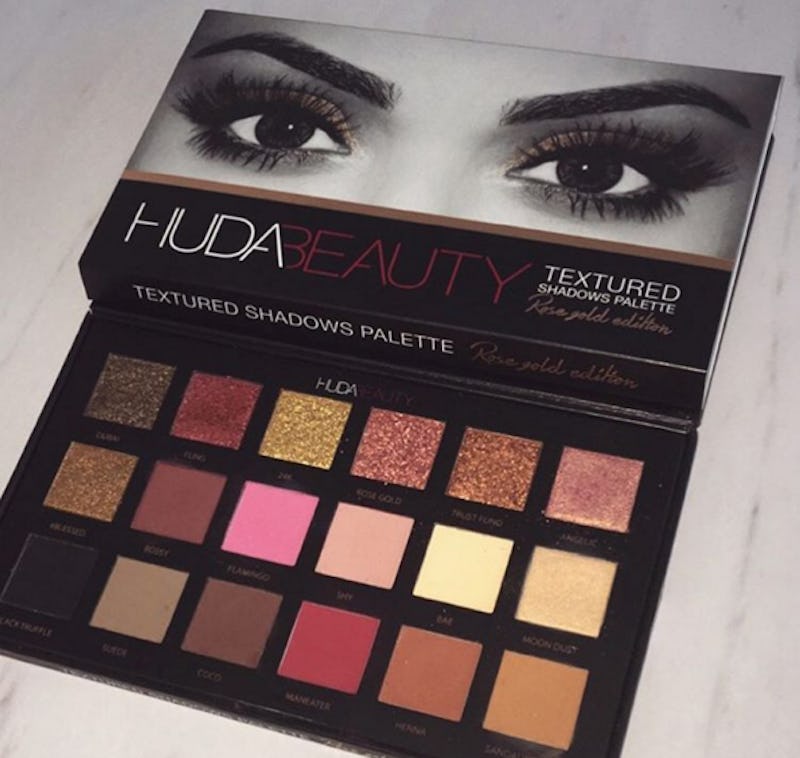 Huda Kattan, the A-list beauty blogger turned makeup designer, is further expanding her growing cosmetics brand. First, she tackled our lips, with her insanely popular Liquid Matte Lipsticks and Lip Contour pencils, and now she is targeting our eyes. Huda Beauty is launching its first-ever eyeshadow palette, and trust me when I say, it's about to top your wish list. So, what's in the Huda Beauty Rose Gold Shadows Palette? You may now be wondering. I've got you covered with all the details.
The brand took to Instagram recently to unveil the highly anticipated palette, flaunting each shade in all its glory. It's comprised of 18 fabulous shadows all based on the central color scheme of rose gold. The hues include both shimmery shadows as well as matte ones, ranging in color from neutrals like mauve, brown, pale yellow, and gold, to more colorful shades including pink, red, and even olive green.
The palette is super versatile. You can pretty much mix and match any of the hues to create custom combinations for any type of makeup look you're hoping to achieve. Be it for a night out on the town or a more subdued daytime style, the Rose Gold Shadows palette has something for everyone.
Feast your eyes on the stunning product.
Holy beautiful.
Look at all that sparkle!!
If you're already dying to get your hands on this beauty, you won't have to wait long. According to the brand's Instagram, the palette is set to drop in mid-September.
Image: HudaBeauty/Instagram