'RuPaul's Drag Race' Season 2 Has A Divisive Twist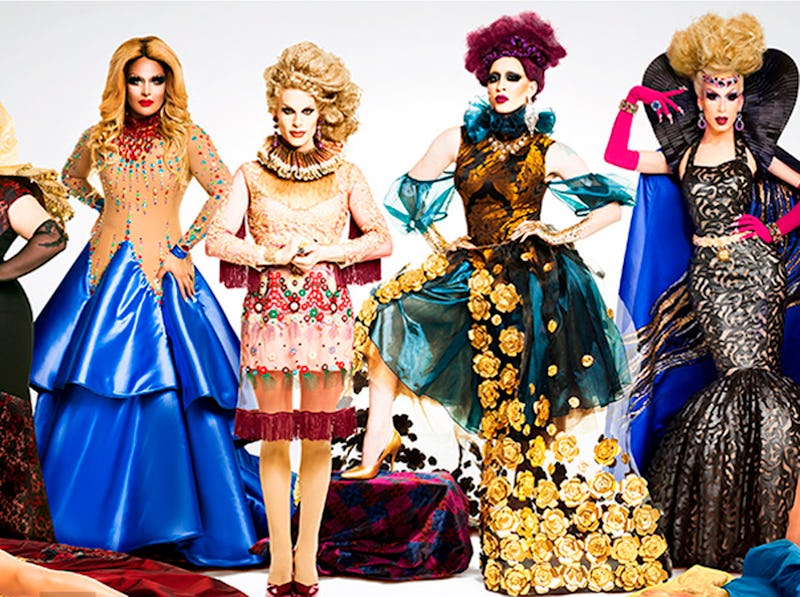 If you're anything like me, the premiere of RuPaul's Drag Race All Stars Season 2 — Thursday, Aug. 25 at 8 p.m. ET on VH1 and Logo — is basically the most exciting day of the year. Priorities, guys. From the goosebump-inducing lip synchs to the delicious campiness to all the glorious outfits, any form of RPDR gives me life. And when it comes to this season of All Stars, there's a diabolical twist that's sure to make for some platinum television. For the first time in Drag Race Herstory, the queens will be responsible for eliminating each other, which elicited a variety of responses from the Queens themselves.
"Terror. Horror. Crying. Screaming," an orange-clad Alaska Thunderfvck tells Bustle of what went through her mind when the twist was revealed. "Cause we've all worked together, we're all friends. And here we are, we have to decide to send each other home, and this is the biggest competition in the world, for drag," she adds.
Another Season 5 contestant, Roxxxy Andrews, weighs in and says, "It's definitely a bad thing, because everybody here is my friend." Wearing a blue vinyl halter dress that showcases her signature "thick and juicy" body, Roxxxy pulls an auburn lock from her forehead, looking deep in thought. "And If I do well, then I'm gonna have to send them home?"
It's a valid concern. One of the most magical parts of this show comes from the camaraderie that the Queens form in the Werk Room. From their own seasons, and from being on the road, they have become sisters in drag. But with this curveball, alliances will form, friendships will be fractured, and bonds will be tested. Personally, I don't want to live in a world where the RPDR queens are not friends.
This twist will also pose a challenge to fans, as choosing someone to root for will be harder than ever with past heavy-hitters like Alaska, Alyssa Edwards, Katya, Ginger Minj, Adore Delano, Roxxxy, Tatianna, Detox, CoCo Montrese, and Phi Phi O'Hara coming together to vie for this second all-stars crown.
And while nobody wants to lose to a friend, some of the queens are looking at this unprecedented rule as a good thing. "I think the most exciting part of this season is the twist," says Tatianna, the Season 2 veteran who's coming in swinging. "I immediately thought, 'This is gonna be super dramatic, and I kind of couldn't wait to watch it all go down."
Phi Phi O' Hara, known for her competitive spirit that led her to clash memorably with her competitors in Season 4, is remarkably level-headed about the whole experience. "To be honest with you, because we all work so closely with each other, we all knew what was gonna happen ... So we all knew that if there was a fight or something, there would be no hurt feelings. It's just drag."
Fractured sisterhood or not, I agree with Alaska's take that this season will "definitely be fun to watch," so I'll be eagerly tuning in to watch the Season 2 premiere of RuPaul's Drag Race All Stars on Thursday night.
Say it with me now, kids... Gentlemen, start your engines! And may the best woman win!
Images: Giphy (3)