33 Early '00s Movies Hated By Rotten Tomatoes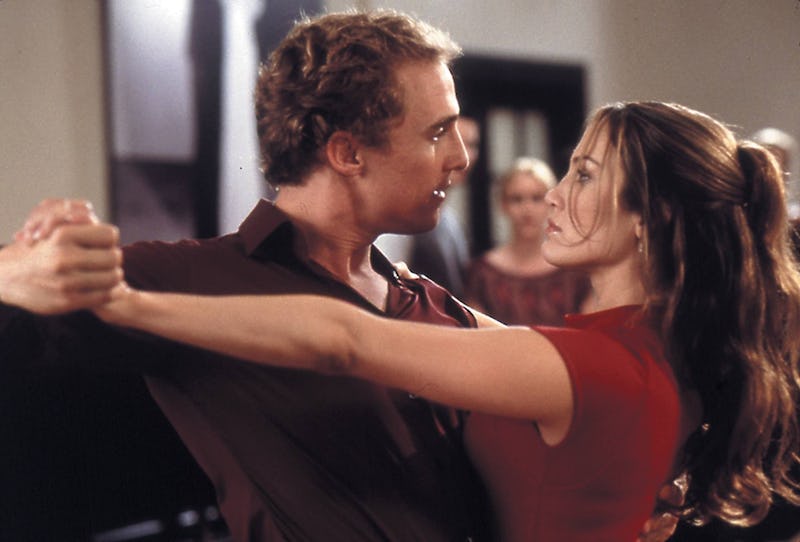 Rotten Tomatoes wasn't really a thing in the early 2000s. Back when we still got all our online news from the AOL homepage and spent hours looking for the perfect Away Message (deep, but not too emo), the critical site was hardly on the scene. But, just because it didn't exist doesn't mean it hasn't been rating movies all along. That's right, even your favorite early '00s movies have scores on Rotten Tomatoes. And some of them might surprise you.
Rotten Tomatoes tally their ratings based on reviews from critics. If they're positive, they get a Fresh rating, if they're negative they get a Rotten rating, and the percent of Fresh ratings are calculated — that's the Rotten Tomatoes score. 60 percent or higher Fresh means a movie gets a nice red tomato, 75 percent is Certified Fresh as A+ entertainment. 59 percent or lower is considered Rotten — a high threshold if you ask me, but I'll let you decide after you see the ratings of these early '00s movies. Whether the ratings are harsh, but fair (The Master of Disguise was not a masterpiece), or just ridiculously low based on normal human standards, I think we can all agree these 33 Rotten Tomatoes scores are just plain sad.
1. Killing Me Softly (2003) — 0 Percent
A 0 percent fresh rating? That's just impressively awful.
2. The Master Of Disguise (2002) — 1 Percent
The Master of Disguise has a 1 percent rating on Rotten Tomatoes, which means that only 1 out of 100 critics thought the movie was in any way worthy of your time.
3. Battlefield Earth (2000) — 3 Percent
It's not surprising the scientology-linked film Battlefield Earth was hated by critics, but a 3 percent on Rotten Tomatoes seems harsh for any movie starring John Travolta.
4. Down To You (2000) — 3 Percent
I was admittedly low key obsessed with this movie as a tween, so I might be biased, but 3 percent for a rom-com starring Freddie Prinze Jr. and Julia Stiles? Come on.
5. Christmas With The Kranks (2004) — 5 Percent
5 percent is low, even for a Christmas movie.
6. Supercross (2005) — 5 Percent
Admittedly, Supercross is pretty bad, but 5 percent seems harsh for any movie that features a shirtless Channing Tatum, right?
7. Valentine (2001) — 8 Percent
OK, so, I'm not totally surprised this horror romance is rated 8 percent on Rotten Tomatoes, but looking back, I'm surprised it didn't get a little more love from critics given it's appeal to the early '00s teenage aesthetic.
8. The Skulls (2000) — 9 Percent
Apparently critics didn't think much of this thriller starring Joshua Jackson and Paul Walker. But, on the bright side, it's not the worst rated movie either 2000s heartthrob has been in.
9. Aeon Flux (2005)/Elektra (2005) — 10 percent
I'm not saying Aeon Flux or Elektra deserved higher ratings (though, 10 percent is pretty harsh), but considering Daredevil earned a 44 percent, it does raise some eyebrows.
10. Dr. Seuss' The Cat in the Hat (2003) — 10 percent
Ah, The Cat in the Hat — not Mike Myers' best movie. Then again, it's not his worst! (*cough* Love Guru *cough)
11. A Cinderella Story (2004) — 11 percent
Hey now! How dare Rotten Tomatoes diss this Hilary Duff classic?
12. Are We There Yet? (2005) — 11 Percent
11 percent is awfully low for a movie that inspired a sequel (Are We Done Yet?) and a television show.
13. Original Sin (2001) — 12 Percent
Not even Angelina Jolie's sexy pout could save this movie from a shattering 12 percent rating. Yikes.
14. Hide and Seek (2005) — 13 Percent
Oh how the mighty fall — even Robert De Niro and Dakota Fanning couldn't bring critics to like Hide and Seek.
15. Uptown Girls (2003) — 14 Percent
Uptown Girls deserves better than this, Rotten Tomatoes. It is a classic, and shall be respect as such.
16. Beyond Borders (2003) — 14 Percent
Another Angelina Jolie film panned by Rotten Tomatoes. The early 2000s were rough.
17. Crossroads (2002) — 14 Percent
Britney Spears doesn't need your approval, Rotten Tomatoes, but she deserves it nonetheless.
18. Swimfan (2002) — 14 Percent
Swimfan deserves a better Rotten Tomatoes score for Erika Christensen's intense performance alone. Yeah, I said it.
19. Scary Movie 2 (2001) — 15 Percent
Scary Movie 2 wasn't everybody's cup of tea, but 15 percent is pretty low, no?
20. Sweet November — 16 Percent
16 percent for the movie that made everyone and their mom sob like a baby. SMH.
21. The Wedding Planner (2001) — 16 Percent
16 percent? Rotten Tomatoes must have a glitch because this Jennifer Lopez, Matthew McConaughey romantic comedy was pure gold.
22. Alexander (2004) — 16 Percent
Oh, Angelina Jolie, you poor, poor thing.
23. You Got Served (2004) — 16 Percent
I guess before Step Up, there wasn't really a lot of love for hip hop dance movies. (Though, to be fair, Step Up has only a marginally better score of 19 percent.)
24. The Beach (2000) — 19 Percent
Remember when Leonardo DiCaprio made a weird, sexy thriller about a beach? Yeah, me neither.
25. Coyote Ugly (2000) — 22 Percent
According to Rotten Tomatoes, Coyote Ugly is a movie more rotten than The Expendables (41percent). I'll just let that sink in for a bit.
26. Enough (2002) — 22 Percent
Maybe critics were too afraid of giving J. Lo a good review after watching her fight her way out of an abusive relationship?
27. A Walk to Remember — 27 Percent
The Nicholas Sparks movie that started it all... was really not liked by critics at all.
28. Wet Hot American Summer (2001) — 32 Percent
32 percent seems awfully low for a movie that went on to become a huge cult classic.
29. I Am Sam — 34 Percent
The Oscar-nominated I Am Sam only has a measly 34 percent on Rotten Tomatoes. That's not even close to being Fresh.
30. Mona Lisa Smile (2003) — 35 Percent
Apparently a sweet, thoughtful take on feminism and womanhood starring a stellar cast was only worth 35 percent according to Rotten Tomatoes, so, what is the point, really?
31. Memoirs Of A Geisha (2005) — 35 Percent
35 percent might not seem low given the ratings of the other movies on this list, but for a movie as stunning as Memoirs of a Geisha, it's truly shocking. And not in a good way.
32. Hardball — 39 Percent
All those tears you cried over Hardball were apparently only 39 percent fresh. Sorry!
33. Miss Congeniality (2000) — 42 Percent
How does Sandra Bullock's iconic Miss Congeniality not have 90 percent on Rotten Tomatoes? How? Keep in mind, Mel Gibson's What Women Want (2000) has 54 percent. Yeah, Gibson is apparently more fresh than Bullock.
BONUS: Surfer Dude (2008) — 0 Percent
Surfer Dude technically doesn't count, as it's not an early 2000s movie, but it's too hilarious to pass up. Matthew McConaughey stars as the surfer dude, Woody Harrelson is his stoned manager — and it all adds up to a rare 0 percent on Rotten Tomatoes. You're welcome.
Looking at this list, it's clear that Rotten Tomatoes scores don't always correlate to box office success or longevity, so keep that in mind next time you're hunting for a movie to see. Sometimes Rotten movies can be worth your time.
Images: Columbia Pictures