Issa Rae's 'Insecure' Will Be A Must-See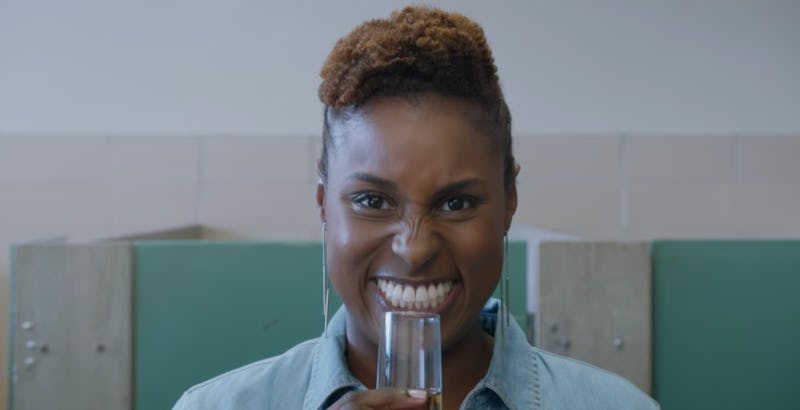 Ready, steady, fangirl: who's more fun and who's funnier than rising comedy star and queen of self-consciousness Issa Rae? If you haven't already watched her YouTube series, Awkward Black Girl , then clear your afternoon and marathon it. OK, done? Good, because you're gonna wanna familiarize yourself with Rae now that her upcoming comedy Insecure is coming to HBO soon. So soon, in fact, that Insecure now has some teasers! From the looks of it, it's even funnier than before.
The series is set to premiere on Sunday, Oct. 9 and the first two teasers have dropped and they're pure gold. Just as the Awkward Black Girl's sweet spot was in tackling themes that pretty much anyone can relate to (for driving while listening to music: "Am I the only one who pretends I'm in a music video when I'm by myself?" and, on repressing your frustration: "It's not violence if you don't act on it") from the perspective of an awkward black woman named J, Insecure — based off its teasers — will achieve a similar feat by centering on some themes through the eyes of Rae's character that most people will have experienced: missing an ex, hitting a club with your best friend, and, um, texting at totally inappropriate moments. Check them out:
Vulture has already noted that, as a show starring and written by a black woman, Insecure marks "a first for premium cable," which seems a little depressing. But on the other hand, this suggests programming is at least moving in the right direction.
Of course, while the show is great and important in terms of addressing the white-dominance of the entertainment industry, the most important thing is that it looks charismatic, smart, and funny, and that's the number one reason to watch it.
Images: HBO (2)