The First VMAs Was So Very '80s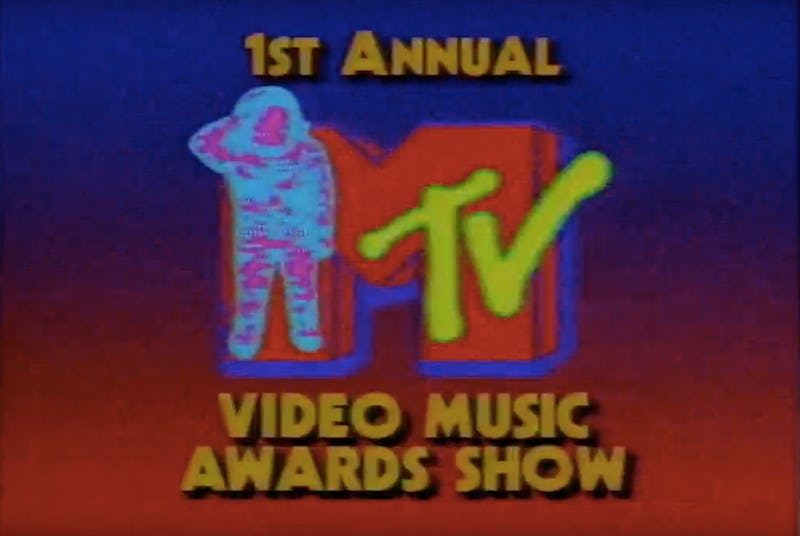 There's no grander time of year than MTV VMAs season, in my humble opinions. Sure, the Grammys, the Billboard Music Awards and even the American Music Awards all honor musicians like the VMAs, but there's something different about the latter ceremony. The MTV VMAs are an irreverent, bright, outrageous, and icon-creating affair. Since the VMAs first aired in 1984, our pop culture references and the way we experience the music world has expanded tenfold. Why? Because the VMAs, like MTV itself, have changed the way we reward popular musicians and the way an awards show can be formatted. I don't think anyone has ever accused the VMAs of being a boring or staid affair. If anything, the VMA's have been wild since 1984, but that doesn't mean that it wasn't a super '80s affair.
As we are wont to do in these modern times, when we look back at the very first VMA's, we stumble upon some very curious moments. There's definitely a lot that has changed since 1984, and MTV recently released a highlight reel of that very first ceremony. It's only a quick minute-long video but there is so. Much. In. There. It's actually kinda glorious and funny when you look back on it. One thing becomes very clear, though: the world of pop music has changed a lot since 1984.
Hosts Dan Aykroyd & Bette Midler Wore Spacesuits
The first VMA hosts were also two of the biggest comedians of the '80s: Dan Aykroyd and Bette Midler. While Aykroyd was coming off a hot summer with Ghostbusters, Midler was taking a break from focusing on her musical career to help to keep things lively. It might have been a bit too lively, as MTV reports that their monologue included "sexually suggestive banter" that set an outrageous tone for future VMAs ceremonies. Does that mean we have Aykroyd and Midler to thank for all the iconic moments of ceremonies to come?
Madonna Made Her VMAs Debut At The First Ceremony
Before she kissed Britney Spears at the VMAs in the '00s, Madonna was making her awards ceremony debut by performing her single, "Like A Virgin," for all her adoring fans. Madonna's career was just revving up in 1984, and this performance did nothing if not prove to all of us that a star was really being born. It's clear even back then that MTV and Madonna would go together like peanut butter and jelly for all time. While the song and the performance are very '80s, I think we can all agree that Madonna is pretty timeless.
ZZ Top Got Everyone To Wear Fake Beards
Back in 1984, ZZ Top was still a band that everyone was listening to —and crazy for. Take it from this still of the entire crowd wearing fake beards while the guys were onstage performing "Sharp Dressed Man." Those Ray-Bans! Those beards! It's a little weird, but also very amusing to see a sea of the music industry's elite playing dress-up for a live performance. Do you think Rihanna or Nick Jonas will be doling out props on Sunday for their live performances? Or maybe Britney will bring back her snake and pass it around the room for a bit of show and tell?
David Lee Roth Was Doling Out Some Kanye West-Esque Advice
Back in the day (aka pre-Kanye West), Van Halen frontman David Lee Roth stole all the spotlights. Roth was a performer to the max, and never disappointed in live events. In one particularly amazing moment from that first VMAs show, Roth doles out some killer advice: "If you ever get into a contest, it doesn't matter whether you win or lose. It's how good you look." Coming from a man rocking sunglasses and a bandanna around his neck, I think that's advice we can all take stock it. While Van Halen is now specifically relegated to the realm of "Only your parents are listening to this right now," it's fun to see that even the first VMAs invited along some very colorful characters.
The Sets Were Super '80s
Look at that podium, y'all! Sure, Billy Idol is cool, but I am loving the MTV checkerboard backdrop and mini-TV podium. There's not many pictures still available from that first ceremony but from what I can gather, the sets were minimal and the aesthetics were pretty New Wave. Only MTV could incorporate their logo into literally every inch of the massive VMA stage and make it look cool.
Make sure to tune in on Sunday, Aug. 28 for more VMA's goodness. Until then, go watch the throwback video, and really revel in all the '80s magic from the first ceremony.
Images: MTV/YouTube (6)