21 Novels By Women To Add To Your Fall TBR Pile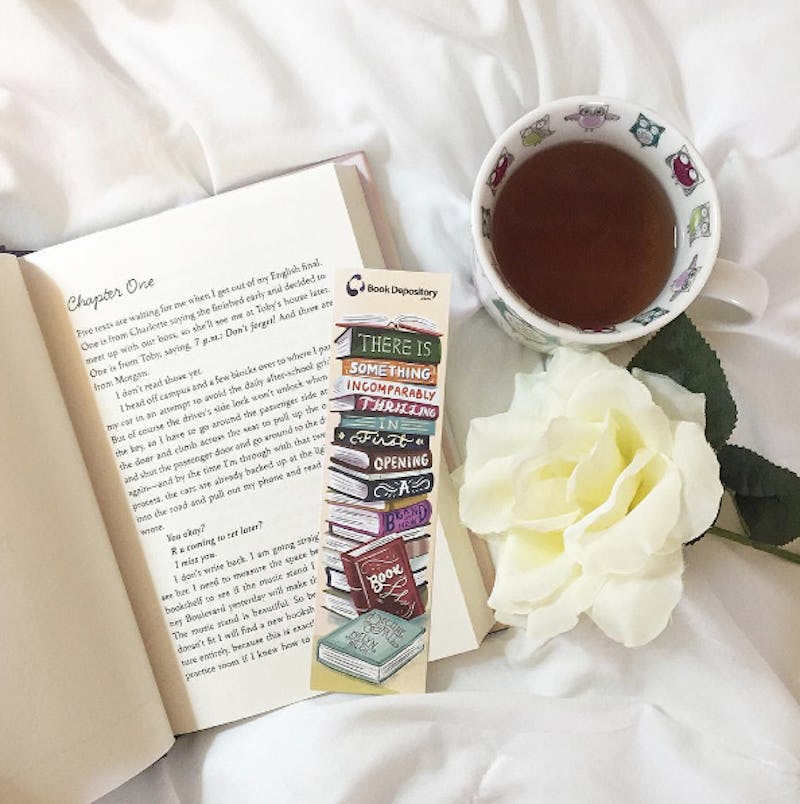 Ever since I was a little kid, growing up in a city where we had the best (and sometimes worst) of all four seasons, fall has always been my favorite time of year — the start of a brand new school year (back in the good ol' days when I was a student, that is), the assignment of a brand new academically required reading list (again, back in the good ol' days when I was in school), the arrival of sweater-'n-blue-jean weather, the return of pumpkin spiced lattes (I repeat: pumpkin spiced lattes), and of course, all the great new books for fall. Because, as every book-lover knows, nothing goes better with a pumpkin spiced latte than a brand new, hot-off-the-presses page-turner — page-turners like some of these novels by women to add to your reading list this fall. Do we agree? Well then read on, my intrepid reader, because the novels on this list will have every slot in your fall reading list filled in no time.
From discovering debut novelists like Sarah Domet and Brit Bennet — who might just become your new faves, to writers like Ann Patchett and Alice Hoffman — who already place prominently on your shelves, this fall's fiction line-up is definitely not one to miss. Here are 20 novels by women to add to your TBR pile this fall.
Climate change has been appearing in a big way in fiction of late, and Meg Little Reilly's We Are Unprepared is one of the latest titles in which the weather appears as the ultimate antagonist against her characters (or is it the other way around?). This novel introduces readers to Ash and Pia, a couple who move from NYC to rural Vermont in the face of an upcoming super-storm, and throw their lot in with two very different groups of people — Ash with a group of civic-minded community members, and Pia with a handful of off-the-grid fanatics set on arming themselves against the end of the world. The author also happens to be a former staff member for President Obama's White House.
Anna Hope's The Ballroom takes readers back to an early twentieth century asylum, where the quality of mental healthcare is questionable at best, and where men and women are kept isolated and separated. All except on Friday nights, that is, when the institution opens their grand ballroom and encourages the patients to dance. This sets the stage for a romance between two of the asylum's residents — John and Ella — who might each just be the push the other needs in order to free themselves from the asylum's wall's forever.
3. Leave Me by Gayle Forman
If you recognize anything of yourself in Maribeth Klein (and all of us probably do, to one extent or another) then I encourage you to pack up Gayle Forman's latest novel, Leave Me, and some serious sweatpants, and take a vacation immediately. Maribeth is a woman so consumed with caring for her husband and children she doesn't even realize she's suffered a heart attack — and her family is in no hurry to give her a break. Instead, she breaks away herself, embarking upon the vacation (aka: running away) of a lifetime — one that will provide her not only with a much-needed break, but with some much-needed perspective on her life.
Taking place over the course of five decades in the lives of four parents and six children, Ann Patchett's Commonwealth begins with a simple act: a kiss. But it's a kiss that sends each of the aforementioned family members' lives spinning off in directions they might never have expected. And they've made peace with the past — at least, they're able to pretend they have until their personal lives become the subject of a successful novelists next book, and they're forced to confront the pains of their pasts once and for all.
If you love fantasy and magical realism, Marisa Silver's latest title Little Nothing definitely needs to make your must-read list for fall. Introducing readers to a young girl named Pavla — both physically deformed and born into poverty, she's tormented mercilessly by her peers and community. But as Pavla grows up, she learns how to physically transform herself to a life beyond her body — and she finds a little love story along the way as well.
Written in Eimear McBride's signature, stream-of-consciousness style, The Lesser Bohemians tells the story of a young acting student named Eily, and a much older actor named Stephen, who embark upon an affair that will change both of their lives in ways they never expected. Forced by the intensity of their relationship to confront the issues they've been suppressing since their childhoods, their affair is marked by both violence and healing in equal measure, taking them into the darkest parts of themselves in order to ultimately draw closer to the light.
When readers meet Liddy James, the fast-paced protagonist of Anne-Marie Casey's The Real Liddy James, she seems to be at the top of her game — but that's all about to change, when her ex-husband's new partner announces she's pregnant, and the rest of Liddy's life starts to spiral out of control from there. Convinced a change of pace is what she and her sons need, the three travel to Ireland in hopes of tracing Liddy's family history. But what Liddy finds in the hills of Ireland forces her to confront more than her family's ancient history — she's forced to confront "the real Liddy James" as well.
When Dr. Nikhil Joshi's wife Jen is killed for discovering a Mumbai black market organ trade during her work with Doctors Without Borders, his life falls apart. Taking a job as a cruise ship doctor, Nikhil spends his time drowning his sorrows in alcohol and hiding from the world. But then he meets a woman named Jess Koirala, who claims to have received his wife's heart in a transplant — and in a twist that will change both her and Nikhil's lives forever (again) she wants to finish the important work that Jen was killed for.
A funny and heartwarming debut novel by writer Jade Chang, The Wangs vs. the World tells the story of one immigrant family — the Wangs — who achieved the ultimate American dream, only to have it snatched away from them entirely by the financial crisis. Gone with their dreams is also their family unity, and all Charles Wang—the head of this fractured family — wants to do is return to China and begin anew. But first he must take an epic road trip across the United States, from California to New York, that will force him to not only look at America, but at his American dreams (and family) in a new (and even better) light.
Another great debut novel for fall, Sarah Domet's The Guineveres introduces readers to four young girls — all inexplicably named Guinevere — who are abandoned by their parents at a remote convent, left for one tragic circumstance or another to be raised by nuns. At first the Guineveres are only occupied with ways of escape, but when a group of injured, unidentified war veterans are brought to the convent their presence will change each of the Guineveres' lives in ways none of them could have ever expected.
11. Lucky Boy by Shanthi Sekaran
At 18-years-old Solimar Castro Valdez crosses the U.S./Mexico border, set on making a home and a future for herself once she reunites with family in Berkeley, California. Unfortunately — and unexpectedly — Soli arrives pregnant. But ever the optimist, she falls in love with both motherhood and her baby boy, and is willing to amend her American dreams in order to make their small duo into a family. But when Soli is detained for being undocumented, her son is put into the care of Kavya — a woman who has always dreamed of motherhood, but who has never been able to conceive. Both women care deeply for Soli's son, and both will find their lives irreversibly changed by the baby boy.
If you loved Maria Semple's other novels: This One is Mine and Where'd You Go, Bernadette, as much as I did, then you know that her latest title Today Will Be Different is at the top of your fall TBR pile. Introducing readers to Eleanor Flood, a woman who is perhaps just a tad more of a mess than your average lady, this novel is perfect for anyone who has ever woken up and thought: "today is the day I fix my life" only to discover the coffee isn't even finished percolating and already your day is worse than all the others that came before it, combined. A classic tale about a woman who is forced to encounter the ends of her wits before beginning anew, Today Will Be Different will have you laughing out loud and then running out to share this title with your best book-loving friends.
A YA novel for readers of any age, Jennifer Niven's Holding Up the Universe introduces readers to Libby — a high school freshman who was once recognized for being "America's Fattest Teen" and is now dealing with the recent death of her mother, and Jack whose family doesn't know he is suffering from prosopagnosia, a disorder that prevents him from recognizing even the most familiar of faces, including those of his family members themselves. But when Libby and Jack are brought together by an unfortunate set of circumstances, they each discover that the friendship, acceptance, and love they're looking for might be found no further than in each other.
This latest title by prolific writer Jodi Picoult, Small Great Things, tells the story of Ruth Jefferson, an African American labor and delivery nurse at a Connecticut hospital, who has been recently removed from a pediatric checkup due to the racism of the baby's parents. Forbidden by both the hospital and the parents to touch the child because of the color of her skin, Ruth finds herself alone in the nursery when this same baby goes into cardiac arrest — and Ruth is forced to make a decision that will change her life, and the lives of everyone around her, in ways she wouldn't have ever expected.
Brit Bennett's debut novel, The Mothers, introduces readers to Nadia Turner, a high school student whose young life has already been marked by violence in the form of her own mother's recent suicide, and who is now dealing with an unexpected teen pregnancy — with the small community's pastor's son Luke, no less. Forced into both shame and secrecy by the social pressures of their church community, both Nadia and Luke find themselves, years later, questioning the decisions they made as young teens, and wondering how their lives might have unfolded differently.
Chronicling a love story that seems to be written, literally, in the stars, Helen Sedgwick's The Comet Seekers takes readers to the remotest reaches of the planet — Antarctica — where Róisín, an Irish astrophysicist, and François, a French chef are working at a research station and beginning to fall in love. But how did they get there in the first place? Traversing the history of their lives, as marked by one particular comet, this novel travels through time, geography, and space in order to discover the sometimes-unlikely journey to destined hearts take in order to meet.
17. The Next by Stephanie Gangi
Joanna DeAngelis is going to die. Faced with incurable cancer, her days are literally numbered — and the numbers aren't so high. But instead of doing what so many others might do in her situation (trip around the world, spending time with family, etc.) Joanna spends the last of her days obsessing about her ex-boyfriend who left her months ago for a younger woman — his name is literally her last word. But once she's dead, she realizes she might have been able to use her last days a bit better — and attempting to reach out from "the other side" to all she left behind, Joanna tries to reclaim those last moments and use them more meaningfully.
A coming-of-age story about a young girl named Dixie, The Education of Dixie Dupree takes readers into the heart of Perry County, Alabama, where 11-year-old Dixie spends her days perfecting the art of lying — lying to cover up the violence that marks her household, lying in order to prevent her mother from moving Dixie and her brother away from home, and lying to perhaps make sense of a life Dixie is only just beginning to understand. Where Dixie confronts the truth is in her diary — but when she finally decides to reach out for help and is met with resistance, Dixie realizes she might have wanted to exercise some of that truth-telling out in the real world as well, and is forced to reevaluate who and what she was using her lies to protect... and why.
19. Faithful by Alice Hoffman
Struggling with survivor's guilt in the wake of a tragedy that destroys the life of her best friend Helene, 17-year-old Shelby Richmond suffers a complete breakdown and ceases to speak, and is sent to a mental health institution where she is systemically abused by a male orderly. Helene is also left without a voice, trapped in a coma with little to no brain activity after the accident. But while Helene has lost the power to speak completely, Shelby must claw her way back to reconnecting with not only her voice, but also her strength and her ability to forgive herself.
From the writer behind the debut hit Everything, Everything comes a second novel about young love and believing in what the universe has in store for you. Nicola Yoon's The Sun Is Also a Star introduces readers to Natasha and Daniel — an unlikely pair made even more so by the fact that Natasha and her family are about to be deported Jamaica. Unfolding over the course of just over a single day, The Sun Is Also A Star is a story of facing one's fate head-on, and rising up to meet love when you least expect it.
A lyrical story of magical realism that is as mind-bending as it is beautiful, Anne-Marie McClemore's When the Moon Was Ours tells the love story of two friends — Miel and Sam — who are desperate to protect those things which are central to who they are, in a world where everyone is suspect to taking them.
Image: BooksEnchanted/Instagram