Oily Hair? You'll Want to Read This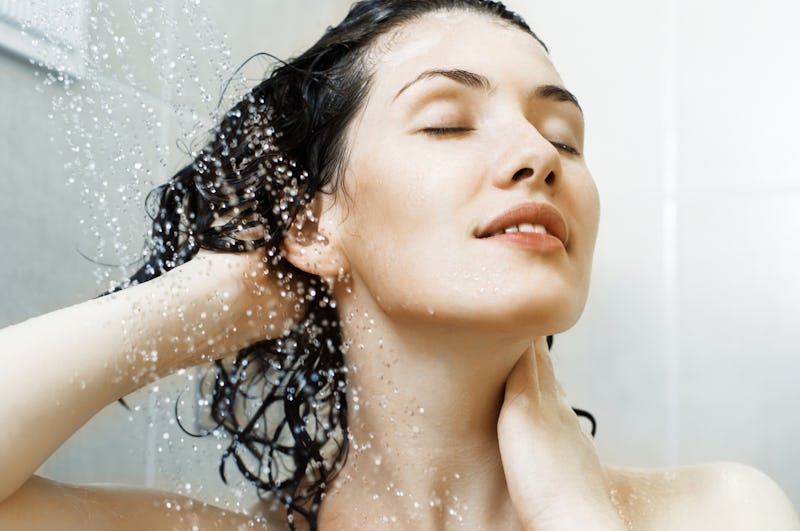 Anyone with fine hair will tell that while our strands may look healthy, glossy, and shiny, it's all an illusion! Those with fine hair get to enjoy one day of great shine, then it pretty much immediately becomes an oily, greasy mess.
Oily hair happens thanks to sebum, the substance your face, body, and scalp generates to lubricate skin and hair. Everyone's got it, of course, but those with fine hair generally have excess amounts of it on their scalps and consequently in their strands, weighing hair down and making it feel like you have to shampoo every day. Good times!
If this sounds like your struggle, here are six ways that you can minimize the oil:
Refine Your Shampooing Technique
You should already know that you need to use a light shampoo geared towards oily hair to avoid weighing it down, but are you using it correctly? The point of a shampoo is to cleanse the scalp, so don't pile all your hair on top of your head and try and lather up everything. Leave the mid lengths to the ends for your conditioner and use the shampoo to scrub your scalp (gently) to remove oil and build up. Be sure to rinse your shampoo out for at least 30 seconds.
Pantene Aqua Light Shampoo, $4, amazon.com
But Don't Over-Wash
One of the major annoyances of oily hair is that we tend to cause it. The more you wash your hair and strip the natural sebum from the scalp, the more it produces. Vicious cycle, right? It's up to you to find a personal balance between maintaining a healthy scalp and not over-washing. Resist the impulse to shampoo every day and instead aim for every two to three days.
Use Styling Products Sparingly, Or Light Versions of them
Having oily hair doesn't mean that you can't use products to help you style — you just might not need three of them at a time. Try to use multi-tasking products like Sally Hershberger's Major Body 3 In 1 Volumizing Spray, which is a dry shampoo, volume booster, and finishing hairspray all in one. Or, if you still battle dry ends and love a moisturizing oil treatment, try using a light version, like Morocconoil Light.
Sally Hershberger's Major Body 3-in-1 Volumizing Spray, $12, amazon.com
Moroccanoil Treatment Light, $40, amazon.com
Go For Powder, Not Spray
One of the major problems with oily hair is that you're always dealing with flatness because the excess oil weighs your hair down. Dry shampoo is great for soaking up some of the oils, but it doesn't contain any volumizing ingredients. A powder dust is a better option because while it also soaks up oil, mattifies and texturizes, it also contains silica, which adds volume to hair by increasing the friction between the hair fibers.
Acure Powder Dry Shampoo, $10, amazon.com
Choose The Right Tool
Oily hair types get told all the time that they shouldn't over-brush their hair since that'll spread the oil through the lengths. But, come on, you're going to have to brush your hair at some point… You may find that a wide tooth comb is more effective than a bristle brush, since this will distribute less oil.
Cricket Ultra Clean Wide Tooth Comb, $5, amazon.com
Make it Last
Since those with oily hair can't use too many styling products, making a style last multiple days is tough. To go the distance, try Living Proof's Prime Style Extender, a mousse-style pre-blow out product that extends the life of your style for twice the normal time so you don't have to do any touchups. For oily hair types, this means never having to re-wash and start all over again!
Living Proof's Prime Style Extender, $16, amazon.com
Image: Konstantin Yuganov / Fotolia