Pat McGrath Lust 004 Lippies Cost This Much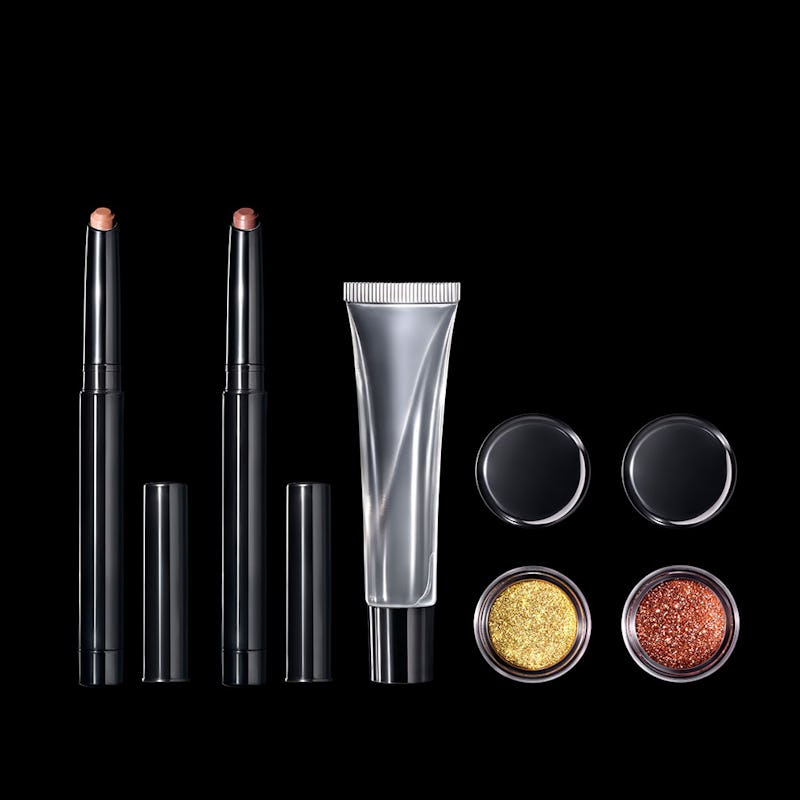 Options are always welcome, especially when it comes to your makeup! It's even more awesome to have a variety of choices with lip products, because you often need a liner, a lipstick, and a gloss to complete your smooch-worthy pout. You have options galore with Pat McGrath's Lust 004 lip products. The makeup visionary's latest innovation — is that a "lippovation?" — is being sold in three configurations. Each Lust 004 iteration consists of a different amount of products and therefore has a different price. Pat McGrath's Lust 004 lip products, which bring a dose of high fashion fabulousness to your pout, go on sale via her site on Tuesday, Aug. 30 at 12 p.m. ET/9 a.m. PT. The Lust 004 products will be available via select Sephora locations and Sephora.com on Sept. 8. How much are the Pat McGrath Lust 004 lip products?
Here's the breakdown, since there are three ways to purchase and therefore three different prices.
The Lust 004 products are sold in three color-specific kits, named Bloodwine, Flesh, and Vermillion Venom. Each kit is comprised of five products, featuring two matte lipsticks, a Clear Vinyl Gloss, a Metallic Gold Pigment, and a matching microfine glitter. These kits cost $60 a piece.
Also, each of the matte lipsticks are sold as singles for $25 a piece.
That pigment is something else. It's all about "Oomph!" factor with Lust 004.
You will have the sexiest lips on the block with the Lust 004 pieces.
This is the "Flesh" color option. Subtle. Sexy. Must-own.
The "Vermillion Venom" color option lets you unleash your secret vamp.
"Bloodwine" will bring out your inner screen siren.
Additionally, McGrath is offering an 11-piece, Lust 004 "Everything" kit, consisting of all of the products from all three of color kits, for $150. That shakes out to six amazingly pigmented matte lipsticks in the nude and red shades, along with a tube of the Clear Vinyl Gloss, a vial of the Metallic Gold Pigment, and all three of microfine glitters.
The Everything Kit is basically all three of the color kits in one, and at a discount.
Here is Everything's contents list: Flesh 1 Lipstick, Flesh 2 Lipstick, Venom 1 Lipstick, Venom 2 Lipstick, Blood 1 Lipstick, Blood 2 Lipstick, Clear Vinyl Gloss, Metallic Gold Pigment, Flesh Microfine Glitter, Venom Microfine Glitter, and Blood Microfine Glitter.
How do you wear these babies? First, swipe your pout with the velvety, matte lipstick. Use a single shade or customize with both colors and layers. Add a slick of the gloss for shine or apply the Metallic Gold Pigment for depth and dimension.
Or add the MGP over both the lipstick and the gloss and prepare for lips so sexy that it's legit dangerous. Finish with a sprinkle of the microfine glitter for intense glimmer and shimmer.
Got all that? Here's a handy summary. The Lust 004 products are available as three different color options/kits, which feature five products and are $60 a piece. The six lipstick shades are sold on their own, at $25 a piece. The Everything Kit includes 11 products, with a $150 price tag.
As of Aug. 30 at 12 p.m. ET, you have the chance to get high fashion, runway-inspired lips IRL, courtesy of Pat McGrath.
Images: Pat McGrath (6); Pat McGrath/Instagram (5)