Shop Tarte's Color Vibes Holiday Palette Right Now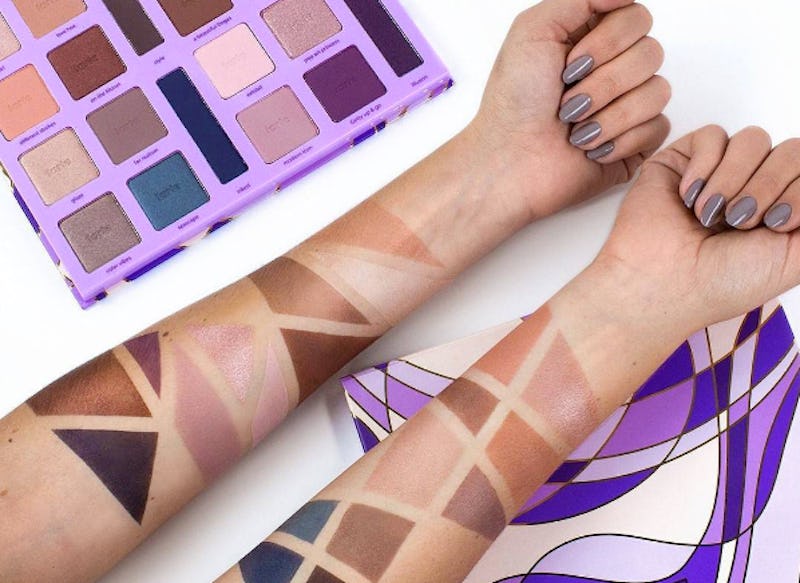 The cold-weather season might not be here just yet, but you wouldn't know it by the latest makeup releases. Surprising everyone with a new product, Tarte launched the Color Vibes Amazonian Clay Palette from their holiday collection a little bit ahead of time. I don't know about you, but I'm definitely not complaining.
If you thought seeing Halloween decorations in the middle of September was crazy, then you won't believe this. An item from Tarte's holiday collection is already up for grabs on the company's site. That's right! The Limited Edition Color Vibes Amazonian Clay Eyeshadow Palette can be yours right now. There's no word on whether or not this palette will be available in stores or not, so I'd head over to the online shop to pick one up before it's gone.
You won't believe your eyes when you see how many shades are in the palette. There are 20 different colors all grouped into four little sets to help you pair each eye look. Each set features the perfect fall shades and even a few for the bold color fans as well. The best part is that it's only $46 dollars, which breaks down to about $2.30 per shadow, which is a pretty darn good bargain. If you bought all 20 colors separately from the site, it would cost you around $556. So yeah, you get a lot of bang for your buck.
Just look at those swatches! These might not be the brightest or most colorful hues out there, but they're classic staples that will look great on anyone. The blues and browns are absolutely gorgeous, but my eye goes straight towards the metallic pinks. Either way, you can't go wrong.
Limited Edition Color Vibes Amazonian Clay Eyeshadow Palette, $46, Tarte
The set-up is super- smart. You get all the shades you can possibly need and more. There are even some shades that would work perfectly as liner. We're talking four complete eye looks for under $50!
Limited Edition Color Vibes Amazonian Clay Eyeshadow Palette, $46, Tarte
Not to mention how pretty this will look on your makeup table! Basically, you can't go wrong with the purchase. If this is only the beginning of the holiday collection, I can't wait to see what's next!
Images: tartecosmetics/Instagram (1), Tarte (2)