Marcia Marcia Marcia Is Coming To 'DWTS'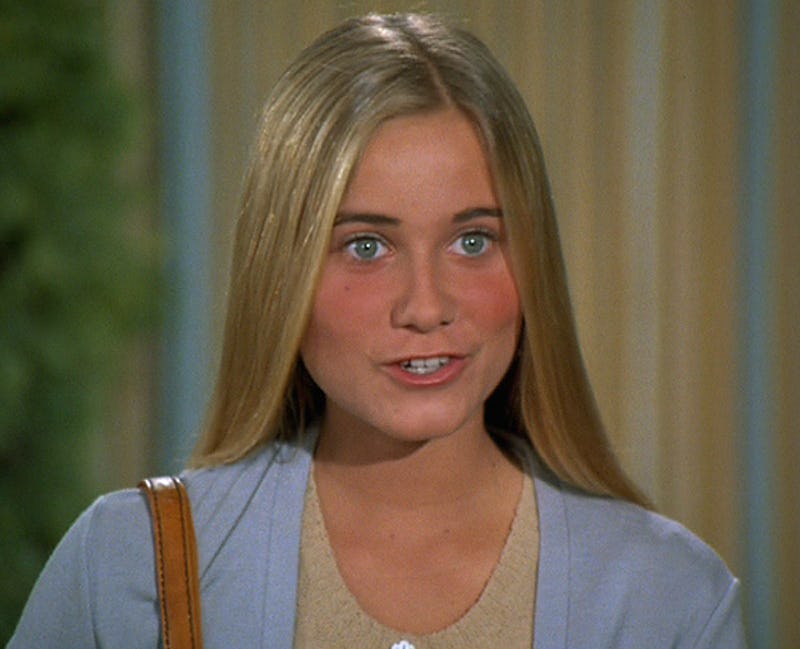 Well, it looks as though the Season 23 Dancing With the Stars cast list has been revealed, and there's one sleeper pick that's particularly interesting: Marcia, Marcia, Marcia! Yes, released from Nick at Nite syndication, Marcia Brady aka Maureen McCormick is going to be on Dancing With The Stars. It's an exceptionally retro choice that should put fear in the hearts of all other competitors: back in the day, nobody could compete with that flawless blonde center part and adorable nose (I mean, we all got a sick thrill when she got hit in the face by that football). Really, though, the cast should be concerned because The Brady Bunch long showcased their dancing prowess in "Amateur Night."
In case you didn't catch that rerun, this is the basic premise. The elder Brady's anniversary is coming up, and the kids chip in to buy them a silver platter with an engraved message. However, Jan doesn't understand how money works: she thinks the engraving costs a mere 85 cents, when, in reality, it was 85 cents per letter, meaning that they actually owe $56.23. Cue the hilarious montage where the Brady children test out adorable-but-not foolproof methods making money, like harvesting organs to put on the black market and starting a crystal meth lab.
Just kidding.
What actually happens is that they sign up for the Pete Sterne Amateur Hour, a TV talent contest. If they win first place they could snag a cash prize of $100, so they begin covertly rehearsing. The end result? Taking up the moniker of The Silver Platters and donning matching white and blue sweaters, the Bradys perform a song-and-dance act entitled "Keep On." It's here that we see that the Brady children are all regular Fred Astaires, as they unearth some sophisticated dance moves such as awkwardly shimmying...
...ever so slightly bending their knees while turning...
...and pointing straight ahead while leisurely moving backwards, all the while signing about cruising down the highway in a makeshift model T-8.
I'm fairly certain that at least 2/3 of those children cannot legally drive. Regardless. It's a performance for the ages, but it ultimately only snags them 3rd place. Womp, womp.
While it seems doubtful that we're going to see a reprisal of "Keep On" (it may be a tad dated), it's worth mentioning that Alfonso Ribeiro revived the Carlton on Dancing With The Stars. We are suckers for nostalgia, and that's in part why DWTS is such a big hit: it very routinely bring back those who have been out of the limelight for a while. Just in case McCormick doesn't bust this one out, though, feel free to watch the original performance. Keep on movin', girl.
Images: ABC; Giphy