Kombucha Has Benefits For Your Skin & Gut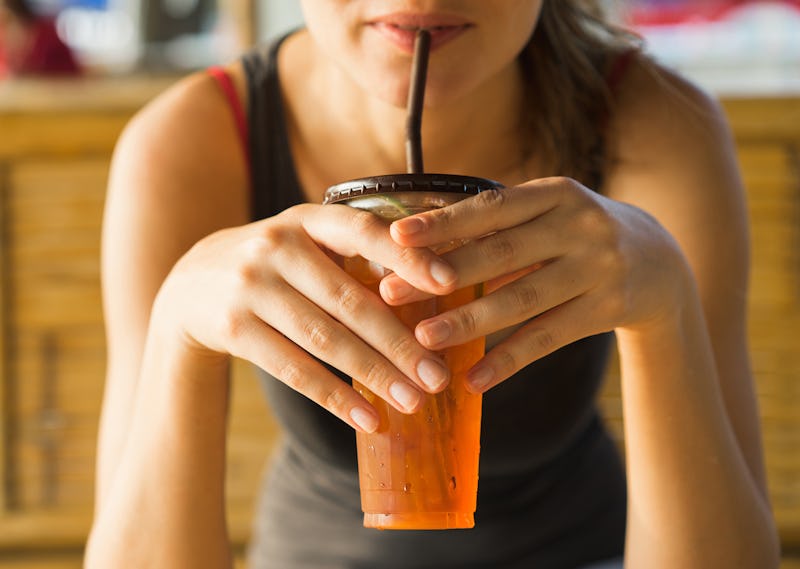 If you've gone to Whole Foods or even your local convenience store recently, you've probably noticed kombucha lining the beverage shelves. You might be a tad bit skeptical to give them a try, but you should know that there are actually several major health benefits that come with consuming the fermented sweetened tea, which has tons of healthy bacteria. Other than containing probiotics that are beneficial for your gut, kombucha can be good for your skin too.
Matt Thomas, founder and CEO of Brew Dr. Kombucha, tells me that drinking kombucha can help your skin look fresh, healthy, and younger-looking. When someone asked Thomas how old he was (he's 38), they were alarmed at his answer, saying they thought he was in his 20s. Thomas tells me that his healthy and younger appearance is thanks to the two to three Brew Dr. Kombucha drinks he has per day.
"I drink a lot of kombucha," he says, "I do believe that having kombucha as part of your diet is a daily commitment to gut health and detoxification, and those are two areas that have the effect of making you feel younger as well as look your best."
Thomas isn't alone in his beliefs. According to Livestrong, the NYU Langone Medical Center has found that avid drinkers of kombucha believe strongly in the tea's beauty-enhancing properties. And in an interview with The Huffington Post, emerginC, a kombucha retailer, claims that the drink can allegedly detoxify, hydrate, and improve skin elasticity. They also stated that kombucha can improve the tone and clarity of your skin, and even argued that it could help in the fight against wrinkles. Heck, a writer for Into The Gloss even tried (and loved) a kombucha mask. Are you sold yet?
While it's not 100 percent certain that kombucha is good for the skin, kombucha's probiotics do make it one of the best items to add to your diet to keep your gut functioning.
"Authentic raw kombucha helps detoxify the body and maintain excellent gut health," Thomas says. "Specifically, kombucha contains beneficial bacteria, such as acetic acetobacter that together with healthy yeasts help populate the gut with probiotic flora to aid in digestion."
The next time you're thirsty and not in the mood for water, reach for a kombucha. Not only will it taste delicious, but you can feel better knowing that it's doing lots of good things for your body and skin, too.
Brew Dr. offers nine different flavors ranging from ginger to white rose. To find out where Brew Dr. is sold near you, you can check out the Brew Dr. website.
Images: Shutterstock; Courtesy of Brew Dr. Kombucha; brewdrkombucha/Instagram