'Chef's Table' Season 4 Is On Netflix's Menu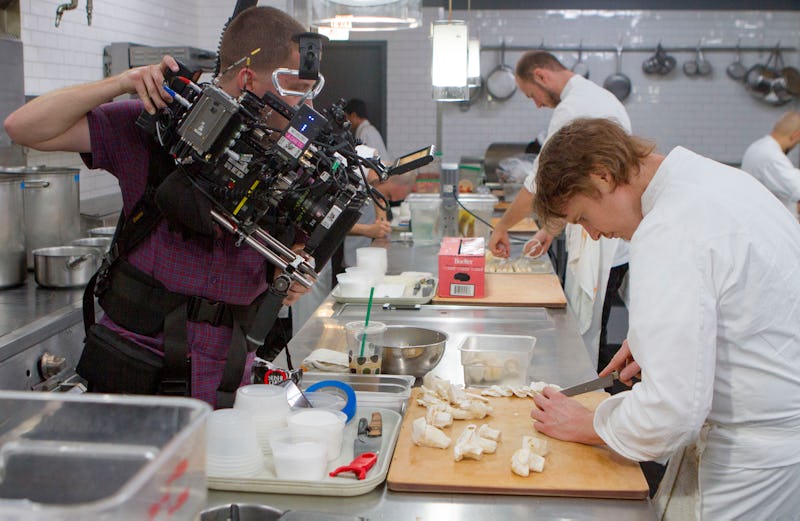 As the saying goes, people eat with their eyes as much as they do with their mouths, which is why Netflix's Chef's Table is so essential. The docuseries brings high-quality stories about chefs and mouth-watering food footage to the streaming service, often leaving viewers craving more. To satisfy that hunger, you'll want to know when Chef's Table Season 4 will premiere on Netflix. According to Eater, the series has already been renewed for a fourth season and it's set to air in 2017, but did not specify an exact date. An official date hasn't been announced by Netflix, either.
The documentary food series was created by filmmaker David Gelb, who is best known for the hit documentary film Jiro Dreams of Sushi. Unlike most traditional food shows, there's no host or recipes — each episode features a renowned chef telling the story of their successes and failures in their own words (and occasionally interviews with colleagues). "It's really a show about people. We don't give explanations on how to cook things," Gelb told Eater. "It's psychological, character-driven film-making ... The idea was to do a series about chefs with a really cinematic quality."
Though Season 4's premiere date is unknown, Eater did reveal the restaurant and chef list for the next round of episodes, which you can find below.
Chef Ivan Orkin Of Ivan Ramen
Orkin has successful restaurants in Tokyo and New York City that serve up his delicious and famous take on the traditional noodle dish. Food and Wine calls Orkin a "ramen genius," and "one of the true pioneers of ramen." You can bet that his episode of Chef's Table will feature a lot of his trademark noodles.
Chef Jeong Kwan Of Chunjinam Hermitage, Baekyangsa Temple
Kwan isn't just a chef — she's a Zen Buddhist nun in Seoul, South Korea, who makes some of the most famous Korean temple cuisine according to the New York Times. For this chef, food is part of religion.
Chef Nancy Silverton Of Pizzeria Mozza
In 2014, Silverton won the James Beard Foundation's Outstanding Chef Award, cementing her reputation as one of the best chefs around. The Los Angeles-based chef owns a some of the city's most popular food spots, including Osteria Mozza, the various locations of Pizzeria Mozza, Mozza2Go, and Chi Spaccia, according to her official bio.
As the founder of La Brea Bakery, Silverton has also been called "the patron saint of sourdough" by the New York Times.
Chef Tim Raue Of Restaurant Tim Raue
The two-Michelin-starred chef has ruled the German gastronomic scene with his successful restaurants and innovative, Asian-inspired style, according to Eater.
"I mix the European technique of cooking or plating with Asian flavors," he told the website in a 2014 interview. "The overall philosophy [of my restaurants] is to eat like the Chinese, which means that everything is easy to handle. In China, you sit down and you just have fun. There is no attitude like in the stiff French or European fine dining restaurants."
Chef Virgilio Martinez Of Central
In 2015, CNN crowned Martinez as Peru's best chef and his Lima restaurant Central has been named the No. 1 best restaurant in Latin America in 2014 and 2015 by S. Pelligrino and Aqua Panna. Before he became a chef, though, he was a skater, but was plagued by injuries.
"That's when I stopped skating. I loved it but once I started cooking, I left all that behind and became totally involved in the kitchen," he told CNN last year. "I'd toyed with being an architect too but I wanted to travel -- cooking lets me do that."
Chef Vladimir Mukhin Of White Rabbit
In Russia, there's an embargo on imported food, but that's no problem for Mukhin, who has made good use of Russia's homegrown ingredients for his Moscow restaurant, according to the Wall Street Journal. "When you're in Russia," Mukhin told the newspaper, "why shouldn't you eat Russian food?"
Even President Vladimir Putin approves — Mukhin has cooked for the country leader three times.
Sounds like the next season of Chef's Table will be a feast for the senses.
Image: Peter Sorel/Netflix