Must-Read Fall Fiction By Women Of Color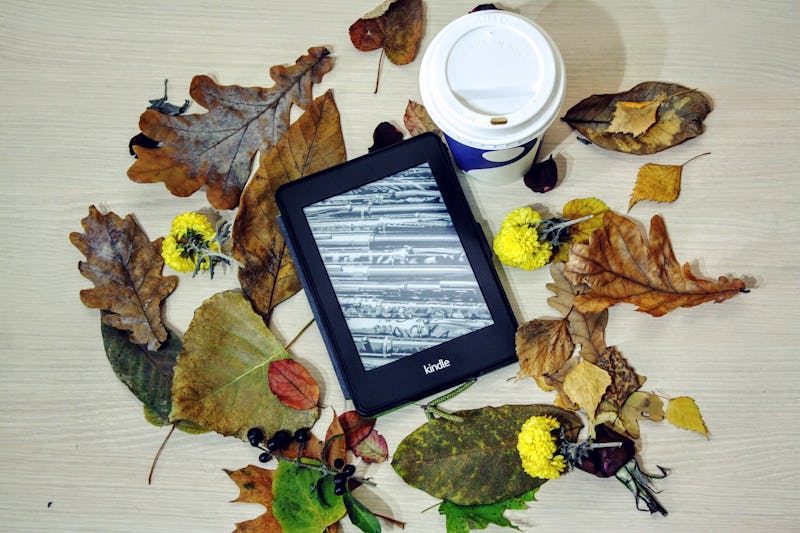 Are you looking to read more books by women of color this fall? As you probably know, we at Bustle are big supporters of the We Need Diverse Books campaign, so we're always looking out for ways to expand our reading. That might mean reading LGBTQIA+ stories; it might mean reading books about disabled characters that were actually written by disabled authors; it might mean reading more works by women, or by people of color.
There is certainly a lack of diversity in the publishing industry, but there's also some responsibility on us as the readers, too. Awards ceremonies are often dominated by cis, white, male authors — but that doesn't mean there isn't a whole host of incredible and diverse books if you know where to look. So if you're hoping to expand your horizons a little (and you're in the mood for some fiction), you've come to the right place. Here are 15 wonderful fiction books written by women of color — and the best part is, they're all out this fall.
I don't know about you, but I always think fall is the best season for reading. Temperatures are dropping, so it's less tempting to spend so much time outside. The sight of kids walking to school reminds you of how much learning you could be doing if you only picked up a book. And as the leaves turn brown outside your window, your armchair looks particularly inviting...
So go on, cancel all your plans, and curl up with these 15 fantastic novels.
1. Three Dark Crowns by Kendare Blake
This brand new YA book has had a ton of buzz surrounding it, and for good reason. It's a feminist fantasy, set in a matriarchal kingdom where every generation, three sisters have to battle for their right to the throne. Each sister has a unique magical power, which they'll have to use to fight each other — to the death. Three Dark Crowns follows Mirabella, Katharine, and Arsinoe as they prepare to turn on each other as soon as they turn sixteen. But there's a twist: Katharine and Arsinoe, unbeknownst to each other, have been faking their powers.
2. In the Heart of Texas by Ginger McKnight-Chavers
Ginger McKnight-Chavers' debut novel, out on October 25, tells the story of 41-year-old soap star Jo Randolph who, in probably the worst 24 hours anyone has ever had, manages to lose her job, burn some serious bridges in Hollywood, and literally burn down her director's house. Who was also her lover. Oops. Her agent recommends she goes back to her homeland in Texas and wait for the situation to simmer down — but the longer she stays there, the more she realizes what truly matters to her.
3. Everfair by Nisi Shawl
In this Neo-Victorian alternate history, Nisi Shawl ponders what might have happened if Congo had learned about steam technology a bit earlier — and reimagines the disastrous Belgian colonization of Congo by speculating about a Utopian land set aside for escaped slaves and mistreated African natives.
4. The Mothers by Brit Bennett
Out October 11, Brit Bennett's debut novel is about 17-year-old Nadia, who accidentally gets pregnant during a romance with Luke, the pastor's son, while mourning her own mother's recent suicide. Years later, Nadia and Luke are haunted by one question: what if they had chosen a different path?
5. The Reader by Traci Chee
I've been excited about The Reader for pretty much a full year now, and it is finally out and on bookshelves! It's set in a world where reading is unheard of (gasp!) — but after her father is murdered and her aunt is kidnapped, Sefia finds that a mysterious book may be her only guide.
6. The Wangs vs The World by Jade Chang
I know you shouldn't laugh at other people's misfortunes, but Jade Chang's debut novel about the Wang family who lose all their money somehow manages to be so funny. It'll be out at the beginning of October, and you won't want to miss it.
7. Swing Time by Zadie Smith
I don't know how we're supposed to wait until November 15 for Zadie Smith's next novel. Swing Time, which is set between North-West London and West Africa, is about two girls who want to be dancers, but only one of them has the talent. After their friendship comes to an abrupt end, the two can never be reconciled — but their friendship will never quite be forgotten either.
8. Deceit and Other Possibilities by Vanessa Hua
At the end of September, make sure to get your hands on this short story collection about immigrant families in the U.S. Vanessa Hua introduces a host of memorable characters, each of whom have strong bonds to both their homelands all and new — but feel they truly belong to neither.
9. The Loved Ones by Sonya Chung
On October 18, brace yourself for this heartwrenching novel about fatherhood and family. Young soldier Charles Lee is determined to remedy the pain of his own fatherless childhood by proposing to his girlfriend Alice when they find themselves accidentally expecting a baby. Years later, their family is uneasy and difficult — and Charles finds an unlikely bond with their 13-year-old babysitter Hannah, whose family has secrets of their own. But then tragedy strikes, and both families are forced to reexamine who their loved ones truly are.
10. The Midnight Star by Marie Lu
Have you been as hooked on Marie Lu's Young Elites series as everyone at Bustle has? On October 11, the trilogy is finally drawing to a close with The Midnight Star. So far, we've seen Adelina, the magical Young Elite scarred from a childhood illness, sink deeper and deeper in her quest for revenge — but will she finally get a happy ending in The Midnight Star?
11. A Change of Heart by Sonali Dev
This one has just hit bookstores, and its premise is just as brand new as the book itself: a widowed doctor meets a woman who claims she received his late wife's heart in a transplant, and has a message to pass on to him. Um, whoa.
12. Chain of Custody by Anita Nair
This November, watch out for Anita Nair's new thriller Chain of Custody, in which Inspector Gowda has to investigate a child-trafficking ring, and rescue 13-year-old Nandita before it's too late.
13. The Sun Is Also A Star by Nicola Yoon
Nicola Yoon's Everything, Everything was one of the most popular YA novels of 2015 — so it feels like the whole world is waiting for Yoon's next novel, The Sun Is Also A Star, which comes out on 1st November. It tells the story of Natasha, a cynic who's never believed in destiny or dreams...until she meets Daniel.
14. Stealing Snow by Danielle Paige
Danielle Paige's Dorothy Must Die was the re-telling of The Wizard of Oz that might even topple Wicked off the top spot in our hearts — and so it's possible that Paige's new novel, Stealing Snow, will do the same thing for The Snow Queen re-tellings, and (shock horror), possibly even fight the beloved Frozen for first place.
15. Something In Between by Melissa de la Cruz
On October 4th, this much-awaited novel from Melissa de la Cruz will finally be available to buy. It's about Jasmine de los Santos, a student who has always worked hard to make her Filipino immigrant parents proud, and is about to reap the rewards in the form of a full college scholarship — when her parents reveal that their visas have expired, and the whole family is at risk of being deported. As everything Jasmine has worked for starts to crumble, she decides it's time to break all the rules. Seventeen Magazine editor-in-chief Michelle Tan says that Something In Between "has everything—a strong heroine, important issues and a really cute crush. I'm obsessed—and you will be too." (Oct 4)
Image: xxolgaxx/Pixabay