5 Surprising Facts About 'OUAT's Wickedest Witch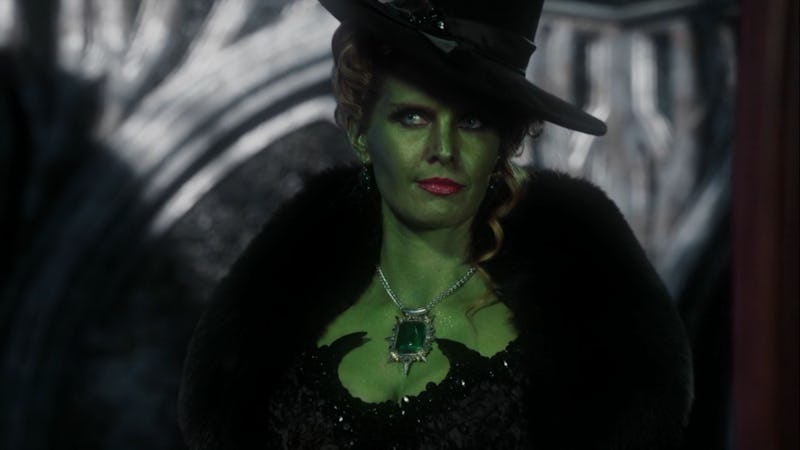 She's come a long way from the Island — well, not really, since she's just created another type of island for herself. Lost alum Rebecca Mader is Once Upon A Time 's Wicked Witch of the West — the ABC fairytale series' new Big Bad this season. So who's the actress behind that green makeup who's cast OUAT 's latest curse?
Where have you seen Rebecca Mader before — in more places than you thought. Before she became Once Upon A Time's latest spell-binding villain, the 36-year-old British actress modeled and appeared on several television shows and in popular films. Mader made her debut on a popular soap opera (we'll get to that later) and has basically spent the past 11 years building up an impressive resumé that includes facing the scorn of The Devil Wears Prada's Miranda Priestly (we'll get to this later, too).
So, who's the woman that's stepped into the iconic and legendary shoes of Oz's greatest villain? And became the center of OUAT's major storyline for the second half of it's third season? We've rounded up the facts and surprising places you've seen Mader over the course of her career — and some of them will surprise you.
She Was In The Devil Wears Prada
"Florals? For Spring? Groundbreaking." Mader was front and center and at the receiving end of the 2006 hit's most quotable lines. Also, she shared multiple scenes with Meryl Streep — that's huge in its own rite.
She Has Something In Common With Michael B. Jordan
They both had recurring roles on the popular daytime soap opera that's launched many a career — All My Children. The actress appeared on the series in a 17-episode arc as English gangster Morgan Gordon after turning down a contract role on the series. Mader also appeared on One Life To Live and Guiding Light during the early 2000s.
Nosebleeds Are Her Thing
Like MANY of her OUAT costars — Rebecca Mader's big break came when she was cast on the popular (and fan-frustrating) ABC series Lost. She appeared on the show for 20 episodes as British cultural anthropologist Charlotte Lewis — but you probably remember her as that woman who got a lot of nosebleeds.
She Wore A Fat Suit For The Today Show
While Mader was still modeling — she appeared on The Today Show in 2005, outfitted in a fat suit, for an investigation about how overweight people are treated.
She Was In An American Girl Movie
Mader starred alongside Mia Farrow and AnnaSophia Robb in the made-for-TV movie Samantha: An American Girl Holiday. The actress played Samantha's Aunt Cornelia — an early feminist. Mader's character thought women should be free to work and support themselves and gave speeches in the park to convince people that women should be allowed to vote.
Image: ABC