12 New Novels Every History Buff Needs To Read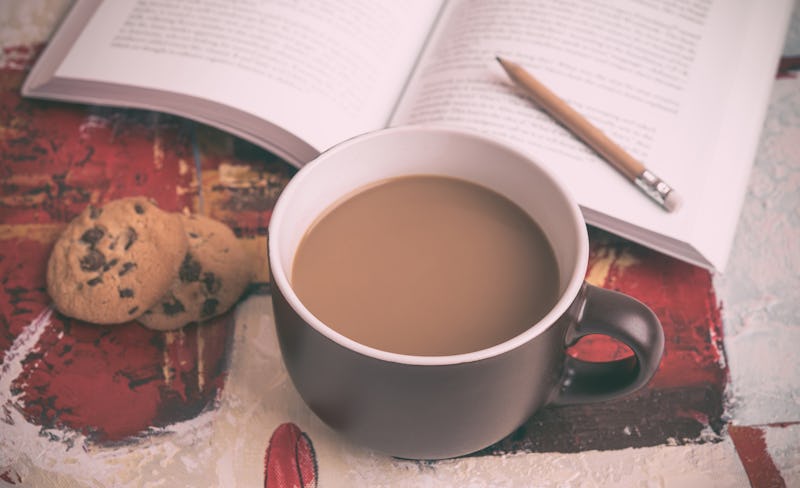 I'll be the first to admit that History was not my favorite subject in school (Maybe if I'd had a few of these must-read historical fiction novels, I would have felt a bit differently.) Somehow it seemed like every year we'd start at the front of our history books with the year 1492, gradually crawling our way through the ages, and between things like canceled school days for inclement weather and overly-ambitions lesson plans, we'd end the school year somewhere around the conclusion of World War II — every-single-year. No mind that there were 100-some pages left in our history textbooks that we somehow never got to; the next year we'd begin all over again, sailing from Spain to the Carribbean in the Niña, the Pinta, and the Santa María and ending with the baby boom.
So naturally, I didn't exactly gravitate towards historical fiction on my off-school hours. I'd simply never read the kinds of books that make history come alive, nor the kind of books that make history seem relevant to me (books like the novels on this list.) In fact, it wasn't until I was introduced to Erik Larson in college that I realized I might have been selling historical fiction a tad short. But now the genre definitely has a place on my shelves. These new novels for readers who love history included.
Here are 12 new novels every history buff needs to read.
1. The Other Einstein: A Novel by Marie Benedict
You may know Albert Einstein as the man behind the theory of relativity, or the one who developed the equation that tortured you throughout high school (aka: E = mc2) but what you might not know is that Albert wasn't the only Einstein making waves in the scientific community in the early days of the twentieth century. Mileva Marić, Einstein's first wife, was also a brilliant physicist — and the only woman to then study physics at the same Zürich school as Einstein himself. But although their partnership seemed destined, Mileva struggled with living in the shadow of her famous husband, and worried her research and theories would be lost behind his own forever. The Other Einstein takes you into Mileva's heart, mind, and study as she tries to forge a place for herself in a scientific world dominated by men.
2. Radio Girls by Sarah-Jane Stratford
You've never been so interested in British radio, I promise. Sarah-Jane Stratford's Radio Girls will take you all the way back to post-World War I London, introducing you to Maisie Musgrave, a newly-appointed secretary for the BBC. Maisie loves her work — the fast pace, the fascinating people, the breaking news. But when the real-world drama played out on the radio begins to pale in comparison to the behind-the-scenes drama Maisie witnesses between the two biggest minds in charge of the BBC, she has to make a hard choice about what honesty and integrity mean in the world of journalism.
3. Fates and Traitors by Jennifer Chiaverini
Little is told about John Wilkes Booth's life in the pages of your history books — little more than the fact that he was the man who assassinated President Abraham Lincoln, on April 15, 1865, in response to the loss of the Confederacy in the days before the end of the Civil War. But what you might not know is that John Wilkes Booth wasn't just a mysterious, shadowy assassin; he was also an actor, who had four essential relationships in his life — including one with a woman to whom he disclosed his plot to assassinate the president, and who might have been able to stop him. In Fates and Traitors Jennifer Chiaverini takes you back to the last days of the Civil War, when tensions ran high and one man made a decision that would change U.S. history forever.
4. The Fire by Night: A Novel by Teresa Messineo
Jo and Kay became best friends in nursing school, but when World War II breaks out they find themselves on different sides of the world — Jo in France and Kay at Pearl Harbor, the Philippines, and finally a prisoner of war camp in Japan. Taking readers into the exhausting, frustrating, and heartbreaking real-life experiences of the thousands of women who volunteered as nurses during World War II, The Fire by Night is a fictional testament to many of WWII's unsung female heroes.
5. The Last Hobo: A Clueless Detroit Kid Hitchhikes Across America the Summer the Seventies Ran Out of Gas by Dan Grajek
Traveling back to the not-so-distant history — the summer of 1979 to be exact — Dan Grajek's The Last Hobo: A Clueless Detroit Kid Hitchhikes Across America the Summer the Seventies Ran Out of Gas is a hilarious and energizing account of one 19-year-old's road trip. Based on a true story, this historical novel paints an unforgettable portrait of a particular kind of America during a particular point in history — as the 1970s give way to the '80s, and what was perhaps the last decade during which one could safely hitchhike across the United States alone slowly faded away.
6. The Orphan's Tale by Pam Jenoff
When 17-year-old Noa is discovered pregnant with the baby of a Nazi soldier during the Nazi occupation of Holland, her family effectively disowns her in shame and she is forced to give her baby up for adoption. But in an act that will change Noa's life forever, she discovers a train car filled with Jewish orphans headed to a concentration camp, and she takes one of the babies as her own. Then in a twist nobody saw coming, she joins the German circus and trains as a trapeze artist. In prose that is beautiful, ethereal, and poignant, The Orphan's Tale is novel you won't be able to put down.
7. News of the World by Paulette Jiles
Meeting America in the aftermath of the Civil War, Paulette Jiles's News of the World introduces readers to Captain Jefferson Kyle Kidd — a wanderer, a widower, and a war veteran who travels across Texas reading newspapers to anyone desperate for news from the rest of the world. In the course of his wanderings Captain Kidd is enlisted to transport a young orphan, Johanna, to her aunt and uncle in San Antonio. But when the traveling duo arrive in the city, they discover that Johanna's relatives aren't prepared to take care of her, and Kidd is forced to make a difficult decision — one that could change both his and Johanna's life forever.
8. Mischling by Affinity Konar
Filled with equal parts horror and hope, Affinity Konar's Mischling follows twin sisters Pearl and Stasha as they arrive at Auschwitz concentration camp in 1944. The sisters, who have always clung to their shared identities, become part of an experimental population of twins — one that will redefine their senses of self forever. Then Pearl disappears, and after Auschwitz is liberated — without Stasha ever finding Pearl — the remaining sister, and a boy who lost his own twin in the camp, set out across a hostile and destroyed Poland in search of justice and vengeance for their siblings.
9. I Will Send Rain by Rae Meadows
Transporting readers to 1934 Oklahoma, in the thick of the American Dust Bowl, Rae Meadow's I Will Send Rain follows the story of Annie Bell and her family as they are flung into their separate destinies by the wind, and the dust, and the drought. Each wish for an escape from their lives, but as Annie learns, escape might come at a steep price — one that could cost her not only her family, but her understanding of the kind of woman she truly is.
10. A Gentleman in Moscow by Amor Towles
It is 1922 and Count Alexander Rostov is sentenced to house arrest in a hotel across the street from the Moscow Kremlin. Having never worked in his life, and having little idea how to occupy himself from the attic room where he has been effectively banished during one of the most tumultuous and transforming decades in Russia's history, Rostov is forced to do some serious soul searching. And he is determined to make the most of his life, despite his imprisonment. Helping him along is a dazzling cast of characters who are warm and funny, and who readers will be utterly taken with — just as much as Count Rostov himself is.
11. The After Party by Anton DiSclafani
Anton DiSclafani's second novel, The After Party, is about the consuming and dangerous friendship between two women who live at the center of the 1950s Houston social scene. Joan and Cece have been friends since their schooldays, but Cece has always lived somewhere in Joan's shadow. But when Joan becomes erratic, unpredictable, and rebellious under the suffocating restrictions placed upon Houston's "society women," and it turns out she's been hiding a secret from her best friend, it threatens to change this relationship and the two women in it irreversibly. True to DiSclafani's writing style, this novel is captivating and all-consuming.
12. The Translation of Love by Lynne Kutsukake
Taking readers back to post-World War II Tokyo, The Translation of Love follows 13-year-old Japanese-Canadian Aya Shimamura as she and her father are released from a Canadian internment camp and repatriated to Japan. In Japan Aya struggles to fit in — but once her classmate Fumi Tanaka realizes that Aya might be able to use her fluency in English to help her find her missing older sister, things begin to change. The search for the missing sister takes Aya and Fumi on a kaleidoscopic journey around Tokyo that puts both girls in danger. This historical debut is compelling and touching, demonstrating how the effects of war reverberate through countries and cultures for generations.
Image: Padurariu Alexandru/Unsplash