9 New Memoirs For Your Next Book Club Pick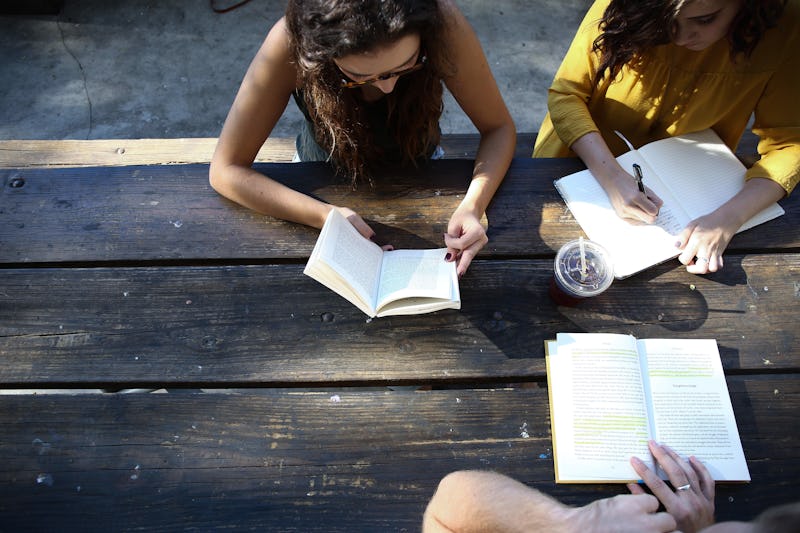 As a current member of three book clubs — and counting — I speak from personal experience when I say the announcement(s) of my next book club selection is always a much-anticipated event. I love when my book clubs pick a title I would have never thought to grab on my own, or one I haven't even heard of yet — it's the best way to broaden my reading horizons, especially since I know I'll be reading alongside a group of people just as eager to discuss our latest book as I am. But I also know that when it's my turn to pick my book club's next great read, the pressure is definitely on.
Memoirs are a great option for book clubs for a lot of reasons: they can be empowering and relatable, they'll introduce you to lives outside your own experience, they'll definitely give your book club plenty to dish about at your next meeting, and they're a great way to introduce a little nonfiction into your book club — even if your fellow readers are usually wary of that section of their local bookstore. These new memoirs for fall are perfect for the next time it's your turn to agonize over what your book club should read next.
Here are 9 new memoirs for your next book club pick. Happy reading!
1. Chasing Portraits: A Great-Granddaughter's Quest for Her Lost Art Legacy by Elizabeth Rynecki
When Elizabeth Rynecki learned the history of all that her Polish-Jewish ancestors had suffered during World War II, including the loss of her great-grandfather, the artist Moshe Rynecki's, paintings, she realized she had to do something to find the long-lost art. Although Moshe's artwork was dispersed all over the world after his death in Majdanek concentration camp, Elizabeth turns to historians, curators, and art collectors in order to track down her grand-grandfather's paintings — and along the way she finds a lot more than art. Your book club gals will love diving into the intersections of art, war, and family with this touching and compelling memoir.
2. The Telling: A Memoir by Zoe Zolbrod
A powerful memoir about life in the aftermath of sexual abuse, Zoe Zolbrod's The Telling describes her journey from silence to empowerment, from girlhood through her haphazard coming-of-age experiences, meeting and falling in love with her husband, and finally becoming a mother herself. Exploring what it means to grow into one's own sexuality, develop healthy relationships, and experience motherhood in a life beyond abuse, this memoir offers a moving portrait of one woman's courage to find her own voice — and it's a voice everyone in your book club will be inspired by.
3. TREYF: My Life as an Unorthodox Outlaw by Elissa Altman
Elissa Altman spent her childhood learning religious rules that she immediately broke, and spent her young adulthood navigating (and hiding) her sexuality. Diving into the lives of the three most influential people in Altman's young life — her father, her mother, and her grandmother, TREYF: My Life as an Unorthodox Outlaw takes readers on a journey that most young people have to go through, regardless of the specifics of religion, family history, or sexual identity. TREYF acts as a space for Altman to both ask and answer universal questions about where she comes from, how her life was shaped, what she'll choose to keep from her past, and what is better left behind.
4. Marrow: A Love Story by Elizabeth Lesser
If your book club read and loved the novel My Sister's Keeper, then you've got to add Elizabeth Lesser's memoir Marrow: A Love Story to your group's TBR list. When the memoirist discovers that her sister Maggie needs a bone marrow transplant and that Lesser herself is a perfect match, the sisters are forced to not only face the difficulties of Maggie's life-threatening illness, but to explore their own family history and their bond as sisters as well — learning together what it means to move past the hurts of childhood, and to love another unconditionally as their truest self.
5. The Art of Waiting: On Fertility, Medicine, and Motherhood by Belle Boggs
Based on a viral essay published in Orion magazine in 2012, Belle Boggs memoir-through-essay, The Art of Waiting: On Fertility, Medicine, and Motherhood dissects what it means to parent and procreate in our modern world — especially the myriad paths to getting there. Faced with her own inability to conceive, Boggs catalogs the examples of fertility, infertility, and parenting that seem to exist all around her — not only that of her fellow humans, but also taking note of local baby eagles, 13-year cicadas, and the pregnancy and birthing experiences of other species we share our world with. Boggs' message is clear: there is no one path to parenthood, and no experience of mothering more valid than another.
6. Darling Days: A Memoir by iO Tillett Wright
At just six-years-old, after being excluded from a neighborhood ballgame, iO Tillett Wright adopted a new persona for herself — that of a young boy named Ricky. Taking readers back to New York's Lower East Side in the 1980s and '90s, Wright's memoir Darling Days describes the writer's coming-of-age experiences: being raised by her widowed, showgirl mother Rhonna, and forming and re-forming her own ideas about gender and identity against the backdrop of a neighborhood where drag and performance art abounded, and the punk rock scene had taken over. Darling Days is the contemplative memoir you'll want to share with all the readers you know — perfect for your next book club pick.
A memoir about three generations of women all navigating the hard truths and complex contradictions of their pasts, I'm Supposed to Protect You from All This follows Nadja Spiegelman, the daughter of Maus creator Art Spiegelman, from New York to Paris as she tries to piece together the truth about her mother's past, and discover how this has informed her own upbringing. At Nadja's age, Nadja's mother left home for New York in order to release herself from the grip of her own mother — Nadja's grandmother. Now Nadja crosses that same ocean, traveling from the United States to Paris in order to answer some questions of her own about her mother's past. Any reader who has ever wondered how their family legacy has informed their own life will be completely drawn in by Spiegelman's story.
8. Look at You Now: My Journey from Shame to Strength by Liz Pryor
When Liz Pryor became pregnant during her senior year of high school, in 1979, there were no MTV series to help her make sense of the experience. Instead, her family decided to keep it a secret, sending Pryor to a facility for unwed pregnant teens, where she found herself surrounded by young women with lives, homes, and family histories entirely different from her own. But despite their differences the girls manage to come together over their shared journeys through pregnancy, shame, and resilience — challenging one another's assumptions, struggling (but ultimately making peace) with the decision to put their babies up for adoption, and pressing forward in their lives utterly changed by the brief, but transforming, time they spent together.
When Betsy Lerner returns to her hometown to help her mother recover from a surgery, she isn't looking forward to re-immersing herself in the landscape she spent her childhood desperate to leave behind. So she certainly never expected to join her mother's bridge club, of all things — but Lerner can't fight the draw these bridge-playing women hold for her: their friendship, their loyalty, their inside jokes and shared histories. And it is through witnessing and partaking in these friendships — ones that make Lerner's social media connections pale in comparison — that this memoirist is able to reconcile her tense feelings about her own past with her mother.
Image: Alexis Brown/Unsplash