The NYX Lip Cream Vault Is Mini & Massive At Once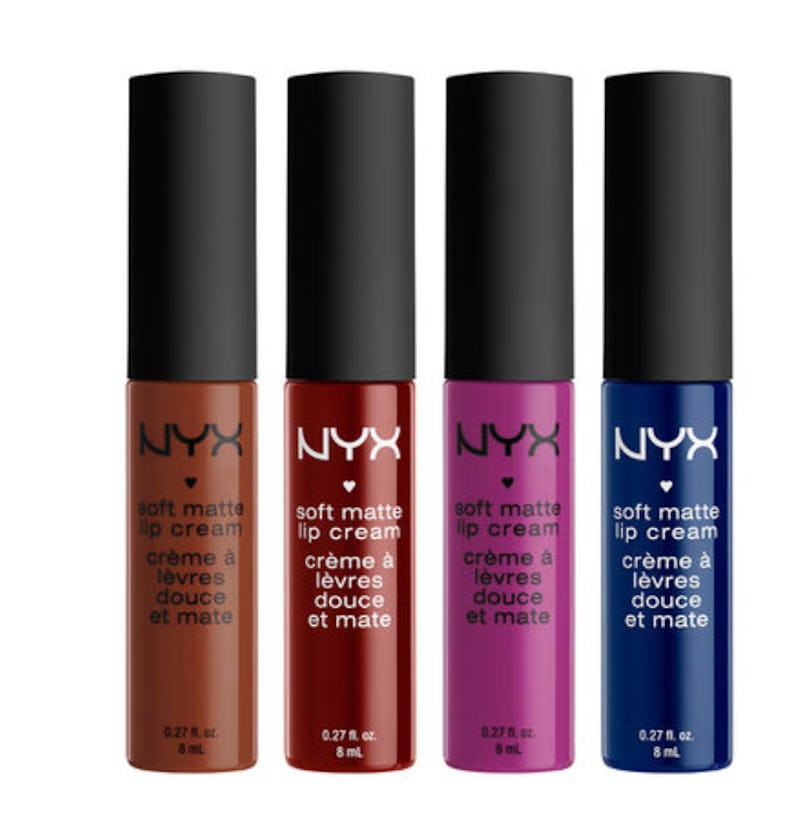 If you are claustrophobic, then the idea of being trapped in a vault has to be absolutely terrifying to you. But then there is a different sort of "Vault" — the NYX Soft Matte Lip Cream Vault. Now that's a vault I want to dive right into — headfirst! I might never leave. The affordable, on-trend, an high quality brand, which reminds me of my fave parts of MAC and ColourPop, just revealed its massive Lip Cream Vault. If you are a lipstick junkie, then this will be the first thing on your holiday "want" list. Your lips will never be bare. So what's in the NYX Soft Matte Lip Cream Vault?
Well, it's comprised of mini versions of all 34 shades in the Lip Cream lineup, along with two brand new shades named Bangkok and Los Angeles. So it's 36 lippies in total. Translation? It's a massive collection of minis. Apparently, the Vault, or at least the two new hues, will be available online as of Tuesday, Sept. 6. According to the Trendmood post, this vault will set you back by $64. That shakes out to less than $2 per adorable tube of Lip Cream. Since the Lip Creams are $6 solo, this Vault is a steal.
Below is the NYX Instagram post confirming the deets about this vault of awesome. Urban Decay is celebrated and beloved for its own blockbuster "Vaults" and now NYX is standing shoulder-to-shoulder with its lippie vault.
Did I just make your day or did I just make your day? The NYX Soft Matte Lip Cream formula is a total dream. It's velvety, offers rich pigmentation and is long-lasting, but lightweight. Your lips will be drenched in color and you'll never be without choices.
NYX Soft Matte Lip Cream, $6, Ulta
Plus, you can tote multiple minis in your bag at once, so you can change your lip color and story based on your mood or even hourly.
NYX's Soft Matte Lip Cream Vault will allow you to paint your lips perfectly... all of the time.
Images: Courtesy of NYX (2); NYX Cosmetics/Instagram (1)