These Brands Are Participating in Ultra's 21 DOB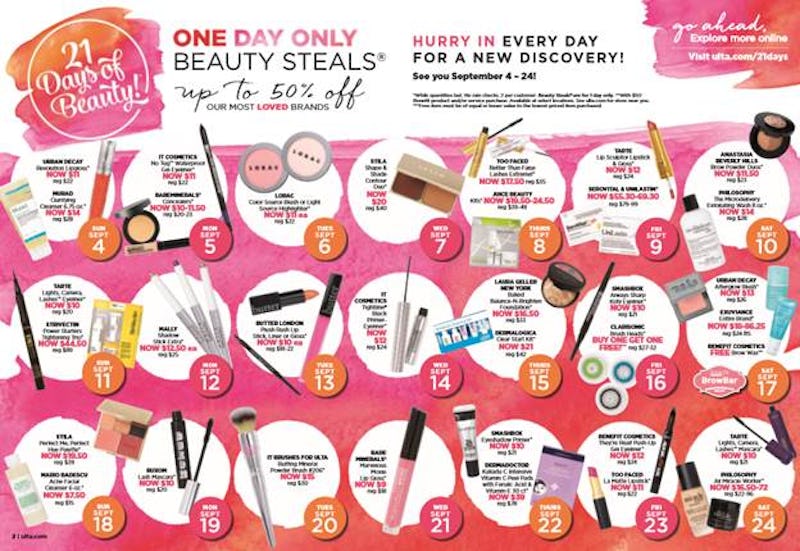 Ulta is pretty much going to own the month of September for makeup mavens, beauty junkies, and product addicts. For real. Ulta's Fall 2016 21 Days of Beauty Sale kicks off on Sunday, Sept. 4 and runs through Saturday, Sept. 24, with different daily discounts and deals. This isn't just any ol' sale, either. Ulta's 21 Days of Beauty promotion also includes prestige brands that are often exempt from those nifty $3 off coupons on the back of Ulta catalogs. These are deep discounts, too. Since fall is on the horizon and you need to refresh and increase your makeup stash for the season, Ulta is giving you 21 opportunities to do so. Don't snooze on these opps because they are all legit. What brands are participating? What's the deal with the 21 DOB sale?
Ulta PR confirmed to Bustle via email that in addition to the insane beauty steals and deals, there are in-store events and demonstrations, as well as free gifts. Some of the brands participating include Urban Decay, IT Brushes for Utla, Tarte, and Clarisonic.
Are you clutching your chest, trying to catch your breath after being totally blown away by this amazing news? It's OK. I had the same exact reaction. Remember, you are among friends. There is no makeup shaming here.
We can look forward to three weeks of a beauty, beauties! You seriously cannot go wrong if you pop into your local Ulta at some point this month. Other brands involved in the sale include Philosophy, Buxom, Mally Beauty, and Gwyneth Paltrow's Juice Beauty.
The entire calendar of sales is below. Blow it up, print it out, pour over it, and consult it thoroughly. Then take a look at your budget, since you are going to want to take advantage of tons of these deals and steals. Then make a list of the items that you want the most.
This calendar of sales looks like a big and beautiful "to do" list for September. Happy shopping and saving at Ulta, beautyholics.
Also, pay attention to the fine print, since the sale pertains to specific products.
This is your mantra, BTW.
Images: Courtesy of Ulta (4); Ulta Beauty Instagram (1)