Brock Turner Is Not The "Stanford Swimmer"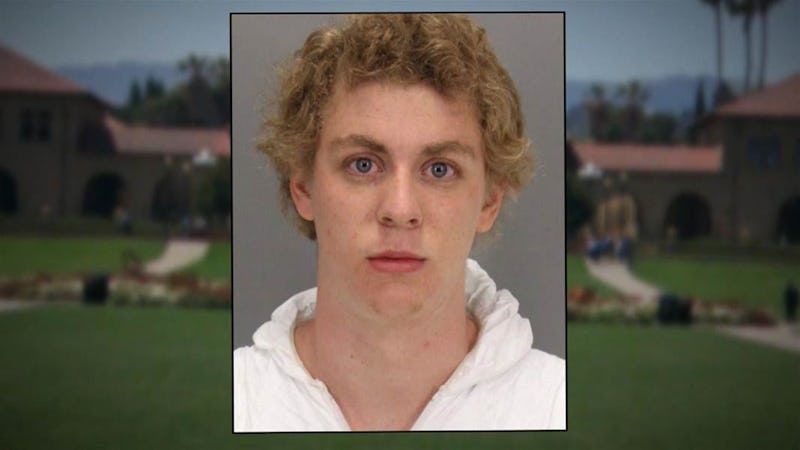 Brock Turner was just released from a Santa Clara County jail on Friday morning after serving only half of his six-month sentence. Turner was charged with multiple counts of felony sexual assault for harming an unconscious woman, and was facing up to 14 years (prosecutors were pushing for 6). However, Judge Aaron Persky spared Turner the long sentence because of — and I quote — the "severe impact" it could have on Turner's life. The coverage of and discussion surrounding Turner's release has been nothing short of problematic, mostly because countless outlets have avoided calling him what he is. There's an important reason why we shouldn't call Turner the "Stanford University swimmer."
For one, Turner is not a Stanford swimmer, nor is he a student of the university anymore. Turner's swimming career is also over. The governing body of USA Swimming banned him from future membership in a statement that read, "USA Swimming strictly prohibits and has zero tolerance for sexual misconduct, with firm Code of Conduct policies in place, and severe penalties, including a permanent ban of membership, for those who violate the Code of Conduct."
More importantly, though, Turner's swimming career ended the day he sexually assaulted an unconscious woman. Turner is not a swimmer; he is a convicted sexual assailant. He is a felon. He committed an act of sexual violence. So how can we call him anything else? For networks to cover Turner's case with the label "Stanford swimmer" exists in parallel to the patriarchal structures of a criminal justice system and society that allowed him to serve almost no time for his crime.
Why should survivors of sexual violence read these headlines and see the title "Stanford swimmer" rather than the title he earned himself the day he committed sexual assault?
The woman who Turner assaulted released a letter she read him in court about the impact it's had on her life, which was released in early June. In her letter, she noted how upon finding an online article that detailed her assault, the very end of the article noted Turner's swim times. She wrote:
And then, at the bottom of the article, after I learned about the graphic details of my own sexual assault, the article listed his swimming times. She was found breathing, unresponsive with her underwear six inches away from her bare stomach curled in fetal position. By the way, he's really good at swimming.
For all of us to then turn around and call Turner a "former swimmer" is both inappropriate and ignorant of the severe problem of sexual assault and rape in this country, and a disregard for Turner's victim. Vox's Liz Plank released a video on Friday to help Turner catch up on all the things he's missed in the last three months he spent in jail. She noted that "an estimated 75,000 American women were raped" in that time. But some folks are still more concerned about Turner's former swimming career.
Let's also consider the sort of blanket safety that athletes often receive when they are accused of violence against women. A review from 1995 found that even though male athletes made up a small percentage of a given college population, they also made up 19 percent of sexual assailants, and were less likely of being convicted than non-athletes. We have seen even in professional sports teams an unwillingness to hold athletes accountable and take assault allegations seriously. Even so, on a larger scale, very few people accused of sexual assault will face any repercussions.
One way to change the frequency and disregard for sexual violence is to start changing the language we use when we discuss it. So let's all refrain from referring to Turner as a former swimmer.
Image: Santa Clara Sheriff's Department