How to Style A Satin Bomber Jacket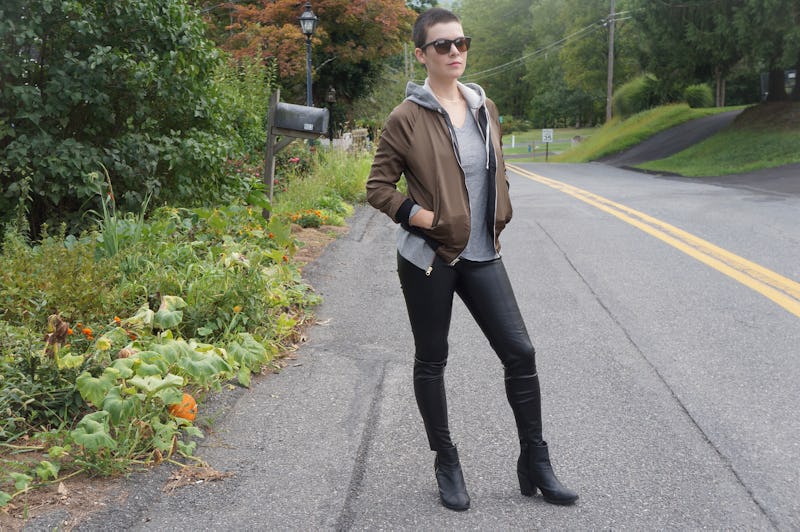 Fall is finally just around the corner, which means the most exciting time of year is almost here: jacket season. This season's hottest jacket trend, and possibly even the hottest trend right now period, is the satin bomber jacket. Tons of stylish celebs, from Kendall and Gigi to Jared Leto and Drake, have been spotted wearing satin iterations of the classic bomber jacket. The nice thing about this trend is that it easily lends itself to all varieties of budgets and fashion preferences. You don't have to spend a lot to get on board with this trend, and you can either pick a trendy statement piece or a more subtle option that will be a classic wardrobe staples for years to come.
Another nice thing about this kind of jacket is that it can be very versatile. It has a very cool, urban vibe so I probably wouldn't wear it to a conservative office or church in place of a cardigan, but otherwise it's really easy to dress up or down for all sorts of occasions and outfits. You could throw it on top of jeans and a T-shirt and it'll look good.
Everyone needs a piece like that in their closet this fall: something that you can just throw on to instantly elevate any outfit. Here are three ways to style a satin bomber jacket this fall, as demonstrated with my Missguided Reversible Satin Bomber Jacket ($56, missguidedus.com).
1. Dress It Down
The bomber jacket lends itself perfectly to sporty, athleisure style outfits, and it doesn't matter whether it's satin, suede, leather, or cotton. There's just no denying the relaxed, boyish charm of bomber jackets. That's why I love pairing mine with a simple jersey racerback dress (these minimalist, body-hugging dresses are in everyone's closets right now thanks largely to the Kardashians) and classic Adidas sneakers. This is the perfect weekend outfit, whether you're going on a casual day date or hanging out with your friends. It's comfy but still chic, cool but not in a particularly showy way.
2. Dress It Up
The satin bomber jacket is, IMO, the perfect topper for any date night outfit. It will complement sporty or edgy looks and soften more feminine outfits. Personally, my biggest issue with date night outfits is that I always tend to overdress for a night out in my small town. Throwing a sporty jacket on top of any dress will help to tone down the look a little bit and balance things out. I decided to focus on another popular trend with this look: a lace-up dress and lace-up shoes to mirror it. Then I added gold hoops, a leopard print clutch, and some burgundy lipstick to help take this into fall. Once things really get chilly, I'll add black tights and closed-toe shoes.
3. Layer For Fall
Speaking of things getting chilly, that's bound to start happening in a few weeks. Satin bomber jackets are generally pretty light so in order to get the most wear out of yours as the weather gets colder, you'll have to get creative with layering. The easiest way to do this is by layering a hoodie underneath for some extra warmth. Don't be afraid to let the hoodie's sleeves peek out a bit too so that you can get the full visual effect of the layers.
Reversible Bomber Jacket, $17, Missguided
You could wear black skinny jeans with this outfit, as Rosie Huntington-Whitely did, but I chose to go with black leather leggings instead like Kylie did for some extra protection against the cold — and also because the shininess of the fabric complements that of the satin bomber jacket. A simple gray T-shirt and black booties complete the look. Consider this the latest reiteration of model-off-duty style; I'll be wearing it all autumn long.
Ready to get your hands on your own satin bomber jacket? This is the Missguided reversible one I'm wearing in the photos above, and here are seven more options that I found listed below!
1. Bright Colors
Embroidered Souvenir Jacket, $38, Forever 21 (also available in Plus Size)
This yellow shade is super trendy.
2. Lace Details
Alice & You Lace Up Detail Satin Bomber Jacket, $64, ASOS
The lace-up detailing on this jacket is so on-trend.
3. Faux Fur
Faux Fur Collar Bomber Jacket, $125, Topshop
The fur collar will help keep you warm in this jacket all autumn.
4. Metallic
Carli Bybel Longline Lace Up Bomber Jacket, $64, Missguided
How great is this monochromatic rose gold look?
5. Embroidered
Two In One Reversible Bomber Jacket, $150, Topshop
Bonus points if you score a jacket with embroidery like this one.
6. Heavily Embroidered
Special Edition Embroidered Bomber Jacket, $169, Zara
Seriously, how cool is this?
7. Quilted
New Look Plus Quilted Satin Bomber Jacket, $61, ASOS
The quilted detail on this jacket is super cute. Happy layering!
Images: Kelly Dougher (4); Courtesy brands (7)