A Dog Was Named After His Family. Seriously.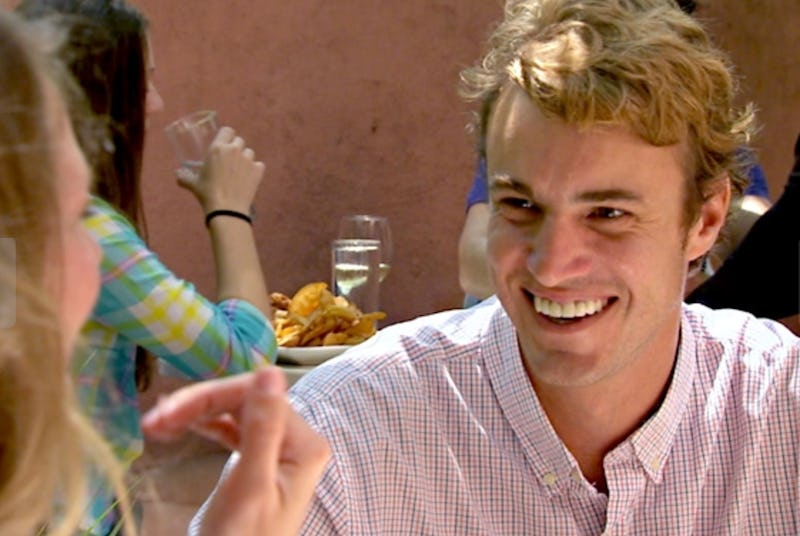 Shep Rose, Southern Charm's resident party boy, doesn't need Bro Code. Shep lives by his own code. What is that code, exactly? I don't know. But based on what's happened in the first two eps, I'm going to guess the the tenets of Shep's code are: 1) "Have fun always," 2) "smooch whoever you want, whenever you want," and 3) "avoid horses." Where'd I come up with those? No, I didn't pull 'em out of thin air. They're carefully constructed, well thought-out hypotheses. Here are my justifications for each faux-tenet: 1) Shep seems to prioritize having fun over everything else. 2) Shep is always game to smooch a lady, even if she's the lady his buddy is crushing on (BRO CODE). 3) He says he is scared of horses. BOOM. MIC DROP.
Okay, how about some real facts about Shep? Let's dig into the Shep trivs, shall we?
He is originally from Hilton Head, but now lives in Charleston.
He went to University of Georgia
In his 20s, he worked in commercial real estate.
His current profession per Bravo.com: "Raconteur." No, that doesn't mean he's a member of Jack White's band. A raconteur is "a person who excels in telling anecdotes." Spin me a yarn, Shep!
He recently told told Hilton Head Monthly that he has a restaurant in the works: "It's sort of like a dive bar that serves gourmet hot dogs."
The town of Boykin, SC was named after B. Boykin Rose's mother's family.
And as if a town wasn't impressive enough, the state dog is the Boykin Spaniel. You guys. The state dog was named after Shep's uncle's mother's family. That's huge. To have any dog named after you is an incredible honor. To have the state dog named after you? Wow. Just wow.
Yes, this definitely inspired me to go on a Boykin Spaniels research rampage. And yes, this definitely inspired me to look at lots and lots of pics of Boykin Spaniels. Not mad about it. They're so cute.You want me to "get to know" the Boykin Spaniel, American Kennel Club? Twist my arm. The Boykin Spaniel...:
is a medium-sized hunting dog.
has "a rich, chocolate-brown coat and charm to spare."
is "friendly, eager, trainable, and lovable," i.e., "a classic spaniel."
You want me to "meet" the Boykin Spaniel, Woofipedia by the American Kennel Club? TWIST MY ARM:
"Boykins are medium-sized spaniels, larger and rangier than Cockers but more compact than Springers. The breed's hallmark is a beautiful solid-brown coat. Colors range from a rich liver to a luscious chocolate. The large, feathery ears hang close to the cheeks, setting off an expression of soulful intelligence. Boykins move with the effortless and balanced gait typical of durable gundogs. Bred to work the lakes and swamps of their native South Carolina, web-toed Boykins can swim like seals."
The color of liver or chocolate? Feathery ears? Swims like a seal? The imagery is a dream. The dog is a dream.
Whoa, okay. I've really let myself get off track. I apologize. I'm done with the Boykin Spaniel facts now. Back to the Shep Rose facts we go:
Shep owns "probably the most comfortable couch in the world":
David Foster Wallace is his favorite author of all time.
He has multiple pairs of "party pants" that he inherited from his grandfather.
Yes, I plan on spending the rest of my evening on eBay hoping to find party pants of my very own. How did you know?
Image: Bravo