Here Is When You Can Buy Kat Von D's Lipstick Set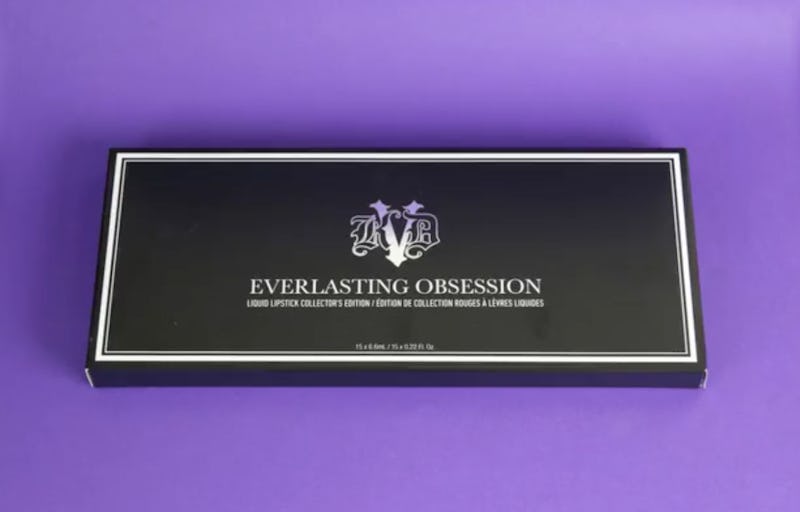 There is another #ByeMoney moment on the horizon! Kat Von D's Everlasting Obsession Clutch is a lipstick collection and it's the only lip wardrobe you'll need for the rest of 2016 and beyond! The Kat Von D Everlasting Obsession Clutch is an online exclusive and it's limited edition. The collection will be available via Sephora.com, as well.
Here's all the critical intel. The lipstick collection comes with a price tag of $240. That may seem steep on the surface, but what's inside makes it so worth the cost. The 13.5" clutch includes 13, full-sized, all-time favorite Everlasting Liquid Lipstick shades, along with two brand new shades, named "Devils" and "Lovecraft." That's a total of 15 long-wearing, matte liquid lippies in the richly-pigmented, non-drying formula that Kat Von D-evotees love so much.
When can you buy the Kat Von D Everlasting Obsession Clutch, which is basically lip heaven? It cruises onto the Sephora site on Tuesday, Sept. 20. Go ahead and make a note in your calendar so you can plan ahead to shop this set.
The KVDEOC is so awesome because it gives you #options. You can wear a different lipstick hue daily. You can change up your pucker to suit your mood. Plus, the formula is long-wearing, so you won't be re-applying all the time and therefore you won't hit the bottom the tube or run out quickly.
Are you shaking and crying over all those liquid lippies? You want to dive right in, don't you? It's OK to admit your lust over this lipstick set.
Another thing to consider is the fact that the Everlasting Liquid Lippies are $20 for single shades. That means you are getting some pretty decent savings by purchasing the clutch.
The Everlasting Obsession lipstick collection is packaged in a matte black, envelope-like case, which boasts all of the signature Kat Von D details.
You can swap out your lip shade every day for two weeks with this set! Pick. Swipe. Wear. Repeat. Better yet, why not mix and match shades or do ombre lips? You certainly have plenty of choices.
Tuesday, Sept. 20 is the day! If you are a lipstick junkie with a serious fondness for the Everlasting formula, this collection is your Holy Grail.
Images: Kat Von D/Instagram (1)