'Narcos' Is Renewed For Seasons 3 & 4 On Netflix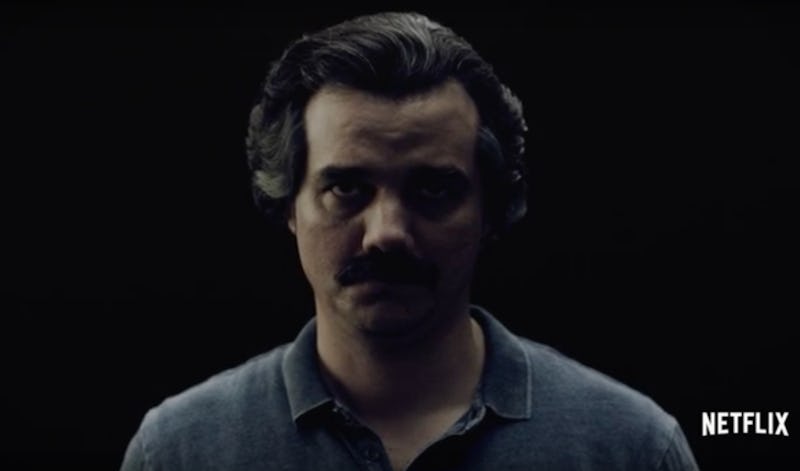 It's been four days since the second season of Narcos was released on Netflix, and fans already want more epic drug battles. Luckily, the network is going to give it to them. On Tuesday morning, Netflix announced that Narcos will be renewed for two seasons. The show, which chronicles the rise and fall of the infamous Colombian drug lord Pablo Escobar, is getting not only a third, but a fourth, season for everyone to marathon at their earliest convenience. (And, you know, when they're out.) Seeing as how fans are already claiming Season 2 is even better than Season 1, they can probably count on the network to bring its A game. But, after viewing the teaser trailer, I'm wondering: who will be back? Warning: spoilers and more cocaine ahead.
Thus far, the gritty drama has focused on the notorious Medellín drug cartel of the late '70s to early '90s, specifically the battle between Escobar (Wagner Moura) and U.S. DEA Agent Steve Murphy (Boyd Holbrook), who was sent to Colombia to bring Escobar and his organization down. If you've reached the end of Season 2, you know he succeeds. "Just like that, I'm looking down at Pablo f*cking Escobar," Murphy tells the audience after Escobar gets shot and perishes in the finale. Then, we see Javier Peña being interrogated by the U.S. government about the Cali Cartel. Which brings us here:
One of the Season 3 teasers shows "wanted" papers with Escobar's face being replaced with those of Gilberto Rodríguez Orejuela, a Colombian drug lord and former leader of the Cali Cartel. This teaser has the same effect:
Now that the horrible yet beloved Escobar has fallen, will fans still feel committed to the show without its main character and possibly others?
It seems the answer is yes. Narcos will return to Netflix for Season 3 in 2017.
Image: Netflix