Why You Need To Rewatch 'Josie & The Pussycats'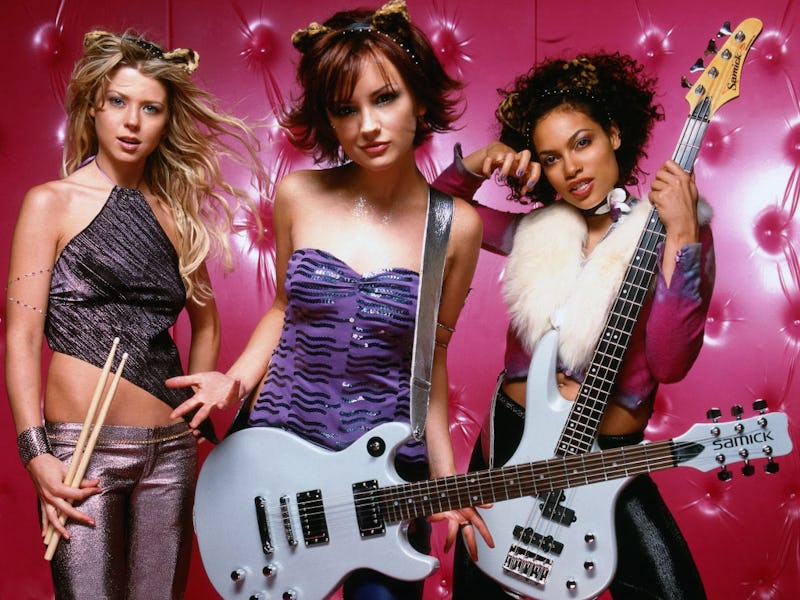 2001 was a pretty epic year for the silver screen. We had the first Lord of the Rings, the first Harry Potter, Monsters Inc., The Princess Diaries, Zoolander, Legally Blonde, Training Day ... I mean, really, the list just goes on and on. But the most underrated film of them all? That would be Josie And The Pussycats , the comedy/extremely long music video based on the comic book series published by Archie Comics in the 60's and 70's.
I'm pretty sure I first fell in love with the movie because of its killer tunes (come on, "Three Small Words" and "Spin Around" still hold up), but it wasn't until I rewatched it last month that I realized how genius it was. So, in honor of the movie becoming a Bat Mitzvah (Happy 13th Birthday, Josie!), here are 13 things you most definitely missed the first time around.
1. "Backdoor Lover" is about, um, yeah, you know what it's about. Except we're pretty sure you didn't know that back in 2001. It's OK, we didn't either. TBH though, still a super catchy song. Some sample lyrics:
This kind of love is wrongbut you know it feels so rightRunnin' my hands across your cheeksthey're oh so smooth and whiteso leave the light on baby and unlock your back doori'll be comin' through that way tonightto love you for sure
2. All the members of DuJour (Alex Martin, Donald Faison, Seth Green, and Breckin Meyer) were in Can't Hardly Wait, the only other film directed by Harry Elfont and Deborah Kaplan.
3. But maybe you already knew that. After all, check out this Easter Egg. We agree, Can't Hardly Wait was definitely underrated (Mandyyyyyyyyy).
4. During DuJour's plane crash (oh, sorry for the spoiler), Wyatt (Alan Cumming) tells the pilot to "Take the Chevy to the Levee." That's a reference to musician Buddy Holly, who died in a plane crash in 1959. "American Pie," a Don McLean song about the accident includes the lyrics "Take the Chevy to the Levee."
5. THIS. Yeah, I definitely didn't get that joke way back when.
6. Oh, and that accident Tara Reid and her sign causes? It's a reference to Archie the comic book character, who's sadly getting the axe this summer. :(
7. Speaking of comic books? Blink and you'll miss this excellent line of dialogue. In the plane, the band's manager Alexander Cabot tells his sister, "I still don't understand why you're here." "Because I was in the comic book," she replies.
8. 90's couple Tara Reid and Carson Daly actually started dating after meeting on set. They didn't last though — the couple was donzo only two months after the film hit theaters.
9. Peter Teschner, the editor of Josie and the Pussycats, was also the editor of Charlie's Angels (2000), featuring the three actresses listed to play the band.
10. That's not Rachael Leigh Cook's voice you're hearing when the band plays — it's Kay Hanley, lead singer of the band Letters to Cleo. You may also recognize Letters to Cleo as the band from 10 Things I Hate About You.
11. As commentary on the film's consumer culture, producers plastered the film with product placement. More than 70 companies are featured including Target, Starbucks, Motorola, McDonald's, Coke, and more. None of the companies paid for any of the promotion.
12. Melody (Tara Reid) doesn't wear a single shirt with sleeves throughout the whole film. Ah, the days where I went to Wet Seal and bought bandana tanks.
13. Wyatt tells Josie she should be happy that people who used to hate her now love her and tells her "some people have to wait until their high school reunion." That's an inside joke about Cumming's other film Romy and Michelle's High School Reunion (1997), where Cumming's character Sandy Frink returns to his reunion with a new face and a whole lotta money.
Images: Universal