Louis C.K. Makes the 'SNL' Wait Worthwhile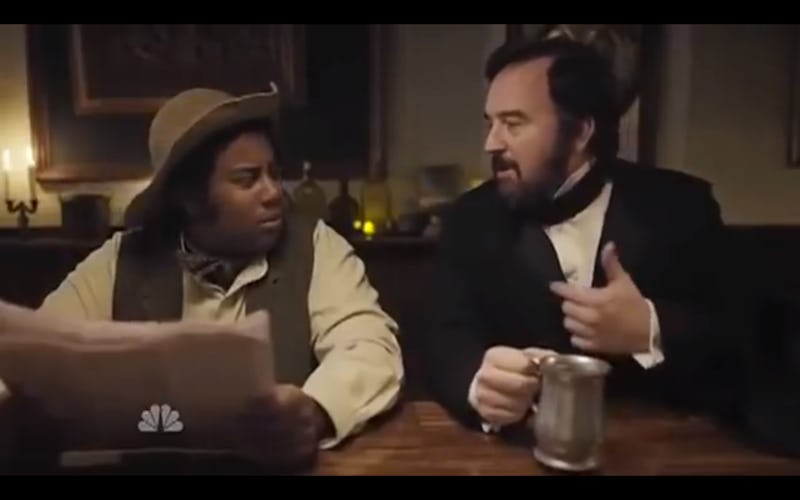 Saturday Night Live, was, unfortunately, not live this past Saturday night. SNL is taking off the next two weekends so its actors can unwind on raucous spring break trips, but it will return to its regular 11:30 p.m. slot on NBC on Saturday, March 29th. The host will be Louis C.K., and there has been no word yet as to who the musical guest will be. This may, in fact, be a ploy on the part of NBC, who could have C.K. provide both the laughs and the musical stylings. After all, in the comedian's own words, "The audience is the instrument you play."
So, what can we expect from this famously self-deprecating comedic genius? Perhaps a bit of self-promotion, because C.K.'s show, "Louie," will return to air after its 20-month absence on May 5th this year. Perhaps some callbacks to an earlier era of comedy, because C.K. is no stranger to the SNL world. He was a long-time contributor to its cartoon series "TV Funhouse," and auditioned for SNL in 1993, when the show was drawing from New York's stand-up population. He also hosted the show for the first time on November 3, 2012. Lastly, we can hope to see some references to C.K.'s film contributions this year: he appeared as a brow-beaten but ultimately vindicated bureaucrat in American Hustle, the realist antidote to Bradley Cooper's power-hungry Richie DeMasio. In Blue Jasmine, he appeared as the love interest of Jasmine's (Cate Blanchett's) sister, Ginger (Sally Hawkins). In short, C.K. has a wealth of acting, stand-up, and SNL-related experiences to draw on for his episode. What, then, do we hope to see from him on March 29th?
1.) More anti-chemistry with Kate McKinnon.
In one of McKinnon's infamous "Last Call" sketches, C.K. plays the would-be lover. Clearly, the punch line goes, these two are not meant for each other. As they put clunky moves on one another, however, you can't help but cringe-laugh. C.K. and McKinnon are the perfect pair to play the dregs of humanity, crawling towards one another despite all evolutionary odds. And McKinnon's patchwork sweater-jacket.
2.) More historical humor.
No one explores white guilt quite like Louis C.K. As Lincoln in a spoof of his own show, he stumblingly tries to make black friends, only to have Keenan Thompson announce to the bar, "I just want to thank President Lincoln here for everything that he's done for me. Especially my new job, of shoveling horseshit into a wagon." Louis as Lincoln bemoans the need to placate slaveowners without calling them out on being total assholes, and his quibble with Aidy Bryant shows Lincoln, arguably the most powerful man in the United States, as the original hen-pecked husband. C.K. in this skit shows us how the role of "little man" is as old as the Emancipation Proclamation itself.
3.) An Inverted American Hustle.
While Cooper's DeMasio roundly embarrasses his boss, C.K.'s Stoddard Thorsen, in this clip, perhaps SNL will revisit the film with Taran Killam as DeMasio. In fact, I can imagine McKinnon as Thorsen's wife, who drags him back into the office and forces the two men to make up. She could even put DeMasio in a headlock until Thorsen is able to finally recount the end of his extended ice fishing story. Think of it as the grandmother taking over in Oklahoma, when she forces everyone to sing, "The Farmer And The Cowman."
4.) One of the best opening monologues of the year.
C.K. will shine again as he delivers his opening monologue, because this is literally what he does for a living. While some monologues call upon cast members or other stars to prop up the host's performance, C.K. will own his spotlight. I, for one, am excited to see what fresh stand-up he brings to the show, which will hopefully involve some audience banter and a send-up of New Yorkers in general. He makes everyday events seem both bizarre and critically important, while exposing the power dynamics that run beneath seemingly innocent interactions. Case in point? His exploration of the courage and insanity that it takes to accept dates as a woman.
I can't wait to see what Louis C.K. brings to SNL on March 29th, and hopefully the cast will be refreshed enough at that point to bring their best acting and writing chops to the table. As we wait for that glorious night, however, we can admire C.K.'s existing work while eagerly anticipating the darkly witty tango of minds (and tongues) that is to come.
Image: NBC