Pablo Escobar's Wife Led A Quiet Life After Him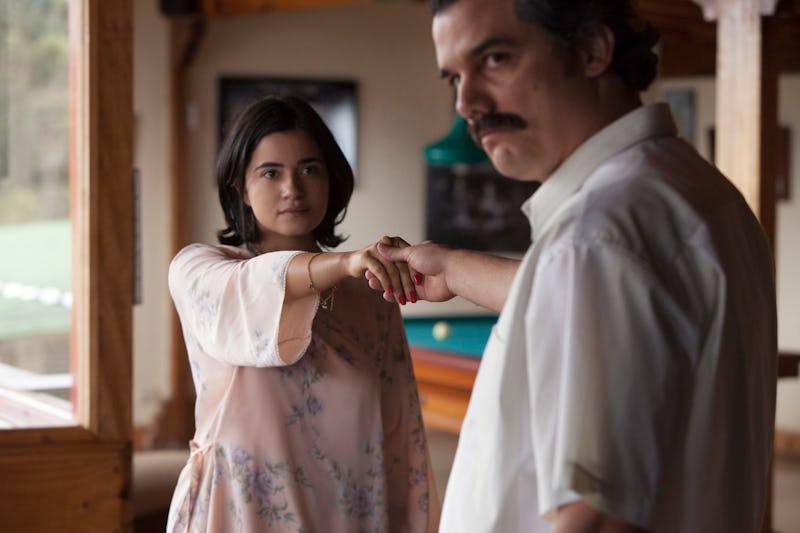 The story of Pablo Escobar, one of the most infamous drug kingpins in modern history, has fascinated people long before his death in 1993 — which may explain the success of Netflix's original drama Narcos that follows Escobar and the DEA agents who pursued him throughout the late '70s to early '90s. But, for those who were introduced to the life of Escobar and his family through the Netflix drama, you may be wondering about what happened to the real people the show is based on. For instance: What happened to Pablo Escobar's wife?
In Narcos, Escobar's wife goes by Tata — a nickname used for the drug kingpin's real life wife, Maria Victoria Henao. Escobar and Henao married in 1976, when she was 15 years old (he was 26 at the time) and remained together until his death in 1993. They had two children: Juan Pablo, who has since changed his name to Sebastian Marroquin, and Manuela. The family of three fled Colombia following Escobar's death (according to the BBC) trying to find asylum in Germany (Philly.com reports), though they later relocated to Argentina where they resided for some time. For the most part, Henao has stayed under the radar since leaving Colombia, though there was a brief incident in Argentina in 1999.
BBC News reported that Henao, who had by that time changed her name to Victoria Henao Vallejos, was arrested along with her son on "suspicion of money laundering." According to the report, their arrest was ordered shortly after a local television show revealed their presence in the country. Although Henao and her son were brought before a judge, they were not officially charged. At the time, Henao told the press: "I am a prisoner in Argentina for being Colombian. They want to try the ghost of Pablo Escobar because they want to prove that Argentina is combatting drug trafficking."
After this particular incident, Escobar's widow did not resurface in the media and it seems likely that she's trying to stay out of the public eye. Although Narcos may inspire viewers of the show to learn more about the wife of the famed drug trafficker, there doesn't seem to be much to find. She has lived a relatively quiet life aside from her infamous husband.
Images: Juan Pablo Gutierrez/Netflix (2)