You Can Thank Luke & Lorelai For The 'GG' Revival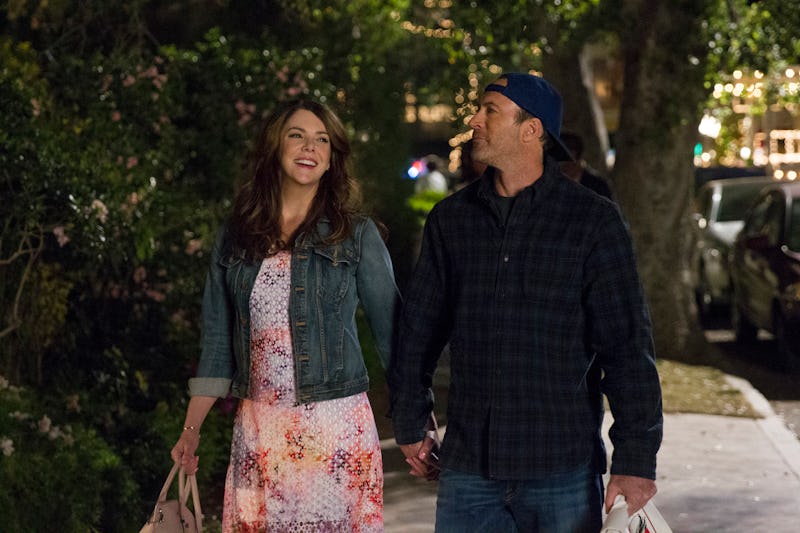 Where Amy Sherman-Palladino and Dan Palladino lead, fans will follow. In Entertainment Weekly's latest sneak preview of Netflix's upcoming Gilmore Girls revival, Gilmore Girls: A Year In The Life, actress Lauren Graham is giving credit for the amazing continuation of the series where credit is due: to the minds of the show's original creators. However, it appears some of that credit also belongs to two of the show's most beloved characters, Luke and Lorelai. At least, if Graham and Alexis Bledel's comments in EW 's exclusive Gilmore Girls interview from their September 16 issue is any indication.
Following Amy and Dan's departure from Gilmore Girls in 2006, the WB series only went on for a seventh and final season under the eyes of multiple producers, including 90210's Rebecca Sinclair. However, with so much left unfinished by the show's original creators, many storylines didn't end up getting the closure fans would have liked. More specifically, Luke and Lorelai never got the closure fans would have liked. On the bright side, this left a perfect window for Amy and Dan to jump back in and complete their story all these years later. "I know Amy was pleased that certain things had not happened," Graham told EW. "Because it gave them a little more freedom."
As aggravating as Luke and Lorelai's relationship has been over the years (seriously, they should be married with two kids by now), I'm thinking that the future of the couple could be exactly why Amy and Dan felt the need to come back. The characters need closure, the fans need closure, the actors need closure, and the creators need closure. "I consider this our final season. This is an auteur's project; it's not just something that someone else could easily take over," explained Graham. "It doesn't feel like a money grab. There were perfectly reasonable artistic reasons to return: Our creator didn't finish it."
At the end of Season 7, Luke's Diner and The Dragonfly Inn were still open for business. But things got unexpectedly awkward between the longtime friends and lovers. After Lorelai reconnected with Rory's father, Christopher, her romance with Luke seemingly came to an end. Until, of course, the show's final moments when Stars Hollow's most-shipped couple reunited with a kiss. That gives the revival the freedom to give fans this long-awaited engagement — or even a Luke and Lorelai wedding.
So, basically, you can thank your lucky stars that those two never got the happily ever after you craved. Because, if they did, perhaps fans wouldn't be getting this revival.
Images: Saeed Adyani/Netflix; Giphy (2)