How To Make Easy Cauliflower Bites — VIDEO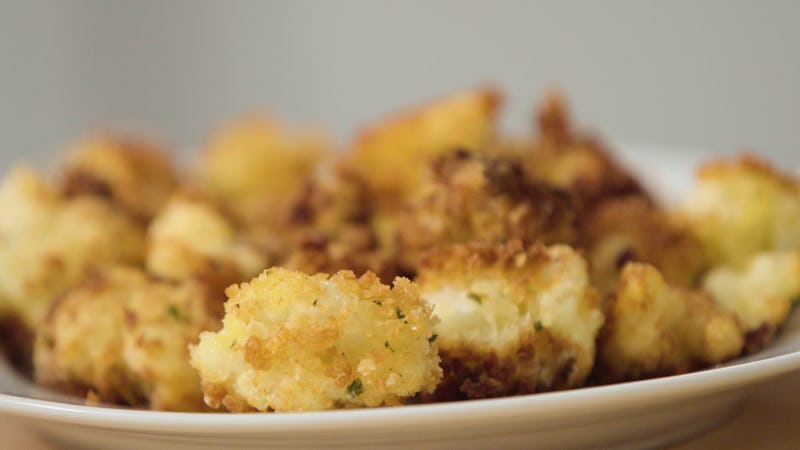 Is there anything that sounds more appealing than waking up at the crack of dawn, working a full day in the office, hitting the gym for a workout, and dashing home to prepare yourself a gourmet dinner? And then going to bed and doing the whole thing over again? Well, actually, yes. I can think of roughly one billion things that sound better than running on that schedule five days a week. For starters, using my precious after-work hours to heat up my favorite go-to pizza paired with a fast, easy-to-make weeknight appetizer before settling in to watch a few hours of TV. (No judgment! We all have our priorities.) And since a busy schedule should never be a barrier to amazing food, we teamed up with California Pizza Kitchen® Frozen Pizzas and food blogger Gillie Houston to come up with a simple recipe made with fresh, wholesome ingredients that goes perfectly with a classic white pie.
These crispy cauliflower bites can be cooked and ready before your pizza comes out of the oven, and they're packed with mouthwatering flavors that pair perfectly with white pizza. The creamy garlic sauce on this pie has the same sharp accents as the parmesan cheese found in each cauliflower bite, and the fresh herbs featured in both dishes make for an unbeatable dinner combo. Just grab the ingredients listed below, then check out our video to learn how to make them on your own — any day of the week.
Crispy Parmesan Herb Cauliflower Bites
½ cup vegetable oil
1 cup panko bread crumbs
¼ cup grated parmesan cheese
4 cups cauliflower florets
½ cup all-purpose flour
2 large eggs
A pinch of each dried herb of your choice (oregano and basil work well for these)
Salt and pepper to taste
Heat vegetable oil in a large skillet to medium-high. In a medium bowl, combine panko, parmesan, and spices. Coat cauliflower in flour, dip into egg, and roll in panko mixture to coat. Add cauliflower to the skillet and cook until golden, about 2-3 minutes, then transfer to paper towel-lined plate. Serve immediately.
Click here to locate a California Pizza Kitchen® pizza!
Images: Granny Cart