'Gilmore Girls' Fans Should Check Out This Movie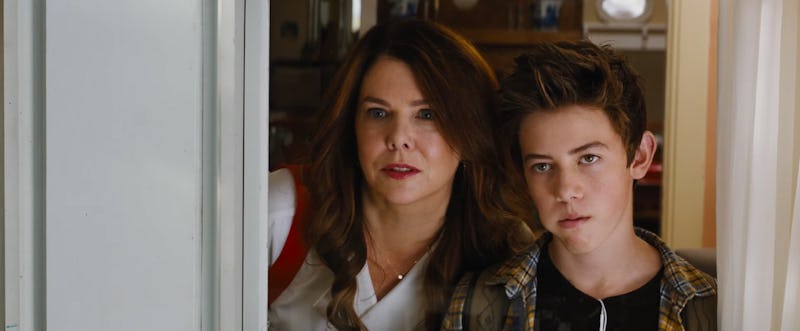 If you're a fan of quickfire Gilmore-esque banter and Stars Hollow, you should clear some space in your movie-viewing schedule for the film adaptation of the James Patterson and Chris Tebbetts book series. The Middle School: The Worst Years Of My Life trailer ticked off a long checklist of things that feel oh-so reminiscent of your favorite TV show. For starters, there's Lauren Graham, playing a mother of a teenager (and there's no dad shown in the trailer, so maybe even a mostly-single mother, a la Lorelai). Specifically, a mother whose kids are quirky and funny, and OK, a little like Rory minus the studious nature.
Then, there's the fact that our teen male Rory stand-in, Rafe, starts off at a totally normal school and gets transplanted suddenly into a school that seems, well, not dissimilar to Chilton Preparatory School. It's (I assume!) a fancy private school with uniforms, and don't tell me that his headmaster doesn't remind you of Headmaster Charleston. If you try and tell me that, you're just lying to yourself. This guy is very into rules and etiquette, and he expects total obedience.
Don't get me wrong. Headmaster Charleston's just doing his job, and there's a time and a place for fun. But this other headmaster definitely studied under Charleston when it came to how to discipline your pupils into total submission. Anyway, see for yourself here.
But, when you learn a little bit more about the story, you realize, sure, Rafe may be as witty as Baby Gilmore, but he's more of a prankster than Rory ever was. While Rory responded to the steely discipline of Chilton Prep by knuckling down and studying even harder than ever, Rafe responds by rebelling. Or kind of, anyway — his mom gives him some singularly Lorelai-esque advice when, instead of recommending that he follows the rules, she tells him to "think outside the box."
Responding to petty rules by breaking them on a large scale (think: submerging the hallways with plastic balls, dying the headmaster's own hair bright pink via a sneaky hair-dye in hat move, and turning the school trophy case into an aquarium) feels like a wonderful, crazy, parallel-universe version of Chilton. What if Rory and Paris had teamed up to use their intellect to break the rules rather than following them and competing against each other?
So, if you loved Gilmore Girls, but occasionally felt perturbed about the way Chilton was run, this could be the movie for you. It's quirky, it's smart and it's all about the trials and tribulations of teenage life.
Images: CBS Films