Everyday Underwear Pieces With Really Good Reviews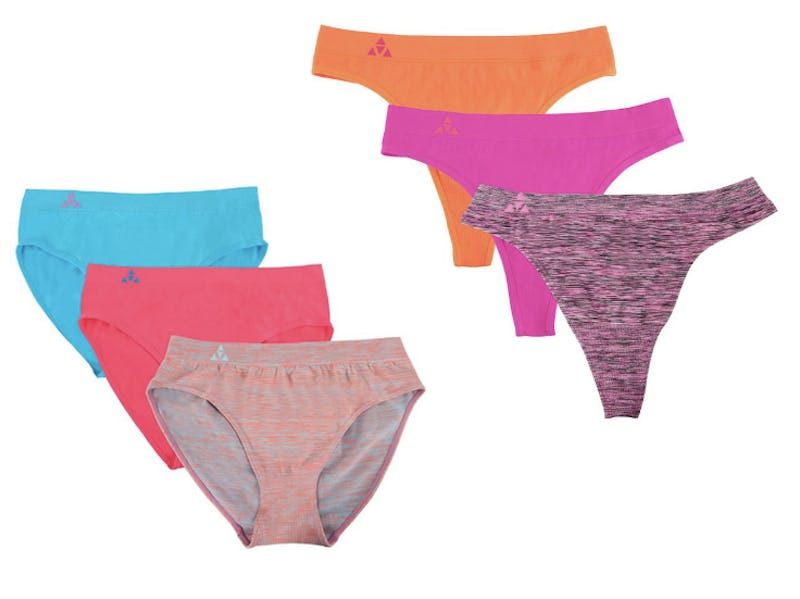 Undies, underwear, bloomers: Many people wear them (unless you go commando, in which case, good for you!), so there should be no shame in talking about them. Whenever I find myself looking for a great new style or brand, I look up everyday underwear with really good reviews. Whether I'm looking for a seamless pair of undies that give more coverage but still look great under a tight dress, or a pair of thongs that I can work out it (moisture-wicking and breathable, please!), hearing what other people think of certain styles can make my decision that much easier.
It's like having a really intimate and potentially embarrassing conversation about underwear, but minus awkwardly asking the salesperson which brand/pair/cut/fit/fabric is good for any of your concerns. Hey, like I said, there should be no shame in talking about underwear, but I can't help but blush on occasion. Going into a store and asking someone to help me find the best undies to avoid sweat is fine — but with the reviews, I can do that from the comfort of home. If you're looking for the best everyday underwear, it's only a few clicks away. Here, I've rounded up some of the best everyday underwear with great reviews, so you don't have to suffer through any in-store embarrassment.
1. A Full Coverage Hipster That Actually Fits
Maidenform Comfort Devotion Hipster Panty (5-8), $4-$18, Amazon
There are days when coverage is key, and for reviewers, this seamless pair of undies is perfect. One reviewer, Jami, said she loves that these are super soft and had reinforced elastic around the waist and legs that kept them put without pinching. "I would say basically that I feel like I am not wearing any undergarments when I wear these," she said.
2. A Must-Have Pair Of Nude Underwear That Won't Budge
Bali Microfiber Hipster (6-11), $5-$33, Amazon
Microfiber undies are the comfiest, but sometimes the smooth fabric doesn't stay put. But reviewer L. Johnson said that even though the fabric has a nice, silky texture, "they are stretchy enough not to ride up or down throughout the day." She added that she loved that cut because "they go up just the right amount for me, to a few inches below my belly button."
3. Update Your Classic Cotton Undies With A Soft Lace Trim
Calvin Klein Cotton Hipster Panty (S-L), $12, Amazon
When I think of comfy undies, cotton always comes first, but sometimes they can feel boring — but not these pretty lace trimmed ones! Reviewer ilsegrrl flat out said, "They are wonderful. They fit exactly as they are supposed to and stay put. No VPL, no squeezing, no rolling...perfect."
4. Grab These Highly Rated Mesh Undies
Leonisa Super Comfy Panty (S-2XL), $18-$19, Amazon
Some days you want more structure without actually wiggling into Spanx. For everyday wear, reviewer Ubiquitous Jane said "It's not very tight and restricting like a traditional shape wear." She also said that she liked how sexy they look on.
5. A Classic Set Of Everyday Underwear
Hanes Comfort Stretch Hipster (4-9), $6-19, Amazon
Hanes is a classic go-to for everyday underwear — I've worn them for as long as I can remember — and I'm not the only one. One reviewer said she's been wearing these for 10 years, and that "they are comfortable and last a long time. And the elastic in the waistband and leg bands are covered, which is extra nice."
6. A Lacy Thong That Won't Dig In
Hanky Panky Plus-Size Retro Thong Panty (O/S 12-24), $20-$25, Amazon
If you've been avoiding thongs because you've found them uncomfortable in the past, check these out. Natalie said that as far as thongs go, this one has great coverage. "The thong portion of the panty is more substantial than the typical thong, so it's pretty comfortable," she said. She added that "the fit is great - the one size plus size really does fit."
7. See These Comfortable Boyshorts That Reviewers Are Loving
Maidenform Pure Genius Tailored Boyshort Panty (5-8), $2-$18, Amazon
Boyshorts are my hands-down favorite underwear style, so I'm always looking for new brands. Reviewer J L said this tailored seamless pair is "so very comfortable. The legs and waste do not roll. The material is good quality. They wash without shrinkage."
8. A Patterned String Bikini That Has Five Stars
Vanity Fair Body Shine Illumination String Bikini Panty (5-8), $1-$24, Amazon
Just about every review for this underwear style praises how comfortable but still sexy they are. Dancer Emily W. said these are perfect for movement, especially since she was looking for underwear she could wear under her leotard for dance class. She said these "were cut high enough not to stick out at the bottom and also thin enough not to show through, but that also wouldn't either fall down or ride up like most underwear seem to."
9. The Perfect Breathable Thongs For Working Out
Balanced Tech Seamless Thong Panties 3-Pack (XS-XL), $14-$15, Amazon
Looking for breathable thongs? Reviewer kemee swears by these. She said they're "a miracle in a thong. I live in a hot humid climate and let's just say I am constantly battling the 'sweaty lady part syndrome.'" She said they help her feel comfortable, regardless of sweating.
10. Boyshorts That Are As Cute As They Are Comfy
Maidenform Microfiber with Lace Boyshort Panty (5-9), $4-$24, Amazon
Reviewer Memaw probably says it best when it comes to these undies: "Let's face it, ladies, comfortable undies that still look nice are not easy to find. This particular one has been my personal favorite for years. No problem with VPL (visible panty lines) with these. No wedgies. (YAY!) The waist dips just enough in the back to avoid showing if your pants/skirt pull or gap when you stoop or bend."
11. Seamless Hipsters That Avoid Visible Panty Lines
Calvin Klein Invisibles Hipster Panty (S-XL), $6-$18, Amazon
If panty lines could disappear forever, it would be a miracle. With this underwear style, one Amazon Reviewer said, "I got the pretty purple ones in a small and they are INVISIBLE under my thinnest yoga pants." She even posted pictures that show how truly undetectable they are.
12. An Active Style That Offers Great Coverage
Balanced Tech Seamless Bikini Panties 3 Pack (XS-XL), $15, Amazon
For those of us looking for undies to wear to the gym, reviewer HoHMommy swears by these: "I believe I have found my go to panties!!" She loves how comfy these are because "they contour with your body shape," and she said she has "no problems with them riding up." If you're worried about sweat, she said, "Being super active - I can sweat up a storm" and they won't feel wet from perspiration later.
Images: Amazon (12)
Bustle may receive a portion of sales from products purchased from this article, which was created independently from Bustle's editorial and sales departments.