Kyshadow Is Up For Grabs, You Guys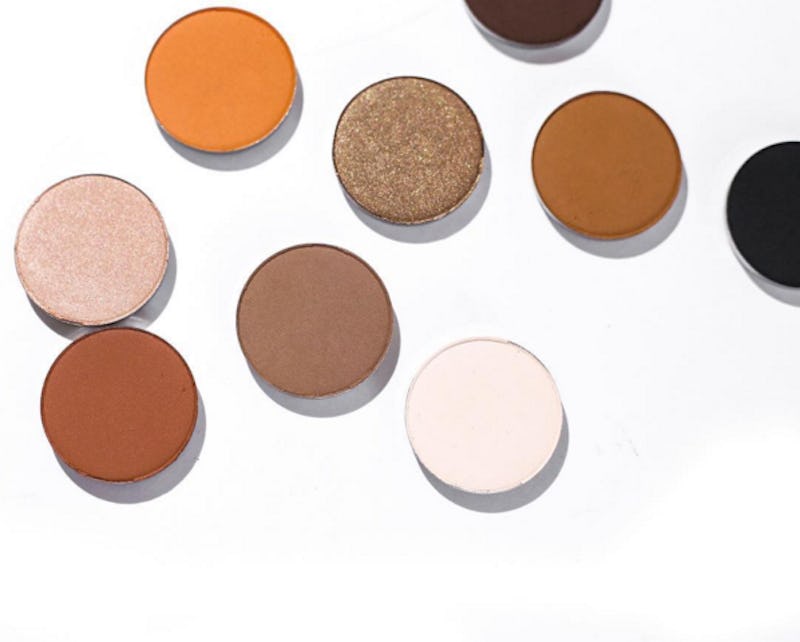 Kylie Cosmetics restocks are always popular. When her one and only eyeshadow palette to be released thus far is up for grabs, you better believe people are online and ready to scoop it up the moment it becomes available. Now that it's been restocked yet again, you're probably wondering if the Bronze Kyshadow palette is sold out yet. And I can't say I blame you.
The palette became available to shop at 5 p.m. ET/2 p.m. PT on Sept. 9, and at the time of publication it was still in stock. You better head straight to the Kylie Cosmetics website to get your hands on one of these while you can! You just never know how long Kylie Cosmetics products will be available, and if you miss out, you'll be stuck waiting for another restock or shopping on eBay to get ahold of these shadows.
Kyshadow contains nine different matte and shimmer shades that are absolutely perfect for the fall season. You've got neutrals and pops of orange in this mix, and that's just the kind of thing you're going to want to slick on your lids all fall long. Take advantage of this item sticking around for an extra long time and get to shopping!
These shades are practically begging to become part of your fall beauty routine.
The opportunity to snatch this before it sells out doesn't come around often, so be sure to take advantage of the chance you've been given, OK?
Kyshadow will pair well with the black or the brown Kyliner. Both of them are still currently in stock, and you might as well go ahead and add one (or both!) of those to your cart while you're at it.
With Kylie Cosmetics eye products on hand, you'll be able to create some incredible makeup moments.
Kyshadow Bronze Palette, $42, Kylie Cosmetics
Go on and make a purchase. You know you want to!
Black Kyliner Kit, $36, Kylie Cosmetics
Sieze this shopping opportunity and get some eyeliner to complement your all of your amazing eyeshadow looks.
Brown Kyliner Kit, $36, Kylie Cosmetics
The brown and the black liners are both still available to shop. IMO, there's no going wrong with either.
Head on over to the Kylie Cosmetics website while there's still plenty of eye makeup to be had!
Images: kyliecosmetics/Instagram (1); Courtesy Kylie Cosmetics (3)