This Poker Player Keeps Social Justice In Play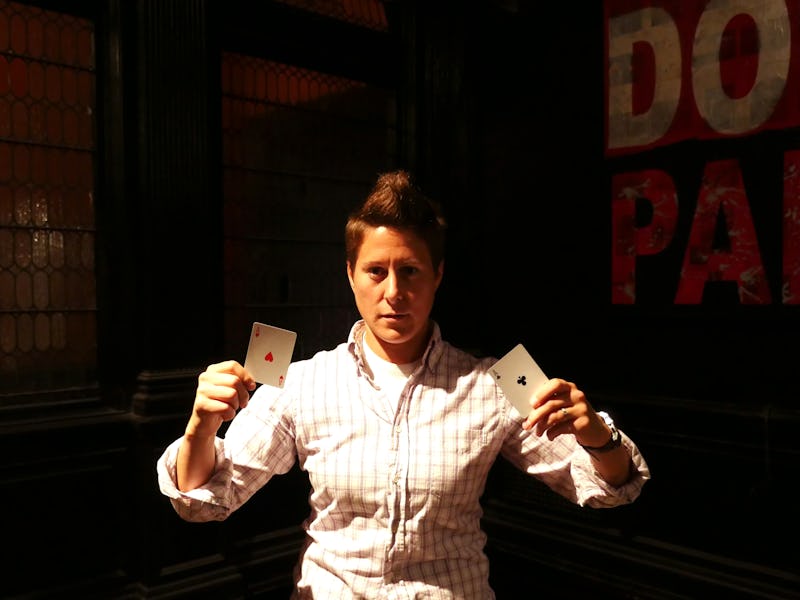 They say that justice is blind, but for Vanessa Selbst, justice is blinds. That's not just the name of her wildly successful charity event, but also something of a metaphor for her impressive career. A world-class poker player / civil rights lawyer, Selbst fights for social justice through poker and law — and she helps others to do the same.
Selbst, 32, is the highest-earning female poker player of all time, having won more than $11.8 million over her card-playing career. But she's not just impressive by female poker player standards — she can play with the best of the best, mostly because she is the best of the best. She has three World Series of Poker bracelets (the most sought-after non-cash prize there is in the poker industry), and she has previously reached the coveted #1 spot on the Global Poker Index.
When she's not wearing her poker face, Selbst is a Yale-educated civil rights lawyer, and a bit of an activist. It was at Yale undergrad where Selbst discovered her passion for competitive poker. "I'm a games person," she says. "If I see a game, whether it's on my iPhone or a board game or whatever, I just have to figure out how to beat it. So poker was no different."
But it was at Yale law school where — or better, when — she hit it big. Thinking she was ready to commit 100 percent to a career in law and the education required, Selbst took all of her money out of the online poker leagues she had been a part of, focusing only on local tournaments that fit into her law school schedule. Then, she had what she calls the "biggest rush of her life." In 2010, she won nearly every tournament she entered, including one event in the U.S. for $750,000 and one in Cannes, France for nearly $2 million. Law school or not, Selbst was a poker player.
She did end up finishing law school, though. After taking a semester off to focus on her new poker sponsorship with PokerStars, Selbst balanced her budding career with her final year of school. Now, she describes herself as a part-time lawyer and part-time poker player. Not to mention how she's an avid tennis player. "I'm a little bit weird within the poker world, in that I have these other passions," she says. "For me, I'm never really just happy playing poker."
In law, Selbst focuses on civil rights cases, particularly cases of police misconduct. That's another passion she discovered at Yale, but it wasn't exactly because of the curriculum. "In law school, I did actually get falsely arrested twice," she says. "Once I went to jail, and once I just had to get in the back of a police car, and both were completely bogus charges."
Those experiences, combined with her upbringing in what she calls the "liberal" town of Montclair, New Jersey, inspired her to fight for social justice. "It was just dehumanizing," Selbst says of her run-ins with police. "Realizing this is what so many people have to experience every day ... that was what inspired me to go into police misconduct work."
Using that inspiration, Selbst has found ways to merge her seemingly unrelated passions of poker and law. In 2010 — the year she took the poker world by storm — Selbst created a private foundation called Venture Justice, through which she uses her poker winnings to fund socially conscious startups and entrepreneurs. "I knew that I wanted to do something with aspiring social entrepreneurs and people who want to make a difference, and I wanted to be able to put my money into helping them do that," she says.
She also sits on the board of Urban Justice Center, an organization which provides legal advice to and advocates on behalf of vulnerable communities in New York City. "I just firmly believe that if you're someone who has been given advantages in life that you have some sort of obligation to give back," she says. As a native of the NYC area herself, it's clear that those communities have grown close to Selbst's heart.
Later this year, Selbst will launch a fellowship through the nonprofit organization Equal Justice Works. She'll work with a graduating law school student or like-minded lawyer as the fellow completes a project related to police misconduct. Later this month, she'll host her second annual charity poker tournament with the Urban Justice Center.
The tournament is perhaps the most obvious intersection of Selbst's diverging passions. Fittingly called Justice is Blinds, the tournament raises money for both the Urban Justice Center and Selbst's new fellowship. Last year, the first such tournament raised $160,000. This year's event is scheduled for Sept. 27 in New York City, and it's open to anyone who can put up the $1,000 buy-in. Actors Richard Kind of Mad About You and Hank Azaria of The Simpsons have already signed up.
Beyond the charity poker tournament, Selbst isn't always sure where her passions for poker and law mix. Still, it's easy to see why she's good at both. "A legal mind is very analytical, and so is poker," she says. "So the skill set that's required to be good at those is somewhat related."
There's probably more than that involved in Selbst's success, though. She doesn't just use poker to fund her charitable work; I'd argue that poker also gives her a platform for that work. She's made a name for herself at the poker table, and her poker community will come out to support her other hustle at the charity poker tournament. (She'll probably have the ear of some celebrities at the event, too.) It's the perfect system for a "game person" who's much too ambitious for one table or one career.
Images: Urban Justice Center (2)