Be Joyce From 'Stranger Things' This Halloween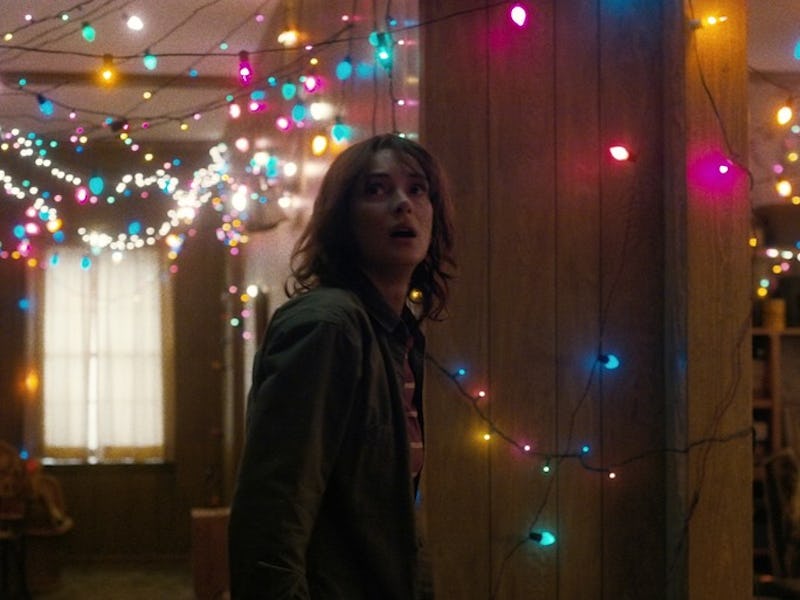 Let's face it: While harried single mom Joyce Byers had the smarts and strength to make it to the end of the Demogorgon-infested series in one piece, most Stranger Things-inspired Halloween costumes will probably play tribute to the iconic lady who we met for two episodes, Barb Holland. But trust me on this one: the smart pop-culture nerd should opt for a Joyce Stranger Things Halloween costume. Why? It's simple, it's effective, it's more unique than Barb, and the extra lighting will mean you'll blow the competition away on the dance floor. You know you don't want to be the fourth Barb at the Halloween party you attend — we should all take a moment to worship at the altar of one of the more overlooked characters on the show.
We already know Joyce Byers rocks, because she was played by the ever-charismatic Winona Ryder. Ryder chose one of the cannier characters on the show: After all, if it hadn't been for Byers' persistence in reading the blinking of the fairy lights and refusing to believe that creepy dummy was her son's body, it's hard to imagine the series' ragtag gang would have made contact with Will. So this Halloween, forget the other characters. Pick Joyce.
Check out the entire 'What's Up, Boo?' series and other videos on Facebook and the Bustle app across Apple TV, Roku, and Amazon Fire TV.
Here's The Look:
Perfect. Here we go.
Classic Utility Jacket, $28, Forever21
If you don't already have a khaki style jacket at home, this classic utility jacket from Forever 21 for $28 should do the trick.
Military Parka, $46, Urban OG
For a lighter option (in case you're spending Halloween in a warmer place, I guess), this military parka from UrbanOG for $46 rocks as well.
Joyce Looks Great In Stripes, And So Will You
Jersey Top, $13, H&M
This long-sleeved jersey top from H&M $13 isn't just retro-cute but will look great after Halloween, too.
Striped Sweater, $20, Charlotte Russe
Or, if you're going for bolder stripes, snap up this sweater at Charlotte Russe for $20.
Costume Plastic Axe, $13, Amazon
Nobody will need to "axe" who you're supposed to be once you've invested in this costume plastic axe from Amazon for $13. See what I did there?!
Light Bulb Necklace, $5, Amazon
I don't know about you, but the one thing I connect Joyce with more than an axe is her Christmas tree light fixation. Make her obsession part of your costume by investing in this light bulb necklace from Amazon for $5.
This is being billed as an "anime cosplay" wig on Amazon for $13 but I reckon if you trim the bangs a little bit, it's a more or less perfect take on Joyce's wispy do.
Pair with your favorite pair of jeans and you're all set to take on the Upside Down to get your son back. With this outfit, you won't just be slaying demogorgons, you'll be slaying, period.
Images: Netflix (2), Forever 21 (1); UrbanOG (1); H&M (1); Charlotte Russe (1); Amazon (1, 2, 3)