3 Ways Your Relationship Affects Your Eating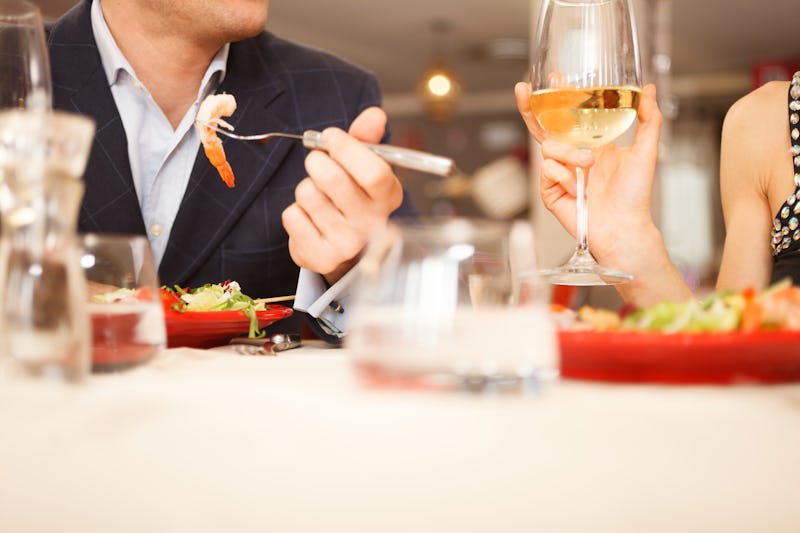 Of the all the cracks usually made at the expense of couples in long term relationships, the one I find most annoying is the statement, "They've really let themselves go."
It doesn't upset me on a personal level, though I have been in my share of long term relationships and would hate to think anyone was noting changes in my physical appearance during any of them.
No, I'm pretty sure it bothers me because that assertion implies that you have abandoned your usual diet and physical fitness routine because you just "don't care" anymore. Being in a committed relationship can affect your eating habits, but in ways much more complicated than simply deciding you don't need to try anymore.
When two people commit to one another, a lot of things suddenly fall under the "What's Mine Is Yours" umbrella: your schedules, family occasions, much of your time with friends, your Netflix accounts. You probably also like to sit down to a meal together as often as you can. But what if you don't like the same foods, or what if one of you requires more calories than the other? You might also like the idea of working out together, but what if one of you is in better shape than the other or requires more exercise to stay healthy?
Dr. Lisa Young, author of The Portion Teller Plan and an Adjunct Professor in the Department of Nutrition, Food Studies, and Public Health at NYU spoke to Bustle to shed some light on three common ways a relationship can affect your eating habits and body.
1. You're Dating a Dude, and Dudes Eat More
Dr. Young explained that the biggest difference in a couple's diet tends to occur in heterosexual couples, as men "have more to them" than women.
"They are just bigger, so they can eat more. And that's pretty much the big difference. The biggest issue really is the fact that men are bigger," Dr. Young said.
The woman in a heterosexual relationship who starts eating the same amount of food as the man, who needs more calories, will almost inevitably see her body change.
"Women, when they get into a relationship, tend to gain weight, particularly because they eat more like the guy," Dr. Young said.
The best solution, Dr. Young said, is simply to recognize that you need fewer calories and adjust your portions accordingly. Also feel free to tailor the meal to each of your needs. "It doesn't have to be that you share the same meal to have a meal together," said Young.
2. One of You Has Major Dietary Restrictions
There are plenty of eating issues that all couples deal with, not just male-female partnerships. At the top of the list are dietary restrictions.
Whether she is a vegan by choice or deathly allergic to shellfish, you may not want to give up whatever it is that she can't eat. And your vegetarian lifestyle might seem daunting to a partner who would like nothing more than to take you out for a porterhouse for two. "But it doesn't have to be," Dr. Young said.
"You know, many people who are not vegetarians can eat vegetarian meals. I don't see it as being two opposite ends of the spectrum. I see them as sort of coming together," she said.
3. One of You Goes on a Health Kick
Another issue is the scenario where the two people in the couple have similar eating habits, then suddenly, one decides to become "healthier." This particular situation can be very uncomfortable if the other party doesn't believe their eating was unhealthy before or just doesn't care to get on board with the changes. Things can get personal and feelings can get hurt.
"Instead of arguing over it, they can sit down and have a conversation about how they want to structure everything. I think that can be helpful for both parties," Dr. Young said. "If they don't talk about it in advance, then there is more of a chance of a problem."
If the couple is ready to make a go of sharing their eating habits and food preferences, Dr. Young suggested cooking their meals together as a great way to do just that.
"Both of them being involved is very important. They can say, 'Let's do Meatless Mondays. On Monday let's do this vegetarian dish, and let's cook together,'" Dr. Young said.
"And if you do that, you cook a healthy meal together that you are both involved in making, then you both want to try it. You want to be healthier. And everyone can always be a little healthier."
Image: volke/Fotolia.com