10 Clear Cases That Protect Your Phone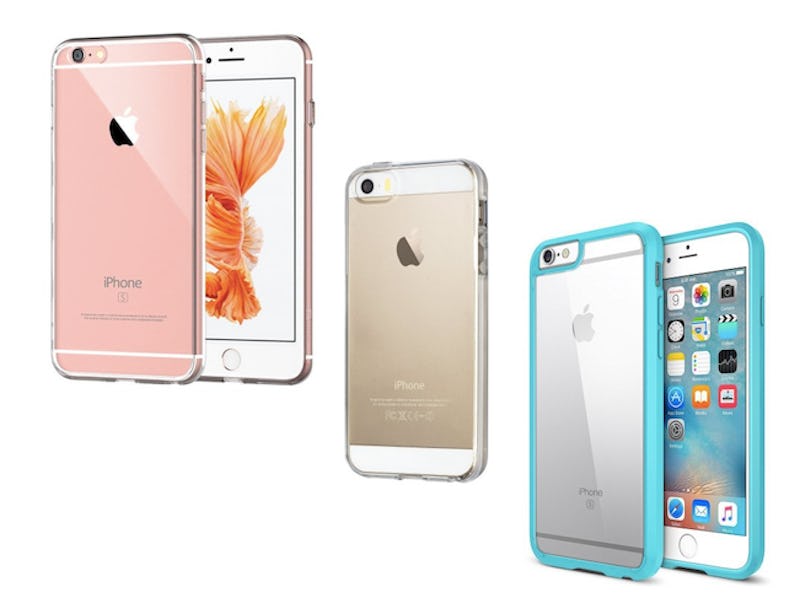 There's this weird paradox that happens with technological advances. The more expensive and essential it is to your everyday functioning, the easier it is to break. Every new model gets sleeker, thinner, and more fragile, and that's why dependable clear phone cases that protect your phone are a great investment for a lot of people. Sure, you could get a bulky two inch thick cover that's the basic equivalent of a rectangular hamster ball, but why cover up your phone's hand-friendly design and futuristic reflective backing when you can just find a great case that's entirely clear?
I switched from a flip phone to a smartphone five years ago, and since then, I've had a grand total of two. The first, my iPhone 4, would've lasted forever if it hadn't gotten run over by an 18 wheeler when I dropped it in the middle of I-87. (No case in the world would've stopped that.) The one I have now is an iPhone 5s, and it's got minimal nicks, no issues with buttons, and the original screen. Both had a sleek but durable clear case that held up to everything sans truck, so I'm here to tell you that you absolutely do not need to compromise design for adequate phone protection.
For The iPhones:
Keep Your iPhone 6 Slim and Protected
JETech Apple iPhone 6/6s Case, $8, Amazon
If you're rocking the iPhone 6, this JETech Apple iPhone 6/6s case offers advanced shock technology, four-corner protection, and an anti-scratch covering, all while keeping your phone slim and sleek. It's got over 3,000 reviews, because it fits really well, allows access to all your phone's features, and it keeps it clean and safe.
Everything You Need To Keep Your iPhone 7 Like New
Sahara Case iPhone 7 Case, $20, Amazon
Earlier this week, Apple revealed the new iPhone 7, and if you're lucky enough to have one already, this Sahara Case iPhone 7 case is made of the highest quality rubberized and plastic materials to reinforce your phone from every angle. It's lightweight and thin, but still stops cracks, scratches, and shatters, and it comes with a screen protector, a microfiber cloth, a dust removal tool, and a squeegee.
Keep Your iPhone 5 Around For A Few More Years
iPhone 5 SE Case, $13, Amazon
I've still got my iPhone 5, and I probably have it until the day it breaks – which it won't, because I've been rocking this iPhone 5 SE Case for three years now. It's made from a flexible gel-like shock-absorption material that I absolutely love, because it's landed on just about every surface imaginable, and my phone is still scratch-free and crack-free. It also allows access to all the buttons and functions, so it stays out of my way.
OtterBox Now Comes In A Sleek Clear Design
iPhone 6s OtterBox, $26, Amazon
The OtterBox is one of the most durable cases you can find, and this iPhone 6s OtterBox sells well for a reason. The beveled edge stops your screen from cracking, the dual-material construction protects everything from drops, and the seamless style ensures that your phone looks sleek and fits easily into your pocket.
Go Sleek With A Pop Of Color
Trianium iPhone 6 Case, $13, Amazon
For that sleek, clear look with a pop of color, this Trianium iPhone 6 case is an awesome option. The clear back is scratch-resistant and durable, and the frame absorbs shocks to stop your phone from breaking when you drop it. It's also got precision cutouts, so you can still use all the features, and reviewers are saying things like, "I've dropped my phone many times and it hasn't cracked."
For The Galaxy:
Stop Scratches And Absorb Shocks For The Galaxy 6s
Trianium Galaxy S6 Case, $9, Amazon
Ideal for stopping scratches and resisting shocks, this Trianium Galaxy S6 case perfectly fits your Galaxy S6, while enhancing its original color and design. The back is hard while the outer rim is rubberized to offer protection upon impact, and the best part about it is the fact that your phone is slim, instead of bulky.
Protect The Galaxy 7 With A Subtle Blue Ribbing
POETIC Galaxy Note 7 Case, $13, Amazon
This modern-looking POETIC Galaxy Note 7 case beautifully showcases your Samsung phone with its transparent design and subtle blue ribbing. It's made of a hard plastic and outlined in soft, shock-proof TPU that protects the corners and the screen, and it's comfortable both in your pocket and in your hand.
For The Nexus:
A Combination Of Hard And Flexible For The Nexus
Spigen Nexus 6 Case, $10, Amazon
This Spigen Nexus 6 case protects your Google Nexus with a hard back panel and a flexible edge, meaning that both the body and the screen are well taken care of. It's also got air cushions around the corners to protect from drops, and while your phone still feels great in your hands and you can access all your ports, you know that it's so much safer.
For The Droid:
Awesome Protective Features For The Droid Turbo
Motorola Droid Turbo Case, $8, Amazon
Designed specifically for the Motorola Droid Turbo, this case allows access to all features with its precise cutouts and portholes. However, it's also got some really cool features, like anti-slip properties, a durable back plate, a scratch-resistant coating, and a soft frame to absorb any and all shocks.
For The LG Curve:
Showcase Your LG's Curves And Coloration
Ringke LG G4 Case, $12, Amazon
Compatible with LG G4, this Ringke case has a crystal clear transparent design that shows off your phone's curves and color. The material is specifically designed to stop dust from getting in and prevent scratches from forming, and it comes with a screen protector that's designed for a more natural touch screen response. The sides also have a soft rubbery feel that comforts your fingers and bounces when dropped.
Images: Amazon (10)
Bustle may receive a portion of sales from products purchased from this article, which was created independently from Bustle's editorial and sales departments.