The Best Subscription Boxes To Gift Friends & Fam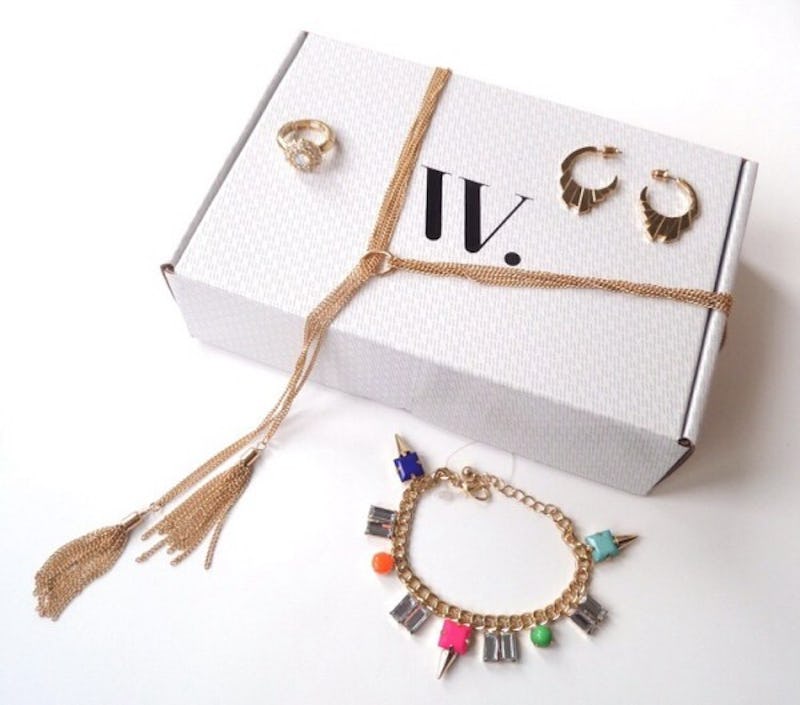 Gift giving is such a great thing, isn't it? You get to show someone how much you care about them, but no one warns you of the stress it comes with. That's why it's OK to cheat and give subscription services your family and friends want to get as gifts. Instead of going crazy over what to give someone, you can sign them up for a subscription service that caters to their personality and sit back and let the box do all the wok. Plus, it's the gift that keeps on giving! Month after month, depending on which service you get, they can be reminded of how much you thought you put into their gift.
In my case, they won't have to know it was a gift bought in a moment of panic. All that matters is that when they open their box, whether it be a subscription box of the best beauty products or a subscription box of the best organic, all-natural snacks, they love what they see. And the good thing about many of these subscription services is that if for some reason they don't love it, they can send it back until they get something they do love. If you're new to world of subscription boxes, see some of the best ones below!
1. For The Jewelry Lover, Try Rocksbox
Rocksbox Jewelry Subscription, $49/3 Months, $99/6 Months, $149/12 Months, Rocksbox
If having a magical jewelry box that refills itself with new, name brand jewelry every month sounds like something you or a friend would love, then Rocksbox is worth checking out. Each month subscribers get three pieces of luxury jewelry that matches their style profile, and if they like it, they can keep it for longer, returning the rest to get another box. Plus, if you end up loving a piece so much, you can buy it at a majorly discounted price.
2. If You Or Your Friend Needs A Personal Shopper And Stylist, You Need This Box
Stitch Fix Gift Subscription, $20/box or $100 Gift Card, Stitch Fix
Your mom, sister, friend, or even you can forget standing in lines to try clothes on at the mall. With Stitch Fix's stylists, all you need to do is fill out the style profile, pick the price point, choose your delivery schedule, and you'll get five items delivered to your door to try on at home. You get three days to buy what you like, and send back the rest — but if you buy all five items, you get 25 percent off your purchase!
3. A Subscription Service For The Complete Fashion Lover
Wantable Clothing, Jewlery, Intimates, Makeup & Accessories, $40-$50, Wantable
With Wantable, your lucky friend or family member won't have to choose between getting clothes or jewelry — they can get both — and more! With their $40 to $50 per month options, you can get makeup, accessories, and intimates. With their $20 per month option, you can get style and fitness apparel. For both, the process is simple: Keep what you love, send back what you don't. With beauty, accessories, and intimates, you won't even have to pay extra for what you keep.
4. Bibliophiles Will Rejoice Over This Box
Book of the Month Club, $45/3 Months, $84/6 Months, $144/12 Months, Book of the Month
If you or your friends are always on the lookout for the next great read, this Book of the Month Club is the right subscription service for you. Every month, BOTM's editorial team and expert judges pick out a round-up of the five of the best books for each genre, and depending on what your tastes are, you get to pick the one you'd like to get that month. If you want another book from the round-up, it's only $9.99 more. Instead of scouring bookstores, this box does all the work for you.
5. A Cool Box For Your Inner (Or Outer) Geek
My Geek Box Subscription, $20, My Geek Box
From collectible T-shirts to special comic books, My Geek Box delivers five to seven geek-approved collectibles to subscribers every month. No need to return anything — it's all yours! Items are all picked by their "passionate team of Geek aficionados" to make sure that everything you get is no run-of-the-mill memorabilia.
6. The Perfect Box For People With No Time For Meal Planning
Blue Apron, $60-$140, Blue Apron
Blue Apron is one of the most popular meal subscription services for a reason: fresh ingredients perfectly measured according to the flavorful recipes that get delivered right to your door. Even the most novice chefs have luck with their recipes. It's also an amazing time saver for people who don't have time to come up with a week's worth of recipes and do grocery shopping.The plans are also super flexible, with meals ranging from 2-person recipes to recipes for a family of four.
7. This Is A Sugar Rush In A Box For Those With A Serious Sweet Tooth
Dylan's Candy Bar Box, $109/3 Months or $379/1 Year, Dylan's Candy Bar
Dylan's Candy Bar is a world-famous candy and treat shop, and with this box, you can get a bit of that delivered straight to your door. The curated candies range from whirly pops, chocolate bars, s'mores, gummies all other sorts of sweets. Whether you get it for yourself or get it delivered as a gift, it's sure to make someone smile.
8. A Snack Box Service That Tastes Good And Does Good
Love With Food, $8/Month -or $20/Month, Love With Food
Not only are the snacks in this box organic, all-natural, or gluten-free, but each time you get a box, Love With Food donates a portion of the proceeds to help fight childhood hunger in the United States and around the world. They donate to organizations like Feeding America and The Global Food Banking Network, so you can snack with a good conscience.
9. Products Junkies Will Go Crazy Over This Beauty Box
Maven Julep Box, $25/Month-$60/3 Months to $40/Month - 105/$3 Months (depending on product selection), Julep
Now, this is a box I can get excited about! From one of the biggest beauty brands around comes this box that gets you a mix of top beauty products over $40 for only $24.99 per month (and that's just one plan!). And unlike with some boxes, you can pick exactly what comes in your Maven box — you can even add on products!
10. A Box With Every Trendy Must-Have Item For Someone Stylish
Must Have Pop Sugar Box, $20-$40, PopSugar
Whether you get excited about the latest beauty trends or a creating a cozy home, this box has something new for you every month. (There are even Limited Edition Luxury boxes when you really want to treat yourself!) This month's box includes everything from a gorgeous Cargo blush to a chic Christian LaCroix Paseo Sticky Note Folio.
11. A Worldly Box For The Globally Conscious
The Artisan Box, $45/Month or $210/6 Months, GlobeIn
Whether you choose the 1-month, 3-month, or 6-month option, you'll love these fairly traded artisan lifestyle products — that you get for up to half-off! Each month you choose the theme of products you want, from foods to laundry goods, made by people from all over the world. Plus you'll get to enjoy these products knowing how much good you're doing.
12. If You're A Major Foodie, Try This Curated Box
Hampton's Lane Box, $55/box, Hampton's Lane
You might be in the mood for upping your pizza making skills or trying your hand at an array of Spanish tapas, but either way, Hamptons Lane's box has something for you. You get everything you need, from ingredients to cookware, to make whichever gourmet meal you decide on. Just get a membership for $43 per month and a box you choose comes each month.
13. Never Use A Dull Razor Again When You Try This Box
Dollar Shave Club, $1-$9/Month, Dollar Shave Club
Nothing is as annoying as scrambling to find your last sharp razor, only to find you have none left. This box takes care of that for you by delivering new blades and free compatible handles to you as often as you'd like, with some blades ranging from $1 per month to $9 per month.
14. A Revolving Closet of The Best Plus Size Clothes
Gwynnie Bee, $65/1 Month or $49/Month, Gwynnie Bee
Women who are tired of stores looking them over because they are over a size 10 need to look into this subscription service. Scroll through Gwynnie Bee's wide array of trendy clothes and add your favorites to your virtual closet. Each month receive one to three of your faves (depending on your plan), and wear it to heart's content. If you love it, you get to buy it at a discounted price. If you want to swap it out for something else, just send it back and a new box will be on its way.
15. For The Makeup, Skin Care & Grooming Aficionados
Birchbox Subscription, $30/3 Month, $60/6 Month, $112/12 Month, Birchbox
Birchbox quizzes you (or your pal) on skin types, color preferences, and trend interests, then curates a box of skin care, hair care, beauty items (and now accessories, too, if interested!) to fit everyone's tastes. If you stumble upon a sample you love, just log onto Birchbox and buy it right then and there! (The site also offers a box of grooming essentials for guys.)
Images: Rocksbox (1); okieolio (1); girlmeetsbox (1); hellosubscription (1); mygeekbox (1); Blue Apron (1); Dylan's Candy Bar (1); Forbes (1); the-colorpalette (1); PopSugar (1); GlobeIn (1); CoolHunting (1) Dollar Shave Club; Real Simple (1); Birchbox
Bustle may receive a portion of sales from products purchased from this article, which was created independently from Bustle's editorial and sales departments.