20 Weird But Necessary Products To Own By 30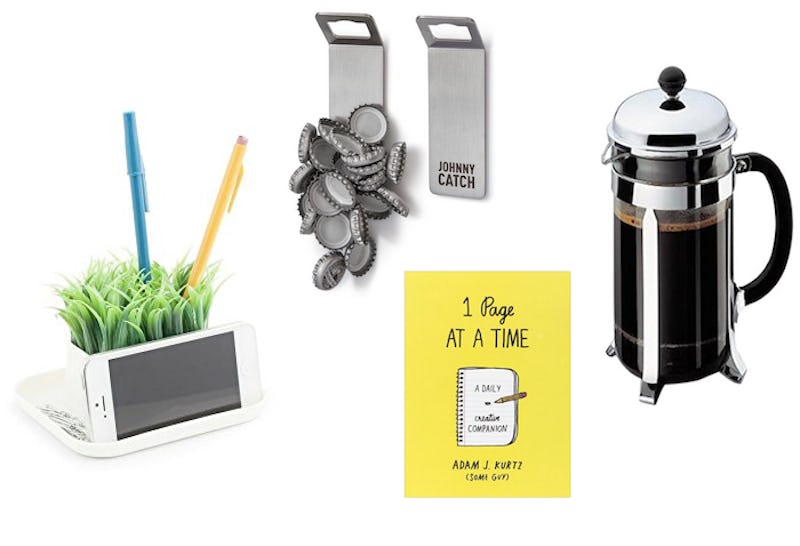 My parents had popped out one kid and had a second on the way by the time they hit 30. I'll be lucky if my loans are half paid, I'm living with someone not related to me, and I've checked off half the things on this list of essential things to own before you're 30. We don't live the same lives our parents did, and that's okay. The whole life-process is a little bit slower, and whether that's because of the workforce or elongated lifespans, I'll never know. What I do know, however, is that nothing says "grown-up" quite like doing your own taxes and genius products that are weird but efficient.
Anything in the category of awesome life hack products is a good idea when you're 30 and living on your own. For one, time is of the essence when you're balancing work and a social life, and the more efficiently you can get things done, the happier you'll be. For another, the combination of practicality and aesthetics is a beautiful thing, as it's easy to cut down on clutter when the things you own have a definite purpose. Check out these things that every 30-something should have in their home, so you can get a headstart on adulthood.
A Game Plan For When Life Stresses You Out
1 Page At A Time by Adam J. Kurtz , $10, Amazon
Life is stressful; welcome to adulthood. When that work project becomes too much, when that argument blows up in your face, or when you're just feeling blue and need a serious dose of inspiration — Adam to the rescue. This page-a-day journal creatively stimulates you through 365 prompts, from list-making to doodles, that will be a serious stress reliever when you need it.
When You Still Haven't Bought That Full Tool Kit
Sheffield Premium 14-in-1 Hammer Tool, $9, Amazon
Some of you might have full-fledged tool kits by the time you're 30, but if you don't, this Sheffield Premium 14-in-1 hammer tool will definitely suffice. It's got every basic tool you need in a fold-up steel and hardwood design.
The Ability To Make A Restorative Smoothie Any Time, Any Place
LOHOME Portable USB Electric Juicer, $26, Amazon
It's a lot easier to get your daily percentage of fruits and vegetables when you've got this LOHOME portable USB electric juicer, which charges through your laptop or USB port and lets you blend fruit and drink it from the same container.
You've Dropped Your Phone On Your Face For The Last Time
AboveTEK Gooseneck Device Mount, $40, Amazon
How many times are you going to drop your phone on your face before you invest in one of these? This AboveTEK gooseneck device mount holds just about any phone, tablet, or device, bends any which way, and attaches onto any furniture surface without damaging it.
Take A Portable Floor With You Anywhere
Monkey Mat, $20, Amazon
Adults are supposed to keep blankets in the back of their cars for emergencies, but those take up way too much space. The Monkey Mat (aka your portable floor) folds up into a little pouch and unfolds to give you a soft, durable, waterproof blanket wherever you need it. It's also machine-washable and won't rip.
This Little Life Hack That Will Keep Beer Caps From Collecting Under The Fridge
Johnny Catch Magnet Bottle Opener , $25, Amazon
Clever, useful little tools like these never get old. Sick of stooping for runaway bottle caps? This magnetic bottle opener catches all said-lids right where you popped them off on the fridge door, so you can get back to enjoying your drink.
A Way To Make Doing Chores Less Awful
Fred & Friends Hand Puppet Dish Gloves , $10, Amazon
While I would hope you're not hanging onto the same dish gloves from now until you turn 30, I do hope you have something in your life that makes chores suck less. Whether it's a robotic vacuum cleaner, a particularly delightful air freshener, or even something as silly as these gloves — not everything about chores has to be miserable.
Make Your Space Smell Like Home
Homasy Aroma Essential Oil Diffuser, $30, Amazon
This Homasy aroma essential oil diffuser is a great way to make your home instantly more cozy. It hydrates the air and diffuses your favorite essential oils, all while changing from one vibrant LED color to the next.
Get Two Dogs, And Then Get This Leash
Wigzi Dual Dog Leash, $30, Amazon
Personally, I plan to own at least two dogs before I'm 30, and because I can't list those, I'll instead tell you about this epic Wigzi Dual dog leash, which comfortably leashes two dogs at once with a tangle-free design. Why has no one thought of this before?
Get Every Sewing Tool You Need In One
Modern Sewing Basket Kit, $20, Amazon
Do yourself a solid favor, harness those eighth grade home-ec skills, and invest in a full sewing basket kit. This one comes with everything you need to finally fix that gaping hole in the pocket of your favorite jeans.
Stop Chopping Every Ingredient Separately
Brieftons Manual Food Chopper, $15, Amazon
Stop wasting time cutting every single ingredient separately. This Brieftons manual food chopper lets you throw everything in and chop it all at once, so everything from salads to guacamole becomes a breeze.
Change The Way You Serve Appetizers (Or Ice-Cream)
Stackable White Serving Bowls, $30, Amazon
Up your appetizer game with these awesome Stackable white serving bowls. Not only do they have really cool multicolored linings, but they stack inside a steel rack that holds your spoons for you. Superbowl Sunday will never be the same at your house again.
The Best Cup Of Coffee You'll Ever Have
Bodum Chambord French Press Coffee Maker, $29, Amazon
For arguably the best cup of coffee you'll ever have in your life (and the fanciest), check out this Bodum Chambord french press coffee maker. Simply add course-ground coffee, pour in boiling water, wait, press, and enjoy.
Cook Like A Professional Chef
Lodge Pre-Seasoned Cast-Iron Skillet, $13, Amazon
While non-stick pans might've been all the rage for quite a while, a great quality cast iron skillet is a must-have for any adult. This one is pre-seasoned, can be used for baking, frying, searing, and sautéing, it's way healthier because it doesn't have any non-stick chemicals, and it cooks food evenly.
Absorb The Condensation Off Your Drinks
CounterArt Dogwood Branch Absorbent Coasters, $20, Amazon
It's one thing to keep your furniture clean and ringless, but these awesome CounterArt Dogwood Branch Absorbent Coasters are made from a natural stoneware material that actually absorbs all of the condensation that's dripping off your glass.
Mount Your Phone In Your Car In Three Seconds
Caseco Mountie, $25, Amazon
This awesome Caseco Mountie is the most convenient way to mount your phone in your car, so you can see your navigation. It attaches onto your air vent, while the magnetic back sticks to your phone for a safe and secure hold.
Learn Drink Skills Slightly More Advanced Than 'Rum & Coke'
Winware Boston Cocktail Shaker Gift Set, $30, Amazon
For everything you need to feel like a professional bartender when your friends come over, this Winware Boston cocktail shaker gift set comes with a shaker, a glass, a strainer, two measures, a spoon, a masher, a muddler, and even a tiny cocktail recipe book.
A Tabletop Accessory That Makes You Smile (Especially If Your Job Has You Desk-Bound All Day)
Kikkerland Potted Pen Phone Stand, $12, Amazon
If you're just settling into your desk job (or even if you've been there five years), you need something within your line of vision that helps you relax and destress every time you see it. This potted pen phone stand is just that; it'll make you feel like you're gazing into a plant at the local park, instead of the depths of your computer. Plus, it doubles as an organizational tool — never search for that runaway pen again!
Travel With Your Coffee In Style
Asobu Gladiator Travel Mug, $25, Amazon
A mind-blowing idea: instead of chugging your coffee in the morning before you run out the door, invest in a classy travel mug, like this copper Asobu Gladiator travel mug. It's got a stainless steel interior that holds heat for up to six hours, and it's lightweight, sleek, and super sturdy.
Drink Your Champagne Without Any Class At All
The Chambong: Glassware made specifically for rapid Champagne consumption. Because nothing says, "I'm an adult," quite like knowing you shouldn't do something, but having the freedom to decide you want to anyway.
Images: Amazon (20)
Bustle may receive a portion of sales from products purchased from this article, which was created independently from Bustle's editorial and sales departments.