Will 'Miss Sloane' Win Jessica Chastain An Oscar?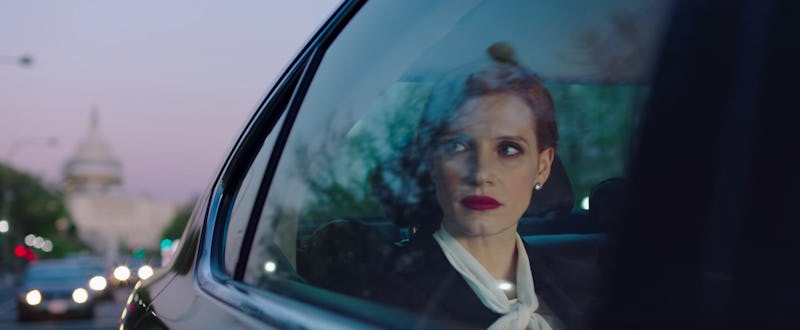 When it comes to Hollywood heavyweights, Jessica Chastain is still fairly new to the club. Sure, the actress' very first IMDb credit was on an episode of ER a while back in 2004, but it wasn't until her role as bubbly, blonde Celia Foote in 2011's The Help that Hollywood really took notice. It was such a warm welcome, in fact, that Chastain was even nominated for a Best Supporting Actress Oscar for the role, and then nominated in the Best Actress category in 2012 for her role in Zero Dark Thirty. Despite this, so far, Chastain has yet to take home an Academy Award — but could that change this year? The new teaser trailer for Miss Sloane depicts what could be Chastain's best performance yet — and it seems very possible for the actress to receive yet another round of Oscar buzz.
The upcoming film, which will hit theaters on Dec. 9, 2016, is about lobbyist Elizabeth Sloane, who puts winning above all else — even at the expense of her own career. In the film, Sloane is fighting for gun control, despite the five million gun lobbyists who, as the trailer describes, "are armed." The film's ripped-from-the-headlines plot is already compelling, but the person I'm focused on the most in the trailer is star Chastain, whose steely gaze alone — seriously, the woman doesn't blink — is evidence enough of how good she is at her job.
Sloane is the kind of character that an actress like Chastain was born to play. To those around her — specifically, her adversaries — Sloane betrays no real emotions, playing each scene in the teaser trailer in which she's opposite another actor as cold or aloof. It's in the moments that she's alone that we see the full range of Chastain's acting skills — her ability to range from stoic to angry to composed is one of the reasons Chastain cut her teeth on Oscar-nominated movies. Could this be the year she takes home a golden statue of her own at the Academy Awards?
It's possible: Chastain's upcoming film hits theaters just in time. After all, a film is eligible to be nominated for an Academy Award if that film has played for at least one week in Los Angeles County prior to the end of the year. Given Miss Sloane's early December release date, Chastain could, theoretically, get another nod should her performance garner positive reviews. Whether Chastain is nominated or not for Miss Sloane, she's earned her spot on the A-list through sheer talent — an Oscar can't be too far behind.